Cindy Stovall
This week's Top Ten focuses on new offerings in must-see live theater and big name concerts – with Monster Trucks thrown in for good measure (they're fun too)! Check it out and take advantage of all the great times to be had this weekend in Tampa Bay.
Thursday
Just Opened – The Agitators by Mat Smart
freeFall Theatre, St. Pete
The fight for the 19th Amendment, giving the vote to women, was a decades long fight waged by the suffrage movement, and led by Susan B. Anthony, a fiery Quaker and key catalyst for the movement. She did not live long enough to cast a ballot herself, but during the fight, and throughout her life, Anthony's friendship with former slave, equality activist and public speaker, Frederick Douglass, was a key relationship in her life. Many don't know of their historic connection. The Agitators highlights their years long friendship, their shared civil aspirations, and their fascinating dialogues with each other through a fraught time in American history.
Thursday-Sunday performances through February 26th. Tickets, show schedules, and more information here.
Just Opened – Tina – The Tina Turner Musical
Straz Center for the Performing Arts – Morsani Hall, Tampa
If you know anything about Tina Turner, you know what an amazing story of resilience and success her life has been. See her life unfold, live on stage, with all the color, choreography, and music that we all know by heart. This is a very limited engagement, so don't wait! Runs through February 5th only. Tickets and more information here.
Opening Night – The Elephant Man by Bernard Pomerance
Produced by Tampa Rep – HCC Ybor City Stage, Tampa
Based on the true story of the life of John Merrick, a nineteenth century man, disfigured by disease. His story takes him from abuse and isolation, to being the toast (or perhaps showpiece), of the upper classes thanks to Merrick's relationship with physician, Frederick Treves. The themes are timeless and disturbingly relevant in that difference on any level creates the atmosphere of "otherness" that keeps us from truly living in peace with anyone different than ourselves.  Runs through February 19th Tickets, show schedules and more information here.
Friday
Opening Night – Falsettos by William Finn & James Lapine
Shimberg Playhouse @ The Straz Center, Tampa
Multiple Tony winner Falsettos, is a musical in the truest sense of the word. All singing, all the time – this show explores themes of gender roles, queer life in the late 70s and early 80s, and the Jewish perspective for some extra drama and biting humor, too. The story centers around Marvin, who leaves his wife and son for his male lover, Whizzer. Crisis, coming to terms, readjustment, redemption – this production of Falsettos is offered by MAD Theatre Company February 3rd – February 19th Friday-Sunday performances. Tickets, show times and more information here.
Little Shop of Horrors & West Coast Players 8th Annual Gala,
West Coast Players Theatre, Clearwater
"Feed me Seymour!" Alien plant Audrey ll brings fame and romance to shy Seymour Krelborn, great success to Mushnick's Flower Shop on Skid Row, and death to a whole lot of other people. Based on the dark 1962 movie of the same name, it's a classic reimagined by director Troy Reamsnyder, yet lovingly honored in all its 60s era glory. It's scary, hilarious, romantic, it has great music – all the good things. The Gala, a one-night event, accompanies the Friday performance starting at 6pm. Curtain at 7:30pm.
February 3rd  Tickets for the Gala performance and more information here. or www.wcplayers.com
Saturday
Carrie Underwood – Denim & Rhinestones Tour
Amalie Arena, Tampa
The American Idol winner turned country music superstar, Carrie Underwood, has been busy with a performing residency in Las Vegas. Now she's taking a hiatus from the 'Strip' and hitting the road with music from her upcoming album, Denim & Rhinestones. Don't worry, lots of faves are on the set lists too. Jimmy Allen opens.
February 4th @7:30pm Tickets and more information here.
David Foster & Katherine McPhee – The Kat & Dave Show
Ruth Eckerd Hall, Clearwater
McPhee, of American Idol and Smash fame, and her music empresario husband, 16 time Grammy winner David Foster, take to the Tampa Bay area stage at Ruth Eckerd Hall for a great evening of music in their viral Instagram sensation,The Kat & Dave Show. It will be a mixed bag of greatest hits, classic tunes and selections from Foster's upcoming album, Eleven Words, to be released in April. (**Blue Man Group is scheduled for February 2nd & 3rd, if that's more your vibe.**)
February 4th @8pm   Tickets and more information here.
Monster Jam
Raymond James Stadium, Tampa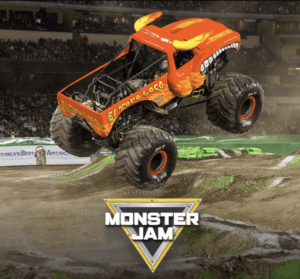 You know it's a new year when the Monster Trucks roll into town and Raymond James Stadium turns into a massive expanse of dirt mounds and jumps – I've lived in Tampa Bay since the 80s and it has always been so. Bring your ear plugs, but it's a great family outing and the kids love it. Where else can you see 12 foot high, 5 ton motoring machines do battle? I ask you.
February 4th @7pm and January 5th @3pm Tickets and more information here.
Sunday
The Tampa Bay Symphony: Innovation and Freedom
The Palladium, St. Pete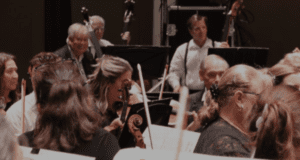 The St. Petersburg Celebration of the Arts, now in its 5th year, showcases a number of classical music events and other staged performances. Freedom is the theme for 2023 and this concert at The Palladium by The Tampa Bay Symphony, as African-American History month begins, focuses on that theme with such pieces as Gershwin's Afro-American Symphony, and Chopin's Opus 11. The Palladium honors and presents the very best in classical music in all its forms throughout the year and we are all the better for it. Keep a lookout for many such concerts and events during 2023 at multiple venues throughout Tampa Bay.
February 5th at 8pm Tickets and more (admission is free for all under 18) information here.
Patti LaBelle
Mahaffey Theater @ Duke Energy Center for the Arts, St. Pete
The Grammy winning Queen of the R&B and popular music charts comes to the Tampa Bay area to wow all of her faithful fans. Hear her  classics like On My Own, New Attitude, and of course, her signature tune, Lady Marmalade. A true icon is coming to town, and  tickets are becoming limited, so get yours now!
February 5th @7pm Tickets and more information here.
Have fun and stay safe out there!
Cindy
Submit your event to : cstovall5@gmail.com