So let's start the New Year with a bang! How about a wild ride in Aston Martin's brand new DBX707 bottle rocket SUV with its 700 explosive horsepower?
Here, the 707 signifies the spectacular power output of the twin-turbo V8 nuclear reactor lurking under that curvy hood. Over in Europe, it's 707 PS, short for PferdStärke, which is the metric measure of horsepower.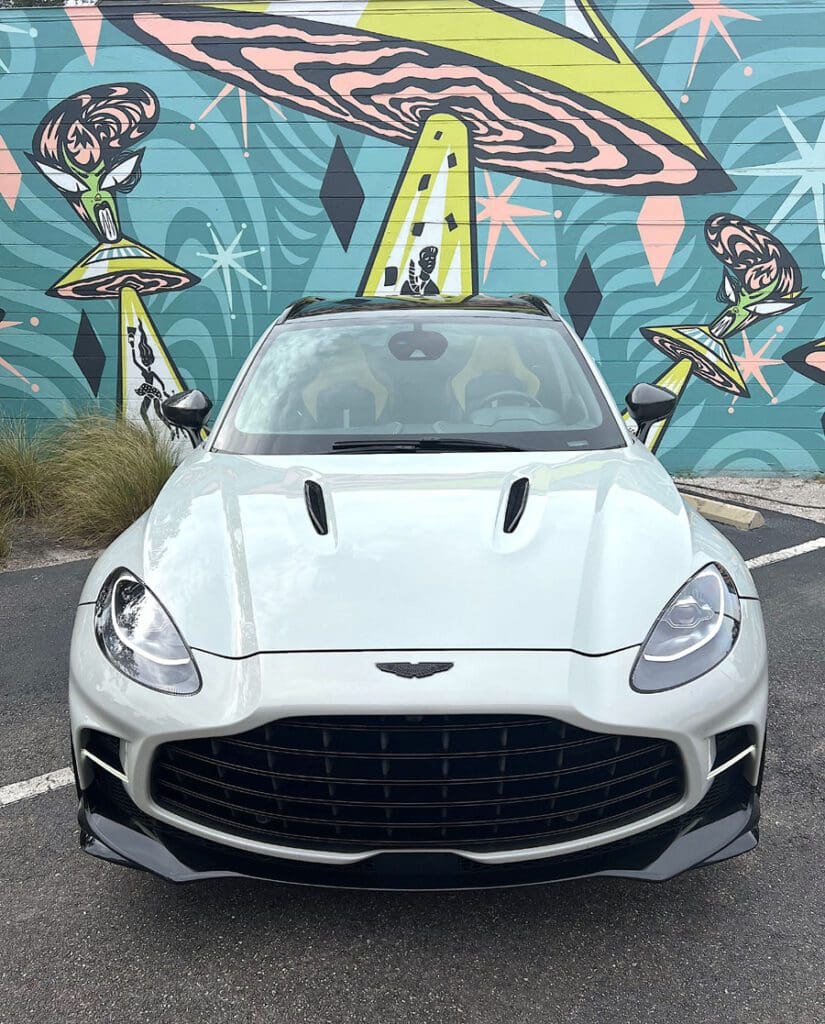 Stateside, the output is actually 697 horsepower, though it's as close to a nice, round 700 horseys as not to matter. 
That makes this fire-snorting Aston the world's most powerful luxury sport-utility. More powerful than Lamborghini's 657-hp Urus Performante, more potent than Porsche's 670-hp Cayenne Turbo S E-Hybrid, and considerably beefier than Bentley's 626-hp Bentayga Speed.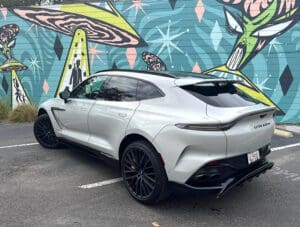 In the Aston, that I've just spent a blissful, adrenaline-charged week piloting, the source of all this power is an uprated version of the DBX's Mercedes-AMG-sourced 4.0-liter twin-turbo V8.
Equipped with new, deeper-breathing turbos, re-designed induction and exhaust systems, and a witch's brew of engineering whizzardry, it raises the stock DBX's 542-hp output to that 707, sorry, 697-hp level. 
To add to the fun quota, the DBX's nine-speed automatic transmission is ditched in favor of a beefed-up, rapid-shifting AMG-sourced version with Race Launch Control for truly breathtaking, off-the-line acceleration.
To showcase all this added muscle, the 707 gets some cool visual muscle to enhance that already drop-dead-gorgeous bodywork. 
The trademark Aston grille is now 27 per cent  bigger for injesting even more engine-cooling H20, and its surrounded by acres of carbon fiber intakes and splitters.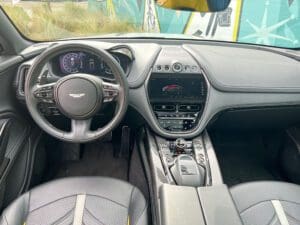 At the rear, twin exhausts have been replaced by a quartet of menacing pipes, with a longer roof spoiler for better aero. 
Now throw in a set of optional 23-inch stealthy-black rims – 22s are standard – paint numbers on the doors and this new Aston wouldn't look out of place on the front row at Daytona.
Climb aboard, buckle-up, and punch the big "start" button high-up in the center of the dash to hear that big V8 roar. And yes, this new 707 is fast. No, insanely fast. Fast as in 0-to-60-mph sprints in a mere 3.1 seconds. Top speed? That would be a non-trivial 193 mph. 
But for me, the true beauty of this he-man Aston is it's duality. Select the GT drive mode and the 707 calms and quietens for those times you don't want to drive like Mario. Of course, Sport and Sport+ are a click away to bring back the excitement. 
What will stagger you is the sheer nimbleness and agility when you start powering the 707 through the curves. With air suspension and an electronic anti-roll system, body lean is almost eradicated. Throw it into a tight curve and it just sweeps around.
Inside, the cabin offers the kind of hand-crafted luxury and style you expect from Aston Martin. There are acres of perforated, double-stitched Bridge of Weir leather, genuine carbon fiber and lots of choices for funky-colored panels for the seats. 
Alas, Aston has to stick with lots of hand-me-down Mercedes technology, so the 10.3-inch display looks and feels like something out of the Dark Ages. It's not even a touchscreen. 
Add to that, teeny buttons on the wheel and center console that were surely designed for the fingers of a three-year-old.
As you might expect, all this power and performance doesn't come cheap. The 707's base sticker is $239,086, or around $50,000 more than a standard DBX. Check the boxes to add a few options, and the price can easily reach the $300,000 mark.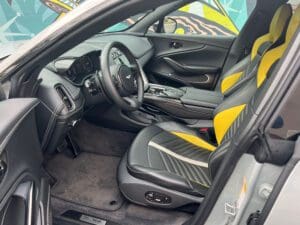 But as for owning a load-carrying, family-hauling sport-ute that really thinks it's a supercar, just priceless.
Happy New Year.