100+ Great Places to Dine Outdoors in Tampa Bay
One of the joys of living where we do is the fact that alfresco eating is pretty much a year-round thing — which, during the pandemic, has been a true boon. But there are so many outdoor dining options to choose from — more of them than ever, given that some places have had to move outside in order to stay open.
So here's some help choosing your next destination — all places where either view, comfort, location, fun, good food or some combo of the above is exceptional.
Perfect Patios
In the early-pandemic days when the only option for dining out was dining outdoors, we kept going back to Baba on Central. And we're still going back — for the silkiest hummus outside of Greece, for the grilled half chicken with lemon, for the hospitality of Debbie and George Sayegh (of Bodega fame) and the effortlessly charming Allison Harris, and for the patio — wide but intimate, open but protected. It's the best. But… You could also make a case for Pia's Trattoria in Gulfport, where the homemade pasta and rustic patio evoke summer in Tuscany. Or the multi-leveled courtyard at downtown St. Pete's Red Mesa Cantina, whose sun-baked bricks and bubbling fountain evoke the zocalo of a Mexican town. Or the convivial outdoor gathering spot Mad Dogs and Englishmen, where everyone in South Tampa seems to make an appearance, as they do at Haven, where the elegant comfort of the outdoor spaces fully reflect the restaurant's name. And then there's… Guppy's on the Beach in Indian Rocks Beach; its spacious, airy patio is one of the nicest spots on Gulf Boulevard. And I can't neglect to mention Safety Harbor's Parts of Paris: its interior is as intimate as a cafe in the Marais, but there is room to spread out and enjoy the bouillabaisse in the covered patio out front. But wait, there's more: the patio outside Stella's, the psychic center of Gulfport, where hearty meals (especially breakfasts!) and down-home hospitality bring out the locals and the sunbirds in droves. And in Ybor City, the Tampa Bay Brewing Company's indoor/outdoor bar and patio is the spot for chowing down, quaffing beer and watching the world go by.
Perfect Porches
To while away the day sipping cocktails and watching the marina from a rocker on the capacious veranda of The Vinoy Renaissance Resort — now wouldn't that be nice? Or how about spending Soul Food Sunday on the deck of fun and funky Ella's Americana Folk Art Cafe in Seminole Heights? Busy Dr. MLK Blvd. in St. Pete may seem an unlikely spot for a stylish French boîte, but Left Bank Bistro is just that (have the paté!), not least because of its pretty wraparound porch. (Just ask for a table at the back, away from the noise of passing traffic.) And in Gulfport, two popular porches with very different personalities embody the town's multi-faceted charms: the old Southern elegance of Isabelle's at the Historic Peninsula Inn and the come-one/come-all camaraderie of O'Maddy's, where the high spirits spill out onto the sidewalk.
Hidden Gems
I love places that are tucked away out of view, but still out of doors. The leafy, almost-secret garden at the wonderful Franco-Vietnamese Alésia may be the most romantic of them all. Other cozy enclaves include Sweet Sage Café in N. Redington Beach, where your pup gets to choose from his own menu; Trophy Fish, a relaxed oasis cooking up ultra-fresh fish in Grand Central; the gated garden at Chief's Creole Cafe in South St. Pete, perfect for enjoying a bowl of Creole gumbo or a Soulful Sunday Dinner; and Belleair Cafe in Belleair Bluffs, which can legitimately call itself a "hidden jewel" — it's ensconced in the Jewel Antique Mall behind Belleair Market on Jewel Road.
Top Rooftops
The rooftop bar and restaurant scene has shifted into high gear with the opening of Sal Y Mar atop the new Aloft/Element hotels in Midtown Tampa, serving an eclectic international menu and wide-angle views of Midtown and beyond. Other recent hotel-rooftop openings include Vantage Rooftop Bar in the Karol Hotel in Feather Sound; the Hi-Fi Rooftop Bar in The Fenway, a convivial perch for cocktails, elevated bar food and glorious views of sunsets over the Gulf; and the airy Rooftop at the Berkeley Beach Club in Pass-a-Grille, with the quality eats you'd expect from owner Maryann Ferenc (of Mise en Place fame) plus panoramic views of the Gulf, the town and the Sunshine Skyway. Other high points: The Epicurean's Edge Rooftop Cocktail Lounge; the Hotel Zamora's 360º Rooftop Lounge; the Armature Works' M. Bird; the spacious rooftop of Marina Cantina that overlooks all of Clearwater Beach; and The Canopy, the crowning glory of Beach Drive's Birchwood Inn.
Right on the Water
It's one thing to have a waterfront view, but there's something about that feeling of dining not just by but almost in the water. For that vibe, there's nothing quite like Sandbar at Opal Sands, where the surf crashes onto the seawall just below your table. And there's no view of the Intracoastal better than what you get while enjoying fresh fish and cold cocktails on the deck of Salt Rock Grill. Other Bayside beauties: In Dunedin, Olde Bay Cafe has the quintessential beach-town harborside vibe. And while Ophelia's on the Bay in Sarasota is not on Tampa Bay but Old Sarasota Bay, I'll never forget a dinner there on a moonlit evening with a blue heron standing sentinel by our table.
Right On The Beach
It's the ultimate Florida milieu: Dining in style with sand between your toes. That's the lasting appeal of Frenchy's Rockaway Grill, the beacon of Clearwater Beach, and Sloppy Joe's, the popular gathering spot on Treasure Island Beach. And if you can find a parking space, venture onto the verdant grounds of the Bon-Aire Resort in St. Pete Beach and discover Sandbar Bill's, where you'll feel like you've snuck into a beachside barbecue.
Right by the Pool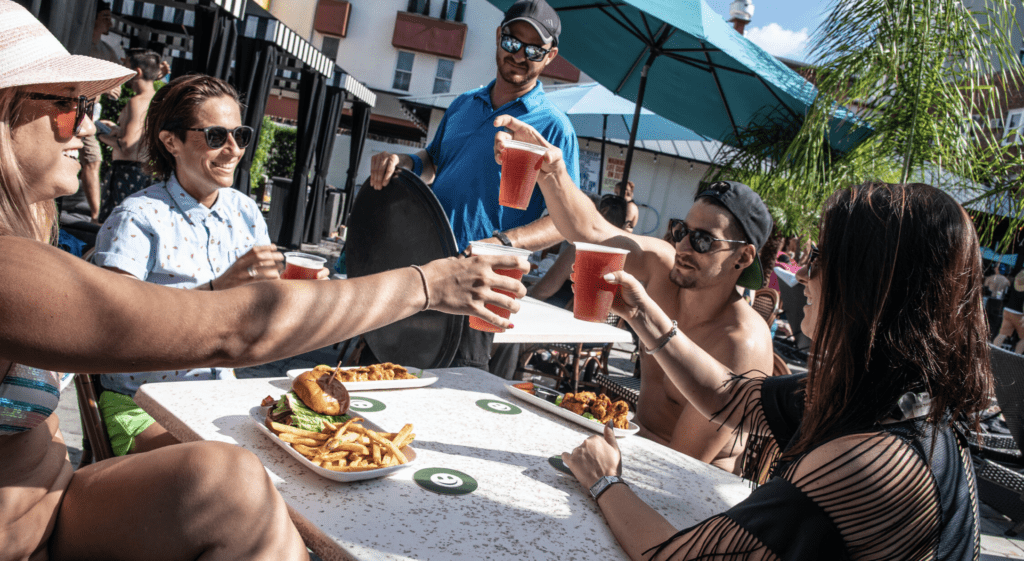 Pull into the garage below the sleek new Treasure Island Beach Resort and head up to BRGR Kitchen + Bar, where you can nosh on Bison Gone Wild Sliders, Raspberry-Pineapple Lemonade and other creative variations on beach fare while enjoying a poolside seat with a view of sunset over the Gulf. Or stop by the Don CeSar, where you can enjoy views from the newly renovated Beacon Poolside Bar & Lookout and the comfortable, classic Rowe Bar. And for an urban variation, head to the poolside bar at downtown St. Pete's HH20 Pool Bar at the Hollander Hotel.
Tops on the Pier
So many outdoor options to choose from on the St. Pete Pier. There's the laid-back deck and sand-underfoot seating at Doc Ford's; the marina-fronting Fresco's; the casual Spa Beach Bistro; the patio outside the Driftwood Cafe. But to get the full impact, head upstairs to the top of the pierhead to Pier Teaki for the best views and the updated tiki bar. There's no outdoor seating at Teak, a floor below Pier Teaki, but the enormous windows may make you feel like you're outside, with perhaps the best views from an indoor restaurant anywhere in St. Pete, and the upscale but reasonably priced cuisine (from the quality-minded pros at the Birchwood Inn on Beach Drive) is reason enough to visit.
Wide Open Air
For longtime Tampa denizens, a Sunday stroll along the Riverwalk still feels like a pinch-me moment — so many people, so much space, such exhilarating views of the sparkling Hillsborough River. From gourmet takeout in the converted container cars of Sparkman Wharf to the Rivergate Tower's pocket-sized Remedy to the inviting plazas outside Ulele and the Armature Works, this is definitely not your grandma's Tampa. To feel both inside and out at once, grab a table near a window or on the patio at Oak & Ola and savor Chef Anne Kearney's creative cuisine.
Wide Open Windows
I love a restaurant that's designed so that when the weather is balmy, the boundaries between inside and out seem to disappear. Chris Ponte's On Swann is already wide and welcoming, but when it's open to the outside air it's sublime (especially if you can snag a table at the surprisingly cozy side patio on Oregon). Step up to this window, too: Besides serving delicious takes on traditional Italian, Sophia's has a secret weapon — a huge open window onto Central Avenue. You can perch on barstools either inside or out, but I prefer the view from inside, where between sips of your expertly prepared Old Fashioned you can catch glimpses of axes being thrown through the air across the street in Hatchet Hangout.
Views from the Terrace
The public-access gate to Paul's Landing may be a little hard to spot (it's a few steps up Fifth Ave NE from the Vinoy), but that's part of the fun, since after you climb the steps you'll find yourself on a sprawling terrace with a magnificent view of Vinoy Marina and the St. Pete skyline. And then you get to enjoy it from an outdoor table while reveling in shrimp toast and snapper ceviche. Nearby, at 400 Beach, perfection is an early-evening martini at a table outside as the lights begin to twinkle in the trees of Straub Park with a view of the bay and the Pier in the distance. A seat outside Counter Culture just off Bay-to-Bay is another must. The latest concept from genius restaurateur Jeannie Pierola, it's described accurately on the restaurant's website as a combination of "elevated kitchen bar dining, open air mixologist bar, Florida patio, and Bay views," and that patio might just have the best view of Bayshore Boulevard and Hillsborough Bay of any Tampa restaurant. And then there's Oystercatchers at the Grand Hyatt Tampa Bay — the views of Rocky Point and the bay are unmatched, and you can get there from your casita on a path through a nature preserve.
The Sidewalks of St. Pete
These days it seems you can't walk anywhere in St. Petersburg without stumbling into an outdoor dining situation. On Beach Drive, you can find tables sequestered from the passing throngs under the sidewalk lanais of Cassis, Birch & Vine and Stillwaters Tavern; at Parkshore Grill, where the wrought-iron tables with their distinctive blue umbrellas are widely spread out on the corner of 3rd and Beach; and in the spacious street-corner domain of Beach Drive pioneer Bella Brava.
Outdoor tables abound all the way up Central — it's an alfresco smorgasbord, with must-stop sidewalk spots off the main drag like the new Social Roost on 1st Ave. S. (best chicken pot pie I've ever had), the ever-popular Gratzzi on 2nd St. S. and the buzzy hightops at The Avenue on 1st Ave. S. You can start on Central's 100 block with caffeine and gluten-free goodies at Craft Kafe, grab a sidewalk table for some of Ted Dorsey's New American fare at The Mill, or the cross the street for fresh mollusks from the Oyster Bar. Continuing west, there's generously spaced seating for enjoying the much-loved Thai fare at Lemon Grass and opa!-ready tables for Greek dishes on the sidewalk and balcony of Acropolis. In the evening, if you're lucky, you can score one of the few tables outside Brick & Mortar and enjoy scrumptious stuff like braised short rib with house "fat" noodles. On the 600 block, find delectable veggie-friendly fare under the bright yellow umbrellas of Cider Press Cafe and succumb to the lure of the varied menu, indoor/outdoor dining and pool tables with a view at The Lure.
In the EDGE District, it's worth the wait for a table at Bodega (home of Tampa Bay's best Cuban) or Bavaro's (home of impeccable Neapolitan pizza). In Grand Central, snag a sidewalk table and some inspired vegan and gluten-free takeout from Lucy's and Valhalla Bakery, snarf down prize-winning tacos on the picnic tables outside Casita Taqueria, or order an inventive cocktail and choose between sidewalk and patio seating at the newish Wild Child.
And we can't leave the subject of St. Pete sidewalks without a stop at Uptown Eats on MLK Boulevard in the Historic Uptown district. Supremely tasty breakfasts and lunches, and you can pop into two of the coolest storefronts in town after your meal: MIZE Gallery and the Neat Neat Neat boutique.
More Sidewalk Scenes
In Tampa, the best perch for viewing the street pageantry of Ybor City is a sidewalk table at Bernini. And in Pass-A-Grille, the sophisticated food and drink at Grace is safely separated from passersby on 8th Avenue thanks to the clever spacecraft of owners Marlin Kaplan and Lisa Masterson. (Look for their Two Graces, opening soon in West Central St. Pete, to make even more imaginative use of outdoor space.)
Block Parties
So you've got a pandemic on your hands and people can't eat indoors? Well, just move your tables into the street! Thanks to the ingenuity of city leaders and restaurateurs, that's what happened last year in South Tampa's Hyde Park Village and Clearwater's downtown. In the Village, when Forbici and Meat Market joined forces to set up tented dining areas on Snow Avenue, it was as if we'd all been invited to someone's outdoor wedding. And Clearwater's "The District" is a revelation; truly, if you didn't think there was any reason to go to downtown Clearwater except to see a show at the Cap, think again. The 400 and 500 blocks of Cleveland feel like a whole new space. And speaking of new spaces, have you been to Cena lately — otherwise known as the home base of The Chef Who Beat Bobby Flay, Michael Buttacavoli? If not, be prepared for a surprise. It's still part of Grand Central at Kennedy, the apartment-and-retail complex in Tampa's Channel District, but its shared courtyard area has been completely transformed, with a new outdoor kitchen and bar for Cena and new bars and seating areas for other restaurants on the courtyard. UPDATE: If Cena happens to be serving Buttacavoli's meatball sub — the one that slayed Flay — ORDER IT. It's a spicy meatball, as they used to say in that old Alka-Seltzer TV ad, and it is perfect.
Dunedin? Definitely
We have to include the alfresco dining scene in Dunedin; after all, there's a restaurant there actually called Cafe Alfresco, whose breezy porch is located directly on the Pinellas Trail. The rest of the town is also adept at streetside cuisine, with such deservedly popular spots as The Living Room on Main, Casa Tina, Pisces Sushi, Hog Island Fish Camp and waterfront standby Bon Appetit all serving up dishes as fresh as the Gulf breeze.
Worth The Trip
My colleague Tracey Serebin has convinced me: I have to make a trip to Riverview to eat at Donovan's Meatery, the new concept from the Datz/Dough team. It's got a sweet outdoor area — ideal for chillier weather because it's got a fireplace and a firepit — but I'm also jonesing to try their edible candle, among other inventive dishes. And here's another out-of-the-way find: Mystic Fish. Or maybe it's only a "find" for me, because after reading reviews online and traveling to the strip mall in Palm Harbor where it's located, I discovered it's been a favorite local restaurant for decades. And no wonder — the food is delicious and the warmth of both the outdoor space and our friendly server made for a very pleasant experience.
Shop & Stop
If you ever get exhausted from schlumping around your purchases at the mall (that is, if you haven't transferred all your buying power to Amazon), International Plaza has you covered. At the Plaza, you've got Bay Street, a promenade devoted to eating and drinking, much of it outdoors: the mega-popular Cheesecake Factory; the upscale steakhouse Capital Grille; the high-spirited Whiskey Cake; plus Doc B's, Brio, Bar Louie and more. Or head over to the Plaza's West Shore entrance and the patio at Ocean Prime, or cruise Boy Scout Boulevard for an outdoor table at DelFrisco's, Fleming's, Cooper's Hawk or Kona Grill. And then there's The Shops at Wiregrass in Wesley Chapel, which feels like a self-contained small town, with sidewalks and parks and lots of restaurants to choose from, including Vom Fass, an amazing amalgam of olive oils and wines, and an outpost of one of my St. Pete favorites, Noble Crust (with those wide-open windows I like).
Fun & Games
If you'd like to take the whole fam-damily to a place where they can nosh on yummy burgers and local beer, watch big-screen TVs, play a game of Jenga or lounge on the lawn, you can do it all at Florida Avenue Brewing Co. in Wesley Chapel. Another playful destination: Nebraska Mini-Mart, the brainchild of the brilliant folks behind Rooster & the Till. Named for the drive-thru market that used to occupy its acre-and-a-half property, the Seminole Heights hot spot serves burgers, fries, milkshakes and chicken sandwiches among regulation-sized bocce and shuffleboard courts and a custom ping-pong table. In St. Pete, you can join the rollicking downtown scene at Park&Rec (cornhole, anyone?); enjoy some lip-smackin' barbecue between rounds of shuffleboard at Urban Brew and BBQ in the Grand Central district; or enjoy the indoor/outdoor sports-bar vibe at Ferg's and the casual allure of Green Bench Brewing Company, with its family-friendly lawn and Webb's City Cellar tasting room.