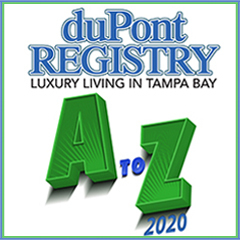 This year's A to Z Issue celebrates people and businesses who have been successfully riding the turbulent waves of change and offering service and hope to the community at large. The print edition will be out in mid-July, but we're teasing the content throughout the next several weeks, one letter at a time.
Though deemed essential by the state, auto-related businesses have had to deal with all manner of financial pressures, from plant closures to the unpredictability of the car-buying public. But none of that stopped Crown Automotive Group from giving back. The company extended its 50-years-and-counting record of generosity by purchasing and delivering hundreds of meals to hospital workers.
Amidst a slew of closures and cancellations in Tampa Bay's arts scene, a well-known name in auto sales — Dimmitt Chevrolet Managing Partner Liz Dimmitt — delivered hopeful news. She is the founder and CEO of Fairgrounds, a 12,000-sq-ft. immersive arts attraction in South St. Pete slated to open in 2021, and in April she and her team issued a request for proposals. "It's exciting to launch our first call to artists, especially during this extraordinary time," Dimmitt told the Tampa Bay Times.
Finally, it's good to know that in times of crisis, you don't have to worry about your car getting stuck in the garage: Banko Overhead Doors not only responds quickly to emergencies with a team of full-time technicians, they've put in place a proactive Safe Servicing policy in observance of WHO and CDC guidelines.
Read more from the 2020 A to Z List
B is for Beauty: Caring for heads and hands with a whole lotta heart