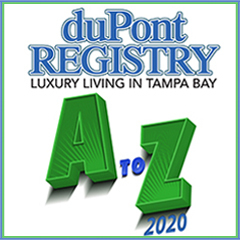 This year's A to Z Issue celebrates people and businesses who have been successfully riding the turbulent waves of change and offering service and hope to the community at large. The print edition will be out in mid-July, but we're teasing the content throughout the next several weeks, one letter at a time.
Carrollwood's Salon Inga has been beautifying Tampa heads for more than 30 years, attracting a passionate and devoted following that includes both women and men (clients of The Barbershop by Salon Inga). Run by the powerhouse mother-daughter team of Inga Handing and Tanja Catoe (who's also co-owner of Crown & Mane in Hyde Park Village, home of the "bespoke blowout"), the salon is committed to giving back, supporting such organizations as the American Cancer Society, The AIDS Institute and Children with Hair Loss. The salon has also found innovative ways of serving customers during the coronavirus crisis, including pre-prepared coloring kits.
The eyes have it — and if your eyes (and eyelids) are showing the wear and tear of worries, weariness or late-night Twitter obsession, then Tampa's Dr. Adam Scheiner is the man to see. A nationally known ophthalmologist with a specialty in laser eyelid and facial plastic surgery, he has literally written the book on beauty. It's called The True Definition of Beauty, and its philosophy — that cosmetic procedures should reveal "a patient's innate natural beauty" — is truly enlightening.
And let's not forget our fingers and toes; Happy Nails in Tampa Palms stands out not only for the quality of its manicures and pedicures, but for its safety procedures — among the most reassuringly stringent we've seen.
Read more from the 2020 A to Z List
A is for Auto: Making a difference beyond the world of wheels