While chopping up ideas for this week's edition, I noticed an omission — if not exactly a glaring one: Not once in the illustrious 21-month history of Friday Food Fight had it featured German food.
High time to go Teutonic. But what dish?
Wienerschnitzel is the most fun to say, but I found out it's made with veal, so a nonstarter. After some poking around, I landed on sauerbraten, a pot roast of marinated beef covered in a rich brown gravy. Anything pot roast, deal me in.
This endeavor required finding two categorically German restaurants, which have always been scarce in these parts. I landed on:
Berlins Doener in south St. Pete and Sandra's German Restaurant on St. Pete Beach.
BERLINS DOENER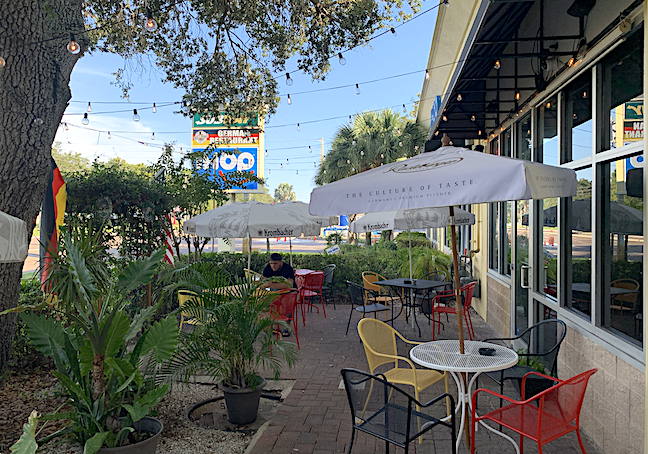 The restaurant is sandwiched between a Subway and an IHOP on an improved stretch of 34th Street South, at 41st Avenue. It's an unassuming place, easy to miss from the main road. On Monday around 6:30, business was predictably slow, it being 4th of July eve.
The long, narrow interior is very basic, and does little to evoke a German vibe. No oom-pah music, just classic rock coming out of tinny speakers. Our energetic server, Lily, wore yoga pants instead of a puffy-sleeved dirndl.
But 16 different German beers on tap trump ethnic accoutrements every time.
A nice surprise was the makeshift beer garden on the 34th Street side, where a lone fellow sat enjoying a bulky liter mug. With local heat records teetering — and the hottest day in the history of Earth a few hours away — we opted to eat indoors under AC.
We ordered sauerbraten with spätzle noodles and red cabbage ($20.95), plus a starter of potato pancakes ($9.99).
But first, beer. After a bit of advice from Lily, I chose a half-liter of Ayinger Dunkel and Bonnie got a Schneider & Son Aventinus (both $7). I'm a Bud Light drinker, but when in Berlin …
Appearance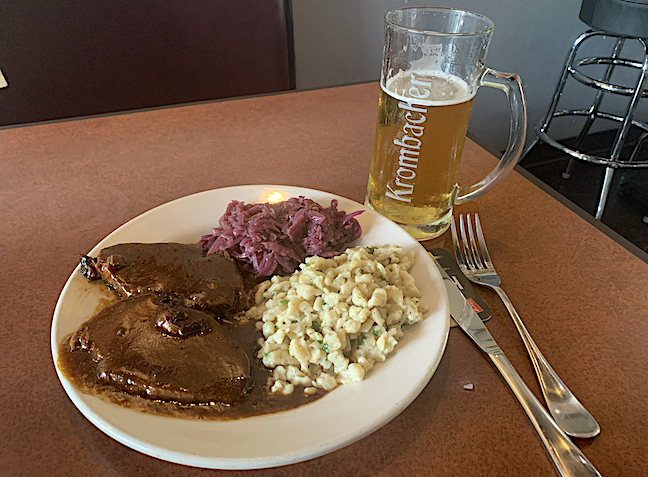 A hefty portion of hearty grub, eminently splittable (especially after potato pancakes). The two ample slices of beef were slathered with an inviting brown gravy. The plate was made prettier by my adjacent mug of creamy Dunkel, its once-foamy head depleted.
Texture and Taste
I'll start with the pancakes — three of them, golden brown, sided by small containers of sour cream and apple sauce. A crisp exterior gave way to smooth innards, but the potato flavor was curiously muted, and needed the extras to liven it up. Who knew apple sauce and sour cream made for such a pleasing combination?
Onto the main course. The beef was firmer and chewier than I'd have liked, and absent the tangy red-wine gravy it proved to be on the dryish side. Unlike most pot roast, we needed a knife to cut it.
The spätzle, just firm enough, worked well with the sauce. The red cabbage, however, was so overwhelmed by an off-putting spice (cumin, according to Lily) that I took a couple of bites, made a face and pushed it aside.
The single entree and starter were plenty enough for both of us.
SANDRA'S GERMAN RESTAURANT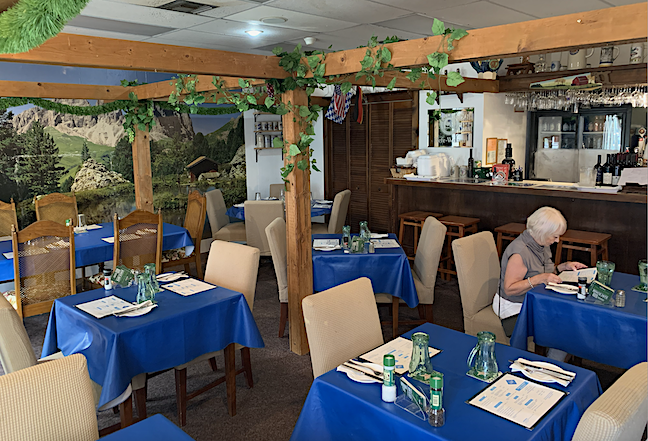 Located in a barren strip mall on Gulf Boulevard, the restaurant's fatigued exterior belies the charms within. We entered around 6:30 Wednesday to cozy decor with some German signifiers — shelves of mugs and steins, for instance — but nothing too heavy-handed. Royal blue tablecloths added  vibrancy.
We sat a two-top with padded chairs that were way more comfy than I've come to expect from restaurants. Sarah, who was handling server duties for the small dining room, oozed warmth and quiet charm. No dirndl for her, either — rather, a flowing, floral-print dress. Classical music at a modest volume lent an air of sophistication.
My sauerbraten ($26) came with spätzle and red cabbage, plus a small order of bread and a house salad. We added potato pancakes ($15) as a starter. Took a pass on beer.
Appearance
Five thick slices of marinated angus beef engulfed in luxuriant brown sauce glowed from the plate, rendering the sides all but moot. Titillating, but more meat than I felt up to, especially after bread, salad and potato pancakes.
Texture and Taste
As above, I'll start with the starter. Before Sarah even put the plate of pancakes on the table, a lovely potato aroma swirled around our nostrils. Unlike the round discs at Berlin's Doener, these were ragged and real-looking. That's how they tasted — rustic, each bite both crispy and lush. The sour cream/apple sauce combo provided a flavor bonus.
The sauerbraten arrived. I place my fork on the beef, pushed down lightly and it gave way, producing my first sumptuous bite. Quality product, expertly prepared — like grandma's pot roast, but coated in velvety, sweet-and-sour nectar.
The spätzle was pleasingly firm and played well with the tangy sauce. The cabbage, however, had an off-putting flavor similar to that of Berlin's Doener, although Sarah said the primary spice was clove. She asked if I liked it and I replied with a direct but polite, "no, that spice doesn't work for me." Then Sarah brought me out a takeout container of warm German potato salad, although I said it wasn't necessary.
I'm dismayed to report that I got less than half way through the sauerbraten before I surrendered and put down my fork (no knife needed). The leftovers are hanging out in the fridge, awaiting a date with the microwave.
And the Winner of the Sauerbraten Scrap Is …
Sandra's German Restaurant.
An easy call. Sandra's wins on flavor, quality, portion size and value (although it cost five bucks more, the meal came with bread and salad). The restaurant also had a far superior ambience, with a relaxed intimacy and caring service.
Antje, the owner and chef, stopped by our table for a chat as we settled up. We discussed the cabbage's heavy clove flavor. She thanked me for the feedback. "I should look into cutting back on it," she mused. That impressed me.
Our dinner at Sandra's was, simply put, a thoroughly pleasurable experience.