Belly up to the bar for the first ever Friday Cocktail Fight. The Registry Tampa Bay brass suggested a momentary pivot into the world of alcohol, and I was glad to oblige.
So how does a committed Bud Light drinker select a cocktail for a debut of this magnitude?
Throw a dart. Okay, not entirely. My one basic criteria: I didn't want to choose a specialty (aka frou-frou) cocktail, but rather one that had some history and gravitas. The Manhattan certainly fits the bill. According to popular history, the drink dates back to the Manhattan Club in New York City in the mid-1870s. It's properly made with two ounces of rye or bourbon, and one ounce of sweet vermouth, along with bitters, finished off with a preserved cherry.
But as I found out from two expert mixologists, it's far more involved than that.
I've had maybe three Manhattans in my lifetime. So for this foray, I enlisted help from my longtime friend Brendan, a sophisticated, cultured and erudite — not to mention handsome — fellow who ages ago was a bartender and still relishes mixing drinks at home for friends (or, in my case, having Bud Lights in the fridge). Let's call him my spirits guide.
I wanted to make my Manhattan project a mini-bar-hop, so chose two establishments within walking distance in downtown Tampa: Hotel Bar and CW's Gin Joint (which is also a restaurant). I dressed up — a little. Not full Don Draper, but my slacks had creases.
CW's GIN JOINT
We arrived shortly after 5 on Tuesday — it was still light out — and a uniformed man swept open the door with a subtle elan. Of all the gin joints in all the world … I find one with doorman. We immediately encountered a long bar, where the four of us (Bonnie and Brendan's wife Sandy joined in the fun) chose to sit, rather than at a nearby table.
The space was dark — but not so much that your eyes had to adjust — illuminated by elaborate chandeliers. The barstools, outfitted with backs, were eminently comfortable.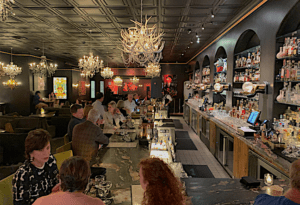 Preparation and Presentation
I explained my mission to our bartender Jonathan, asking him, vaguely, what he suggested in terms of a Manhattan.
"What kind of food do you like?" he asked.
After a slightly confused pause, I said, "A lot of things … Um, meatloaf …"
Jonathan explained that my food preference would help determine the type of Manhattan I would enjoy, especially in terms of how spicy he made it. After a brief discussion, he mixed up two in one pitcher.
Here's where it got complicated. Brendan and Jonathan fell into a discussion about the finer points of different vermouths. I furiously took notes.
I'll spare you the mixology play-by-play, but Brendan signed off that Jonathan had covered all necessary steps. After assessing my flavor profile, our mixologist decided to use a 50/50 blend of Michter's rye and bourbon (both of which cost about $45 a bottle). He concocted the customized elixir and gave it a vigorous stir (for a desired dilution), while delicate cocktail glasses sat nearby, chilling with ice in them. Brendan approved.
Texture and Taste
Very dissimilar to Bud Light.
I could see the small Luxardo cherry (in lieu of the more pedestrian Maraschino) lolling on the bottom of the louche brown liquid.
I carefully brought the glass to my lips and took a small sip. This Manhattan ($14) was more spirits-forward and less sweet than the ones I remembered. It had an appealing bite to it, without ever crossing over into harsh. I leisurely drank it to the bottom amid stimulating conversation. I left the cherry.
HOTEL BAR
It was dark when we walked the five blocks south to Hotel Bar, which is not located in a hotel and does not have a doorman. The place is smaller, more casual, with unfinished concrete floors. We settled into a section of the bar that accommodated the four of us. The stools were comfy.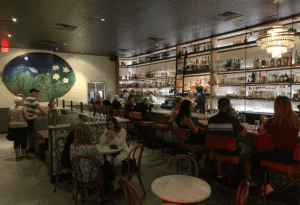 The massive spirits wall came equipped with a slide-able ladder for bartenders to reach the tippity-top shelf. We would not be anywhere close to that rarified air. My Manhattan excursion revealed a surprising takeaway: Even the best cocktail lounges do not use high-end liquor for this particular cocktail. The highfalutin-ness would get buried in the mix.
We decided to order one Manhattan ($12) and have Brendan guest sip.
Preparation and Presentation
Our bartender, Juan, didn't ask me what type of food I like, but instead explained, "we're a classic cocktail bar, so our recipes are pretty standard." He used Rittenhouse 100-proof Rye (about $20 a bottle), which he characterized as "really spicy."
Juan allowed that you can make a Manhattan with bourbon, but disapproved, explaining that the liquor's sweetness does not blend as well with the sweet vermouth. Hotel Bar uses a house mixture of two vermouths — one heavier, one lighter.
Brendan and Juan fell into a discussion about bitters. I furiously took notes.
Texture and Taste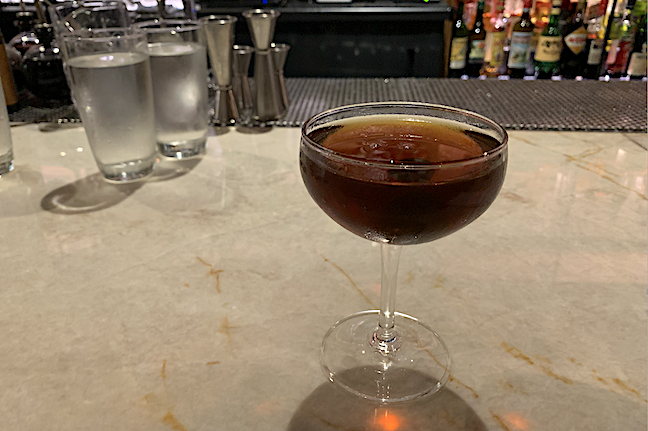 As you can see from the above photo, Hotel Bar's Manhattan looked virtually identical to the Gin Joint's. As it should be. Wait — the cocktail glass may have been a millimeter or two deeper.
Despite Juan's assertion that spicy should balance out sweet, this Manhattan was notably sweeter than the one at Gin Joint. It was in no way cloying, though, and went down smoothly. I drank it leisurely, leaving the cherry at the bottom.
And the Winner of the First Ever Friday Cocktail Fight: Manhattan Project Is …
Em, I can't pick one — not an outright victor, at least. More so than Friday Food Fights, this one really boils down to preference.
Here's the decision: I preferred the Gin Joint's more bracing version. Brendan gave the nod to Hotel Bar's sweeter take.
We'll call it a draw.
Ultimately, the four of us were the winners. We enjoyed a terrific time out with friends. Bonnie and I hadn't drunk at a bar in a very long time, and our Manhattan project proved a lovely change of pace, made far better by the company we kept.