If you can't imagine leaving Fido behind when you travel — even when you're planning a romantic getaway — you're not alone. According to the 2019-2020 National Pet Owners Survey conducted by the American Pet Products Association, 67 percent of U.S. households include pets. That adds up to almost 85 million families, a number likely to increase in the wake of a surge of pet adoptions during the pandemic.
But traveling with pets is no walk in the park. Depending on the desired destination, it can be difficult to find overnight accommodations with welcome mats for our four-legged friends, or booking choices may be limited to moderately priced, limited-service hotels.
Fortunately, prohibitions against pets are being replaced by more hospitable policies. Boutique hotels and upscale resorts across Florida have created innovative ways to provide VIP treatment to these Very Important Pets, from canine cuisine to customized tiki huts.
Kimpton Hotel Palomar South Beach, Miami
The open-door pet policy of this stylish hotel built on a barrier island is applicable at all Kimpton Boutique Hotels. Furry, feathery and scaly pets that fit through the hotel doors are welcome to stay with no extra fees applied. Bill Kimpton, founder of these namesake hotels, frequently traveled with his miniature collie, Chianti (a favorite wine of the executive). Knowing that guests value the company and comfort pets provide, the policy has been part of the Kimpton brand since 1981. This new 96-room hotel overlooking Biscayne Bay, tucked within the enclave of Sunset Harbour, offers pet guests complimentary treats, food bowls, lush beds, doggy bags and leashes. Restaurants with outdoor seating are located within walking distance, while the mile-long Lincoln Road Mall is ideal for window shopping while people and pets are out for a morning run or stroll. hotelpalomar-southbeach.com.
Baker's Cay Resort, Key Largo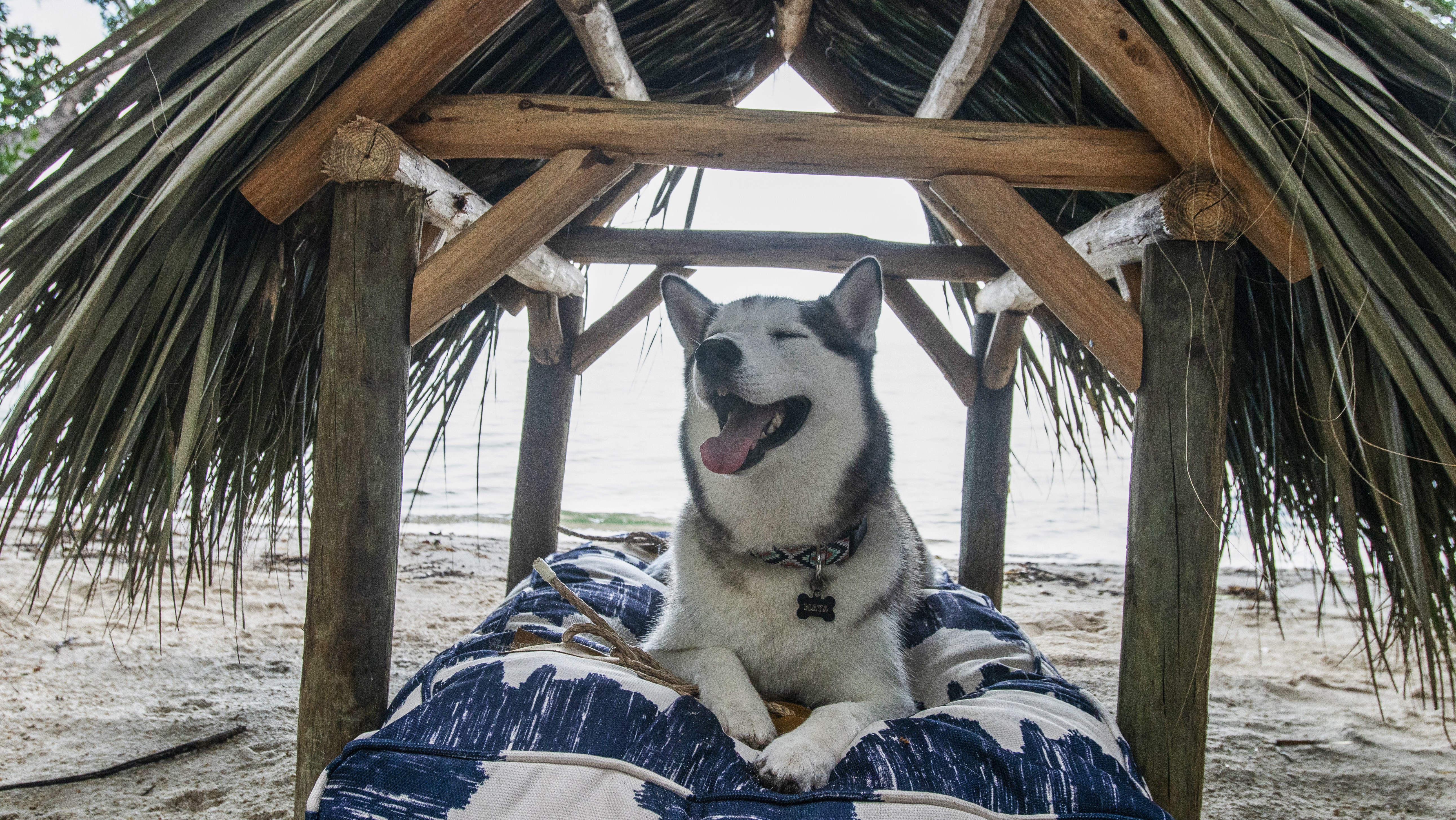 Overlooking a private beach in southern Key Largo, this 200-room Curio Collection resort puts pets, not on a pedestal, but into their own private cabanas. The shady shelters are just part of a pet perks program supervised by Maya, the Cay-9 Director of Pet Relations. The hotel's high-ranking Huskie bunks off-site with the resort's activities director and wife, Scott and Allie Brown, but patrols the property and greets guests on an almost daily basis. A doggy bio, head shots, love of tummy rubs and "fluffy good looks'' helped her nail the interview and land the job. Special magnets affixed to guest room doors alert housekeeping there are pets on the premises, while customized collar charms and special snacks are dispensed freely to dogs overnighting at this 15-acre getaway. A $75 per night non-refundable fee is added for one or two pets overnighting for up to a seven-night stay, and a 100-pound weight limit is enforced. hilton.com.
The Ben Hotel, West Palm Beach
A prolific local author, animal lover and conservationist helped give this hotel not only its identity but its claim to fame as a dog-friendly retreat. Byrd "Birdie" Spilman Dewey held her dog Bruno in such high esteem that she penned a best-selling book in his name and in his honor. Her residence, a Victorian-style house known as the Ben Trovato Estate and one of West Palm Beach's original homes, enabled Byrd to pursue another passion — her love of entertaining. The Ben Hotel embodies that same spirit of hospitality and, in remembrance of Byrd's beloved dog, incorporates statues and artwork of Bruno throughout its decor. Pets can partake in room service, don comfortable doggie robes, indulge in spa products and attend a "pup brunch" served on the 208-room waterfront hotel's patio every Saturday. Part of the Autograph Collection, The Ben allows up to two pets per room, but they can't exceed a maximum combined weight of 50 pounds. The non-refundable pet fee is $100. marriott.com.
Aloft & Element Hotels, Midtown Tampa
In addition to two pet-friendly hotels, guests arriving at the new $500 million, mixed-use Midtown Tampa development will discover an entire community catering to pet lovers and their loved ones. The dual-property hotels share ground-level retail space and a sixth-floor lobby plus common areas like the rooftop restaurant and lounge. Both The Element and Aloft boast separate guest room towers and signature pet programs featuring toys, treats, bowls and beds. Dogs stay fee-free, but there is a 40-pound weight limit for all 226 rooms. Once the entire development is completed, Midtown Tampa's 23-acre pawprint will be home to restaurants, retailers, footpaths, a designated off-leash dog park, and the Watercourse Walking Trail; encircling a three-acre lake, the trail will be perfect for a pet promenade. One not-to-miss neighbor — Royal Pets Market & Resort — promises that "All Pets Who Enter Shall Leave as Royalty" and will feature foods, products, veterinary care and grooming services to live up to its claim. Stock up on accessories, necessities or book a soothing cucumber facial or aroma therapy bath for your pet. Aloft: marriott.com/tpaal; Element: marriott.com/tpael