Autos: The Sarasota Studio
The Sarasota Studio |1518 State Street | Sarasota | 941-444-3510 | thesarasotastudio.com
At The Sarasota Studio, a division of the Dimmitt Automotive Group that opened in downtown Sarasota late last year, clients won't find rows and rows of cars from which to choose. In fact, they won't even find a car lot.
"It's a really cool downtown location with a different type of vibe," said Todd vanHerwynen of The Sarasota Studio. "We're not your typical car dealership."
"We're a very unique, very unusual showroom," said Liz Manes of The Sarasota Studio. "We're a beautiful, large, open industrial space with polished concrete floors and exposed beams. The artwork on the walls is from State of the Arts Gallery across the street."
Just as the gallery across the street, Liz likens The Sarasota Studio to a venue in which to look at beautiful pieces of art. "Just art you can drive," she laughed.
In fact, the space is so appealing that Liz and Todd have hosted sev-eral small meetings and group events. "We really want to be a part of the community and be a part of the weave of Sarasota," said Liz.
"We're right in the heart of downtown Sarasota, near the ballet, the museums, the galleries and restaurants," Liz continued. "We're so different, but so well-received. We bring a different blend of art to the area." It's not only the studio's appearance that differentiates it from other car dealerships in the area, however; it's the car buying experience as well. "Liz and I are the only ones at the studio," explained Todd. "Everyone who walks in is going to be introduced to both of us."
"It's a very low-pressure, informal type of meeting when someone comes into the studio," added Liz. "We're here to change the tone of what it might be to purchase a car."
That low-pressure, informal attitude extends to the car buying experience, too. Todd explained that clients won't find the typical back and forth of buying a car, but rather he and Liz try and do what's best for their clients.
Dimmitt Automotive Group is an authorized dealer of Aston Martin, Bentley, Rolls-Royce and McLaren. The studio on State Street can display up to 22 ultra-luxury/exotic pre-owned automobiles in the showroom, and Liz and Todd have access to the full inventory of cars available through the Dimmitt Automotive Group.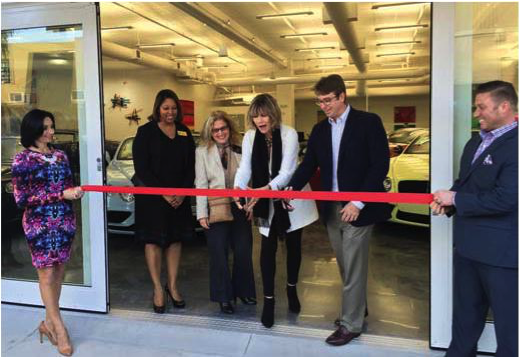 Previous Post
Next Post