Celebrating 800 Homes and Throwing a Funky Spring Fundraiser: The Disco Ball
Cindy Stovall
There aren't too many not-for-profit organizations throughout the US with a more recognizable name and mission than Habitat for Humanity – successfully fulfilling the dream of homeownership for so many hard-working families.  For this issue, we are proud to shine a spotlight on the work of our own Pinellas & West Pasco Counties affiliate of Habitat – and to invite you to several big events that they are hosting in March.
A Historic Mission
For decades, Habitat for Humanity of Pinellas (West Pasco joined forces with Pinellas in 2018 ), has made owning a home a reality for countless families through a process that builds and makes homes attainable through cost stabilization. But, more than that, Habitat backs it up with comprehensive programming that assists their new home-owners in making their mortgages sustainable through education, accountability, and support.
These homes are not given away, you see. There is a rigorous process to be undertaken before eligibility is even considered. And that's just the first step. Education courses (32 offered), like finance 101, home maintenance, etc., and other requirements like good grades for school children, volunteer hours and more, are met to greatly improve the chance of success long term. "350 – 450 hours of 'sweat equity' are required to complete our program," says development director, Meredith Reagin, a Pinellas County Native devoted to her community. "We give families the tools they need to maintain home ownership and to continually improve the overall quality of their lives long into the future,". "Habitat for Humanity not only provides access to shelter through home ownership, but we also help create an environment of self-reliance and stability. It's a long-term partnership."
An Honorable Distinction
No wonder Habitat attracts the lifelong support of people like former President Jimmy Carter and former First Lady Roslyn Carter – still active with Habitat well into their 90s. Their dedication is well known, with frequent stories featuring the couple helping to build homes for families in need of shelter and a home to call their own.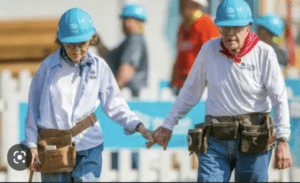 What may not be as well known, perhaps, is that our very own Habitat for Humanity of Pinellas & West Pasco Counties is the fastest-growing and top-producing affiliate in the entire country. Surprised? Well, it's a truth to be very proud of. Reagin explains, "we have been so fortunate to be part of such an engaged and philanthropic community who believe in our mission – that everyone should have a decent place to live. Our supporters, whether they be donors, volunteers, sponsors, or grassroots facilitators, have been amazing ambassadors for Habitat of Pinellas & West Pasco."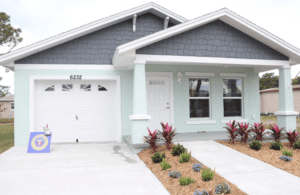 The proof is in the numbers. Since 1985, Habitat for Humanity of Pinellas & West Pasco Counties has built a milestone 800 homes, but more than 400 of those homes have been built in just the last eight years. "The need is ever increasing," explains Reagin, "the number of applications we receive on a regular basis is staggering due to the rapidly increasing cost of living in our area. It is an urgent situation. We have been growing rapidly to try and keep up with increasing need. We currently have 120 families in the system who will realize a dream they never thought possible – the dream of owning a home of their own."
800 and Counting
A very important milestone is coming up for Habitat of Pinellas and West Pasco on March 24th – the official dedication of the 800th home will take place in a public event from 10 – 11am. Brianna Clayton and her 6-year-old daughter Paisley, are the deserving family that will receive the keys to their new home at the ceremony. Clayton is a bartender at Buffalo Wild Wings and a student at SPC. Paisley is a lover of dancing, singing, and soccer playing. A single parent, Clayton describes herself as determined, hard-working, strong, and empathetic. She says, "I am building because for years I have been trying to give us a stable, safe place to call home, and this opportunity is giving us our forever home to grow in and build those special lifelong memories. My house will be a place of safety, peace, and love for Paisley to grow up in."
That's what Habitat for Humanity means to these families. Hope.
Read The Clayton family's full story here.
In honor of the 800 homes milestone, a grass roots campaign has garnered a number of $800 donations. If you would like to join the campaign for that, or any amount, click here.
The Disco Ball
Probably the biggest and most anticipated event every year is the Spring Fundraiser (previously known as the Annual Blueprint Gala). Now, each year's party has a specific theme and name. This year, the theme is a 70s era disco party – hence, The Disco Ball! It's sure to be a blast, so, put on your platforms, pull up your bell bottoms, rock your sequined disco dress, and Boogie on over to the beautiful Vinoy Renaissance St. Petersburg Resort for a night of dancing, huge fun, and good works.
Under an actual disco ball, hung in a historic Vinoy Ballroom, there will be live 70s era music, delicious food and drink, a fabulous auction and a Studio 54 After-Party! It's simply a not to be missed event for a great time and a very good cause. "Habitat has increased capacity for The Disco Ball," says Reagin, "and we look forward to welcoming even more habitat supporters and raising more than ever to meet the growing need."
Festivities start at 7pm and you can get your tickets or inquire about sponsorships here.
Join an event, volunteer, donate, or simply help spread the word. We all possess the ability to support and advance the very noble mission of Habitat for Humanity – dreaming and achieving that which seems impossible.
Habitat for Humanity of Pinellas & West Pasco Counties
14010 Roosevelt Blvd. #704
Clearwater, FL 33762
(727) 536-4755
www.habitatpwp.org