C is for Celebrations: A virtual winefest, drive-by graduations and more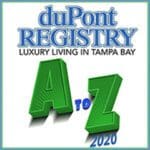 This year's A to Z Issue celebrates people and businesses who have been successfully riding the turbulent waves of change and offering service and hope to the community at large. The print edition will be out in mid-July, but we're teasing the content throughout the next several weeks, one letter at a time.
Though there's been so much separating us in the past several months, we humans have found multiple ways to come together and celebrate: drive-by birthday parties; salutes to first responders from balconies and front stoops; virtual happy hours with friends. Most ingeniously, we've found new means of observing life's most significant milestones — for instance, getting married on Zoom so guests from far away can still take part. In some cases, the alternatives have proven so successful that they may become the norm. Take graduation car parades like the ones at St. Pete's Shorecrest Preparatory School. What graduates would ever again want to sit in a football field for hours when they could pick up the diploma in the family mini-van and cruise past friends and faculty with balloons and banners streaming? And consider the virtual solution devised by event planner extraordinaire Brooke Palmer Kuhl of RSBP Events; though she was crushed that her biggest client's biggest celebration — Bern's Winefest — couldn't be held in person, she still found a way to throw a party that everyone loved, complete with a live-streamed performance by Electric Avenue that drew thousands of pageviews and WineFest Quarantine Kits that sold out in two days.
Next: D is for Dining: Takeout, helping out and taking it to the streets