D is for Dining: Takeout, helping out and taking it to the streets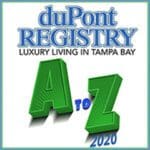 This year's A to Z Issue celebrates people and businesses who have been successfully riding the turbulent waves of change and offering service and hope to the community at large. The print edition will be out in mid-July, but we're teasing the content online, one letter at a time.
Restaurants have struggled valiantly these last few months, but many were able to make adjustments that may prove beneficial in the long run. Take take-out, for example; eateries that hadn't ever made it part of their business found a new audience, and customers found reason to sample places where they'd never dined before. In St. Pete, takeout standouts included Beau & Mo's, whose ribeye to go was a wonder (and a deal); the Stillwaters/Bella Brava team, whose BOGO pasta deals and Family-Style Quarantine Meals were lifesavers; and Alésia, who built a whole new "Side Window" to accommodate their new pick-up protocols. In Tampa, Whiskey Cake and Rooster & the Till devised ingenious meal kits — the former offering special-occasion packages for everything from Mother's Day to graduations, the latter putting together alluring, inventive Sunday Suppers. In Dunedin, one critically acclaimed restaurant changed its name when it converted (temporarily) to takeout-only: The Restorative became The Temporary. With restricted indoor capacity, some eateries took to the streets: Forbici Modern Italian made national news when, thanks to the City of Tampa, they were able to set up a tent on the street outside their restaurant, helping to turn Snow Avenue in Tampa's Hyde Park Village into an outdoor block party. And we can't neglect to mention the many restaurants that offered free meals to first responders and just plain hungry folks, including Gratzzi, The Burg Diner, Newk's Eatery and Smokin' J's Real Texas BBQ.
UPDATE: Stillwaters Tavern, which closed for deep cleaning for three days beginning 6/24 after two of its employees tested positive for Covid-19, has now reopened.