An abridged history of fast-food chicken: Nuggets were developed in the 1950s by a food science professor at Cornell University. Wings took flight in the Anchor Bar in Buffalo in 1964. Fingers emerged in 1974 at the Puritan Backroom restaurant in Manchester, New Hampshire. McDonald's rolled out the ignominious McNugget in select markets in 1981.
Remarkable the kind of esoterica you can easily find online.
Which brings us to chicken tenders. They fall under the rubric of fingers, but use the tenderloin part of breast, which is commonly held to be the most tender part. Their exact origin is murky. One clue might be that the first Chick fil-A opened in the Greenbriar Mall in Atlanta in 1967, but it's unclear if the shop used actual tenderloin.
Time to to dig myself out of the rabbit hole.
We will not be calling Chick fil-A into the ring. Instead, two other chains will duke it out:
• PDQ, which first opened in Tampa in 2011 and has 68 stores in five states, 52 in Florida.
• Huey Magoo's, which opened in Orlando in 2004 and has 50 stores in 10 states, 30 in Florida.
Both brands crow about their chicken being of the highest — and tenderest — quality. Huey Magoo's goes so far as to call its product the "filet mignon of chicken."
I decided to get takeout at each place and bring the goods back to the FFF Lab™. I ordered the basic fried tenders, although both restaurants offer them grilled.
PDQ
The location I chose is three blocks away from a Chick fil-A that routinely has cars spilling out onto 4th Street waiting to get into the drive-thru maze. This PDQ, by contrast, is close to empty whenever I cast a glance its way. I won't comment on the questionable wisdom of planting a PDQ on this spot — anymore than I just did.
At 3:30 p.m. on Tuesday, I pulled up to the first window with no cars in front of me, and placed my order: a 3-Piece Crispy Tenders Meal, which came with waffle fries and a soft drink, ($9.49).
I paid and drove to the pickup window. For kicks, I put a timer on it.
I got my bag of grub in 48 seconds. That's either good or bad, depending on your point of view.
Appearance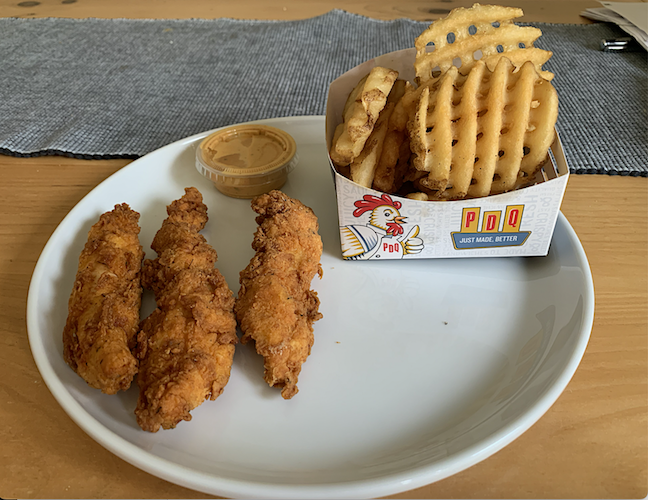 Pretty standard — I mean, how creative can you get? The chicken's outer shell was a bit darker than most of the tenders I've seen (i.e. Chick Fil-A), and had a reddish brown hue. The waffle fries looked hearty and there were plenty of them.
Texture and Taste
Tender, but not the most tender I've had. The outer crust was on the thick side, chewy but not tough. It had an inviting flavor, with the slightest hint of spicy heat. The meat inside was fine, although not quite as moist as I'd hoped.
The waffle fries were moderately crunchy on the outside, with a winning potato flavor beneath. Their salt quotient was spot-on.
I chose the PDQ Sauce out of the nine on offer. Orange with dark flecks, it added a bit more spicy heat. I could taste horseradish, though, and that made this dip a non-starter. After a couple of swipes, I pushed it aside.
HUEY MAGOO'S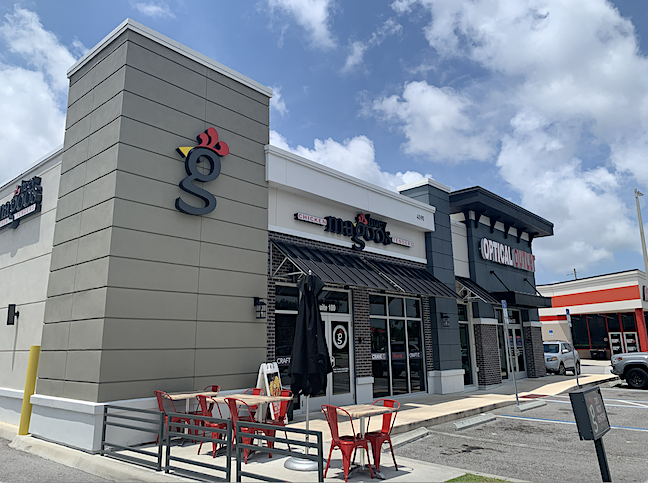 Because Huey Magoo's is located on a busy stretch of Park Boulevard (at 46th Street) and shares a wall with an optical shop, and because I approached from the west, I didn't see the drive-thru until I pulled out with my bag of food.
I didn't mind ordering inside. At 1 p.m. on Thursday the place was moderately busy with sit-down diners. There was also a couple of tall stacks of takeout bags behind the counter. I wondered if I was in for a long wait.
An amiable young fellow took my order at the counter. A 3-Piece with crinkle cut fries and a slice of toast ($8.55). When I casually informed him that I'd almost certainly not eat the toast, but to leave it anyway (for the photos), he told me I could sub out the bread for something else.
"Coleslaw?" I asked.
"Sure," he said with a smile, which I returned. We had a mini-moment.
I sat at a table near the door and started my clock. The counter guy brought it to me himself, and threw in another smile. One minute, 39 seconds.
Appearance
Unlike PDQ, Huey Magoo's sent me home with a standard takeout box, so my lunch was ready to eat as soon as I walked into the FFF Lab™.
The most appealing thing about the presentation was that there were four tenders instead of three. (Did my bud behind the counter hook me up?) They lacked the reddish tint of those at PDQ.
The crinkle cut fries looked like they were harvested from the same crinkle-cut-fry farm where they grow all the crinkle cut fries.
Texture and Taste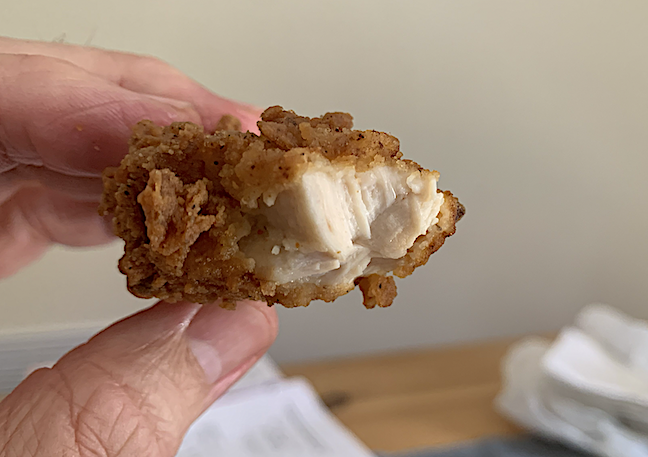 The tenders' outer crust was thinner and not as chewy or flavorful as that of PDQ. But the chicken within was moist and succulent. It was as if PDQ sees the outer coating as the primary taste driver, while Magoo's puts more emphasis on the meaty innards.
The crinkle cut fries tasted like they were harvested from the same crinkle-cut-fry farm where they grow all the crinkle cut fries. And they'd gotten cold on the drive home.
The little container of coleslaw presented a viable accompaniment to the tenders. The finely chopped slaw mix was not drenched with mayo, and therefore offered a pleasurable crunch. It didn't do much for me taste-wise, though, it being more peppery than sweet. The house sauce had a mayo consistency with a hint of spicy heat.
And the Winner of the Chicken Tenders Tilt Is …
Huey Magoo's.
PDQ won the fries battle by miles, but this is a Food Fight about chicken tenders, so Magoo's takes the belt based on its easy-eating morsels that were impressively juicy and, above all, tender.