E is for Education: Successful learning at a distance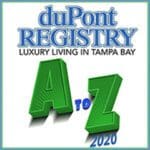 This year's A to Z Issue celebrates people and businesses who have been successfully riding the turbulent waves of change and offering service and hope to the community at large. The print edition will be out in mid-July, but we're teasing the content online, one letter at a time.
Campuses of all kinds had to contend with major challenges to classroom routines this spring. Still, students were able to learn online, teachers were able to teach at a distance, and parents discovered to their chagrin that home-schooling is really tough. Higher-ed institutions from the University of South Florida to the Bradenton branch of LECOM (Lake Erie College of Osteopathic Medicine) have met these challenges with frequent updates and multi-phased re-opening plans. The Pinellas County School District, one of the state's biggest, is making admirable efforts to get input both from medical professionals and the public in its plans for the fall. Meanwhile, top private schools in Pinellas like Shorecrest and Canterbury are offering multiple learning options and keeping parents and students informed of the latest developments via web communiqués. And let's hear it for the teachers — dedicated, fun-loving souls like the ones at Farnell Middle School in Tampa who reconnected with the students they missed via a Teacher Car Parade.