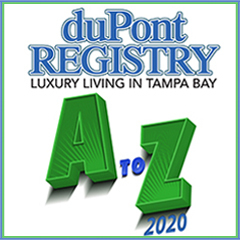 This year's A to Z Issue celebrates people and businesses who have been successfully riding the turbulent waves of change and offering service and hope to the community at large. The print edition will be out in mid-July, but we're teasing the content online, one letter at a time.
Fashion retailers have been riding a roller-coaster of openings, closings and reopenings, and smaller shops have found that the close personal relationships they've established with individual customers have paid off. Gianna Accardi, owner of The Cabana South in South Tampa, offered at-home try-ons, bringing clothing to clients' homes. At Canvas Fashion Gallery in St. Pete and Hyde Park Village, owners Michelle Burtch and Shelby Pletcher reopened with "Covid-Friendly" shopping, allowing shoppers to start their own fitting rooms (rather than having a salesperson do it). Jackie Zumba and Brian Kins, co-owners of Jackie Z Style Co in downtown St. Pete's Sundial shopping complex, moved across the plaza to a new location and threw a grand opening party — on the night before everything had to close due to the pandemic. They quickly adjusted by going live on Facebook to showcase their luxury fashion and gift offerings and offered shipping and same-day home delivery. The downtown Tampa location of Greiner's Fine Men's Clothing reopened in May; the upscale men's store (which has outposts in Tampa, Sarasota and Beverly Hills) has found particular success with its line of masks, which are made by an in-house tailor. Sartorial Inc., the men's clothing boutique just off St. Pete's Beach Drive, also reopened in May, but before they did, they sanitized the whole store and now steam every piece of clothing customers try on but don't buy, and then put it aside for 24 hours. Owner Jose Martinez says the response since he reopened has been "uplifting. Customers are genuinely trying to come out and support small businesses."
Thanks to dRTB Style Editor Michelle Cappelli Gordon for her tips.
Next: G is for Giving: Helping fight hunger and fund education