G is for Giving: Helping fight hunger and fund education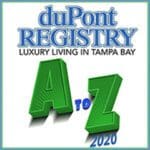 This year's A to Z Issue celebrates people and businesses who have been successfully riding the turbulent waves of change and offering service and hope to the community at large. The print edition will be out in mid-July, but we're teasing the content online, one letter at a time.
Crises raise consciousness — and funds. The Vinik Family Foundation gave $1 million to Metropolitan Ministries to help the organization meet increasing food demands due to steep increases in unemployment. Tampa's newest power couple, Tom Brady and Gisele Bündchen, paid for 750,000 meals through Feeding Tampa Bay. Publix Supermarkets also made food and monetary donations to help the hungry, and addressed cries for racial justice with a $1 million gift to the National Urban League. Committed to the idea that progress toward equality can only take place when there is equal opportunity in education, many foundations are making notable investments in children's futures. The Bailey Family Foundation annually awards scholarships to top students in every high school in Hillsborough, Pinellas and Polk counties. The Bullard Family Foundation gets Hillsborough's kids fully equpped for school with backpacks, physicals and a Back to School Bash. The Milkey Family Foundation — inspired by artist Jane Bunker's collaboration with the Dr. G. Carter Woodson African American Museum to fund college scholarships for African American students through auctions of her paintings — gave $50,000 to the scholarship fund and committed an additional $50k each year for the next 10 years. (Kevin and Jeanne Milkey also showed their support to education this spring with a $1 million donation to the Tampa Bay Watch Discovery Center on the new St. Pete Pier.) And circling back to Jeff Vinik (as things often do around here): The Tampa Bay Times reported in June that his foundation has committed $3 million to improving early-childhood education. He calls it "venture philanthropy;" we give that idea a G — for Great.
Next: H is for Health Care: Courage and constancy during a pandemic