My friend David texted me on a Tuesday night in late May with a suggestion for Friday Food Fight: chicken clay pot. He'd recently eaten it at a restaurant and sounded enthused enough that it piqued my interest, so I filed the idea away.
It's time has come.
After some brief research, I discovered that cooking in clay pots is global, but for this column we'll focus on Southeast Asia. The dish usually features one of several meats or seafoods along with an array of vegetables, herbs and spices, cooked in a clay pot, which helps retain flavors and moisture. Further, the porous nature of the clay allows for even heat distribution, and slow cooking makes the ingredients meld together for more flavor.
Finding two restaurants around here that serve chicken clay pot wasn't easy, but I managed to uncover a handful, and chose: Green Pagoda, an Asian fusion place in northeast St. Pete, and Sila Thai & Sushi at 38th Avenue and 49th Street in St. Pete.
GREEN PAGODA
The place was doing surprisingly brisk business for a rainy Monday at 6:30. The building, on 4th Street at 80th Avenue North, seemed to be snake-bit before Green Pagoda opened last May. Two short-lived sushi places occupied the space previously.
A full bar greets you as you enter, and a closer look indicates that its set up for sushi. Our party of four sat at a corner booth, next to one of the large, round windows. A little snug, but okay.
I ordered a ginger ale and asked our server, Natalie, to ask the bartender to go easy on the ice. "I am the bartender, so you got it," she said, smiling coyly, which set the stage for a fun flow of witty banter to go along with efficient service.
I ordered Steamed Edamame ($6.75) and Veggie Dumplings ($5.50) as preludes to Chicken Claypot ($17.95),
Something seemed amiss, however. The entree's menu description read: red bell pepper, green bell pepper, carrot, Thai eggplant, basil, onion, coconut red curry. Curry? That didn't jibe what I had come to understand as chicken clay pot.
Appearance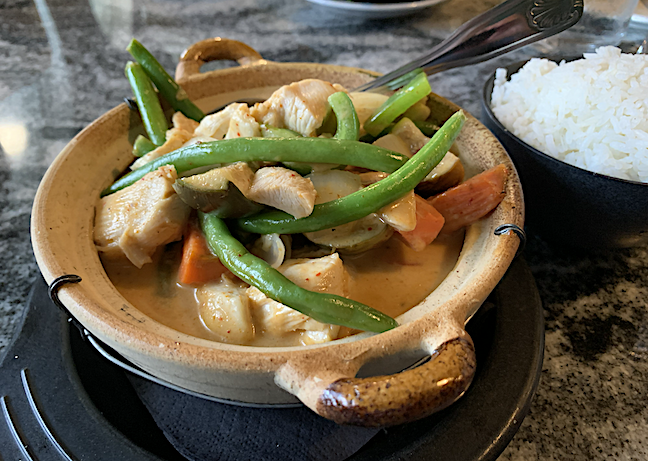 Hmm. It looked as if this colorful, tempting stew came in a clay crock, more so than a clay pot. A little later, I asked Natalie what "clay pot" inferred and she replied, "presentation." Just to be certain, I called the next day and confirmed that the curry chicken with vegetables was served in a clay bowl, not cooked in a clay pot.
That was certainly disappointing, especially considering this week's premise. But it was too late in the game to find a replacement restaurant from the limited options available.
Texture and Taste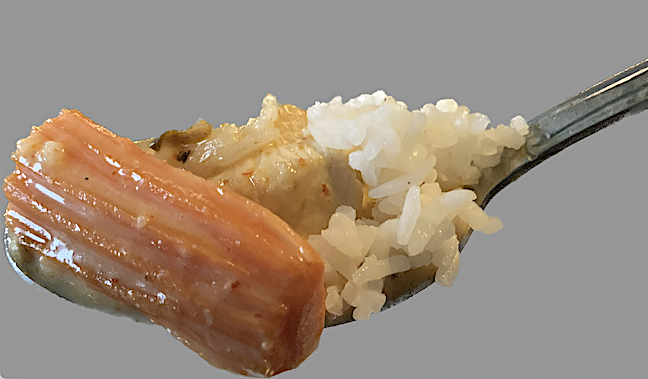 I had a decision to make — focus on the dish not being chicken clay pot, or file that away and enjoy what was in front of me. I made the sensible choice. Dig in and eat.
The stew proved to be elevated version of the red curry takeout I've had from Thai restaurants. Vegetables were crisp and fresh (the eggplant was a nice surprise). The chicken was moist, although the pieces were too big and there was no reasonable way to cut them. The veggies were too big as well, but those I was able to chop in half. The curry sauce was sweet and flavorful, with a hint of spicy heat.
When I ordered the vegetable dumplings, I did not hear Natalie say that they were deep-fried (my dinner-mates assure me that she did). I much prefer steamed dumplings and therefore these were a disappointment (that's on me). The edamame made for an ideal starter. 
SILA THAI & SUSHI RESTAURANT
No amount of blue paint could make this drab building at 38th Avenue and 49th Street look inviting. At 6 p.m. Wednesday, we approached with a tinge of trepidation. What lay inside?
As it turns out, the interior — a single, smallish room — was clean and functional: drop ceiling, dark brown tables and chairs, Asian tchotchkes clustered here and there. Sila Thai did a robust takeout business during our hour-plus visit.
Our server, Malaihak (Ma-ly-ha), was salty in a lighthearted way. I asked her, very clearly, if the chicken clay pot was cooked in a clay pot. She answered me, very clearly, that it was.
I ordered Steamed Dumplings ($6.99) to go along with Chicken in Clay Pot ($19.99).
Appearance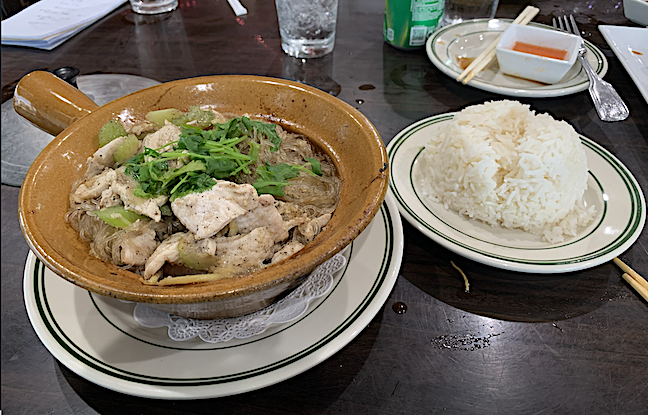 When Malaihak brought the clay pot to the table, it was covered with a metal lid. Cool — a reveal.
I removed the top and saw thinly sliced white-meat chicken covered with a smattering of herbs. And noodles — thin bean-thread noodles that were nearly translucent. A hefty cone of white rice accompanied the pot.
Texture and Taste
Hot hot, chicken-in-clay-pot hot. I waited a short spell for the enticing stuff to cool, but jumped the gun and burned my mouth. I'll live.
The noodles, which looked so delicate at first sight, were long enough to tie my adidas — and they clung together, which made them tricky to eat. But, man, when they arrived in my mouth, they were delicious. Peppery in a black peppery way (the flecks were everywhere). Spicy, but hot spicy hot. These noodles had genuine flavor — of a type that my tastebuds had not quite encountered. The chicken was fine, but ultimately played backup. Pieces of celery added agreeable crunch.
I scooped stuff from the bottom and discovered small chunks of bacon, which added another flavor dimension. Eating this chicken clay pot took some work, but I'll clock in any time. My only (niggling) complaint is that it could've used more broth.
And this was like a bottomless clay pot. I left with a sizable to-go portion.
And the Winner of the Chicken Clay Pot Contest Is …
Sila Thai.
This bout was over before Sila Thai entered the ring. I DQ'd Green Pagoda because its chicken clay pot was not chicken clay pot.
But I'm happy to say that Sila Thai would've won on merit. The restaurant served a dish with flavors and texture that were new to me.
Let me add that Green Pagoda's chicken curry was quite good and I liked the restaurant's ambience. But its "Chicken Claypot" is a menu misnomer.