It was near the end of a bus tour through Scotland that I looked down at my plate and said, "I'm done with fish and chips."
We've all had those occasions when too much of a good thing makes that good thing not so good anymore.
My fish-and-chips embargo is going on four years — so batter up, let's put the dish under the withering scrutiny of Friday Food Fight.
Fish and chips is a British invention. It was introduced to the country by Spanish and Portuguese Jewish immigrants as early as the 16th century. The first "chip shop" was opened in the early 1860s by Joseph Malin, who sold "fish fried in the Jewish fashion."
It seems only fitting that we feature two British-themed restaurants in our fish-and-chips face-off: Mad Dogs and Englishmen in South Tampa and Jack's London Grill in St. Pete. The main difference between their two versions: Mad Dog's uses cod whereas Jack's uses haddock.
By the way, we've missed National Fish & Chips Day by a week, but it's a British observance, so no matter.
MAD DOGS AND ENGLISHMEN
The restaurant's name originates from a song written by Noël Coward, first performed in 1931 as part of his The Third Little Show stage production in New York. But the pub's vibe suggests that the motivation came from a 1970 Joe Cocker album of the same name.
We pulled in around 4 p.m. on Sunday next to a large sign featuring a photo of the mid-period Beatles, beneath which were the words "Mad Dogs and Englishmen: Open Eight Days a Week."
Black & white photos of famous Brits covered the walls — from Churchill to Michael Caine to Sid Vicious. While waiting for my meal — Bonnie and I split a single order ($17.95) — I had some fun trying put names to faces. Overall, Mad Dogs' interior mixes classic English pub elements with a somewhat brighter, Florida feel.
Appearance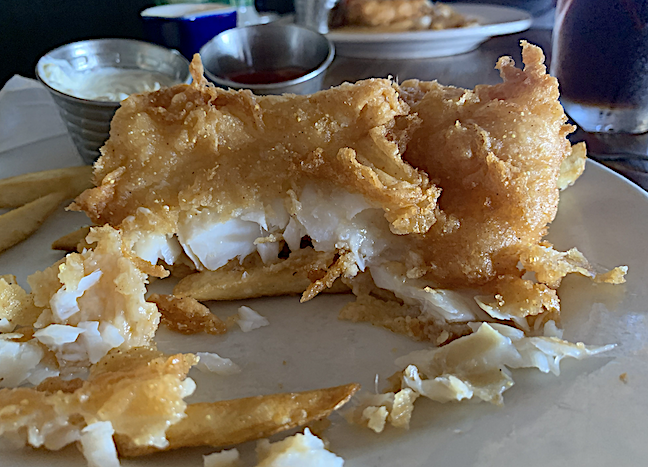 The kitchen had graciously split our order onto two plates, each of which included containers of tartar sauce and ketchup, and a mini-pitcher of malt vinegar. A nice touch. Most impressive was the portion size of the fish. The half-orders were big. Two hefty chunks big. (See photo at top.) All told, an appetizing presentation.
Texture and Taste
I can reasonably say that I'd never paused and truly tasted fish and chips before. And after a four-year hiatus, I can reasonably say that this plate of fish and chips tasted pretty damn good.
The cod had no hint of the "fishiness" that puts me off. It had a mild flavor, but flavor nonetheless. The flesh was moist and just the right degree of chewy. The batter, dosed with Smithwick's Irish Red Ale, had an agreeable crunchiness. Above all, it wasn't puffed up so that there was air between the fish and the coating.
The fries were standard-issue, with a nice potato taste and spot-on saltiness.
JACK'S LONDON GRILL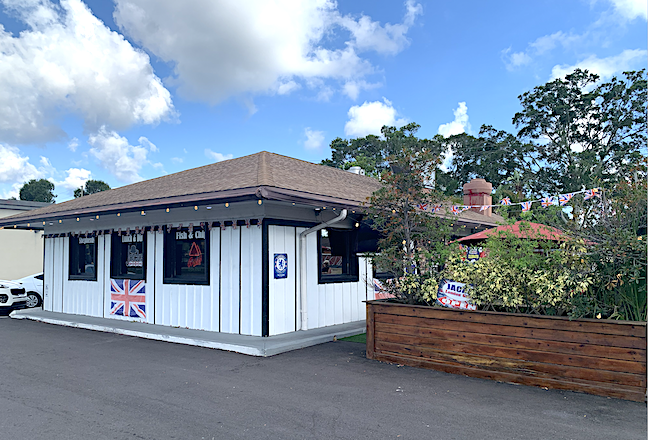 The small, boxy building on a bland stretch of 62nd Avenue, just north of MLK Street, has a cozy — call it pubby — interior. Deep brown wood is the chief motif, but the place is not overly dark. There were TVs aplenty. On Tuesday at 6, the biggest screen was showing a football match ("match" being the operative word). 
The restaurant must've done some hubbub around the coronation, because little cardboard placards with images of King Charles III and mini-Union Jacks hung from strings overhead. We grabbed a two-top and I sat on the long bench across from Bonnie. The padding was a bit lumpy. 
Eighties British pop (I heard The Police) played at moderate volume, but the music was drowned out by a loud-talker at a nearby booth.
Appearance
Jack's presents its fish and chips English-style, wrapped in faux newspaper. Cute touch, but unnecessary since we would be halving our order ($16.50) and using knives and forks rather than our hands.
The slab of haddock, an enticing golden brown, completely obscured the fries.
I didn't bring a tape measure or scale, but the eye test said that Mad Dogs' two halves clearly outsized the full portion at Jack's.
Texture and Taste
Haddock vs. cod. Sorry, I could find no discernible difference here. Jack's fish was gentle and flaky and easy to eat, and maybe — may-be — a tad oilier, and a bit denser.
Our server said that the restaurant uses Stella Artois — a mild Belgian lager — in its batter. Perhaps that's why this outer crust had less character than its counterpart. Kudos, though, for not frying it in a way that rendered the chunk bloated and airy.
The steak-style fries were fine, but needed more salt.
At Mad Dogs, I had passed on the malt vinegar  in favor of tartar sauce — or nothing. I tried some here. Not bad. Added a bit of tang, but I won't be using it regularly.
And the Winner of the Fish and Chips Crown Is …
Mad Dogs and Englishmen.
A pretty close call. I enjoyed both meals, and was glad that my fish-and-chips revival went well. Mad Dogs gets the nod based on a bigger portion size, a more thoughtful presentation, and livelier fries.
Overall, the Tampa pub served a more satisfying meal.