I'm an avid runner and triathlete, but I am in awe of kiteboarders. I can barely fly a kite while walking on the beach without stumbling over something, so I'm guessing it must take a lot of guts (not to mention strength and balance) to fly a kite while riding the waves.
At least that's what I thought until I spoke with Clearwater Beach kiteboarding legend Pitzer Gills.
Pitzer, 20, has been kiteboarding for about five years now. At Calvary Christian High School his main sport was baseball, but during his senior year he and his father — an ultra-marathoner, triathlete and five-time Ironman who taught windsurfing in the 1980s — discovered kiteboarding and fell in love with the sport. Now the entire family enjoys it, often incorporating it into their travel plans. (And into their social media — Pitzer's kiteboarding photos and videos have attracted close to 3,000 followers.)
Basically, kiteboarding — or "kiting," as many call it — is just what it sounds like: flying a kite while riding a board on the water. Your feet are strapped into the board while you use the handles of the kite to steer left or right. Best done on flat waters with decent wind and no waves, kiteboarding is the perfect extreme water sport for Tampa Bay. While it originated in the 1970s, it's grown increasingly popular over the decades and in recent years has really picked up steam.
When I tell Pitzer how difficult the sport looks, he laughs. "There is definitely a learning curve," he says, but "a little goes a long way once you get out on the water."
"Everyone starts out a beginner," he assures me. "The rest is aesthetics and speed."
The biggest challenge is catching the right wind in your canopy and allowing yourself to be pulled up on your board. Once you've conquered that hurdle, though, the rest is just fun.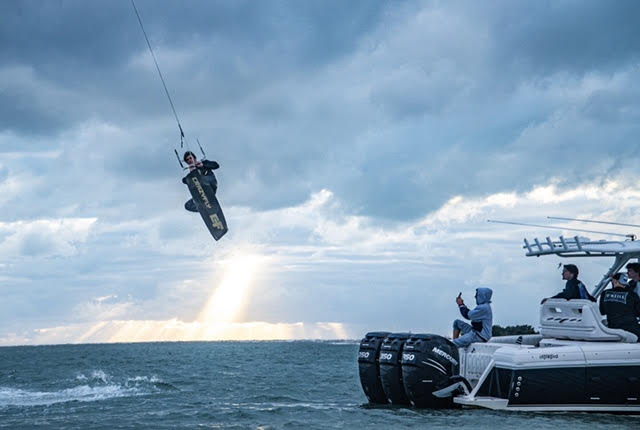 "Kiting is one of the most enjoyable sports in the world. It's a foundation for travel — I've kited in Aruba, Jamaica, Hawaii, and more — and it's a great way to meet the locals and feel like part of a community."
I think he must be pulling my leg on the doability of kiteboarding, but Pitzer insists that anyone can do it.
"You can be any age, strength, height or weight — I've kited alongside 7-year-olds and 70-year-olds, I swear — everyone thinks it's impossible but it's a very doable sport." Levels of difficulty, he tells me, can be easily modified depending on the kiteboarder's experience.
"I compare it to driving a car. The handle is your steering wheel; you move your hands in the direction you want to go."
Adjusting your balance of weight helps control speed, and kite size makes a difference as well (smaller kites are easier to control).
Pitzer is no longer a beginner, but he has a tip for newbies looking to get into the sport: Go to Elite Water Sports. Pitzer can't recommend the store highly enough.
"It's one of the best places to learn in the world," gushes Gills.
The water sports shop by the Sunshine Skyway is open seven days a week and caters to all levels of fitness with great enthusiasm. "Lessons from sunrise to sunset. If it's blowing, we're going!" boasts their website.
The company shares Pitzer's enthusiasm about kiting's accessibility: "You and kiteboarding lessons can be a reality. We get it, you may be nervous about trying a new 'extreme' sport. However, with our expertise and professional instruction, you can rest assured that kiteboarding is for YOU!!" Elite Water Sports offers lessons with certified instructors, kiteboarding gear and apparel, and even does repairs on boards and kites.
You won't see Pitzer kiting along Clearwater Beach in the near future; at press time, the Wake Forest University sophomore was on a medical mission in Kenya. But we hear Kenya's Diani Beach is has one of the most beautiful in Africa, so chances are he may be soaring over the Indian Ocean before long.