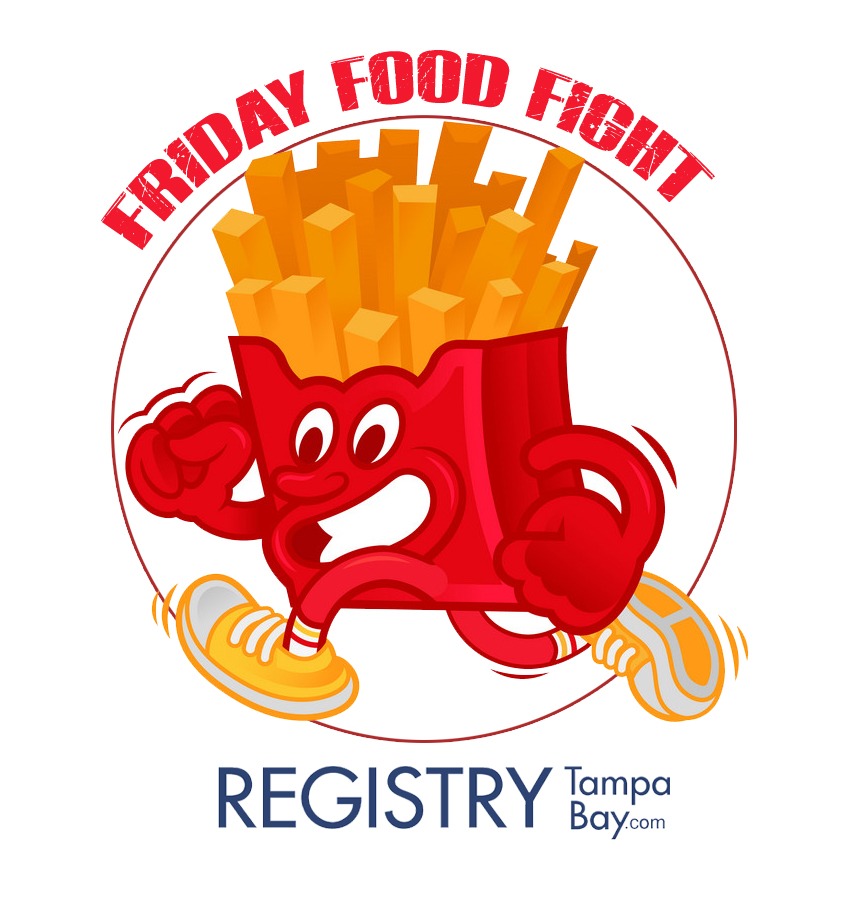 Everywhere you look these days a new restaurant is opening, often featuring foods associated with longtime Tampa Bay purveyors. So we got to thinking… why not taste-test the newbies and compare their versions to the OG favorites?
Hence: Friday Food Fight. (Not to be confused with our fabulous friend Brooke Palmer Kuhl's huge fundraiser, Tampa Bay Food Fight, which took place earlier this week and raised gobs of scholarship money.)
Our first field of battle is… donuts! (Or is it doughnuts?) We noticed that a brand new shop, Daddies Donuts & Delites, had just opened in the 400 block of Central Avenue in Downtown St. Pete, so we decided to make its titular products go head-to-head — hole-to-hole? — with the venerable Fray's Donut House. (We made our purchases at Fray's 34th St. location; there are two others in Pinellas Park and Northeast St. Pete.) We could have gone with any number of longtime bakeries that do donuts, but decided to go with Fray's because, like Daddies, they declare their donut dedication by including the D word in their business name.
A note on our methodology: We chose three donuts from each store — a plain donut, a Boston creme and a specialty donut. We rated them on appearance, freshness, flavor, texture, creativity, size and dunkability — the last category particularly important in rating the old-fashioned plain variety.
Let me say up front that I recommend both of these businesses for different reasons, but one of them did edge out the other as the winner of our first Friday Food Fight. Read on…
FRAY'S DONUT HOUSE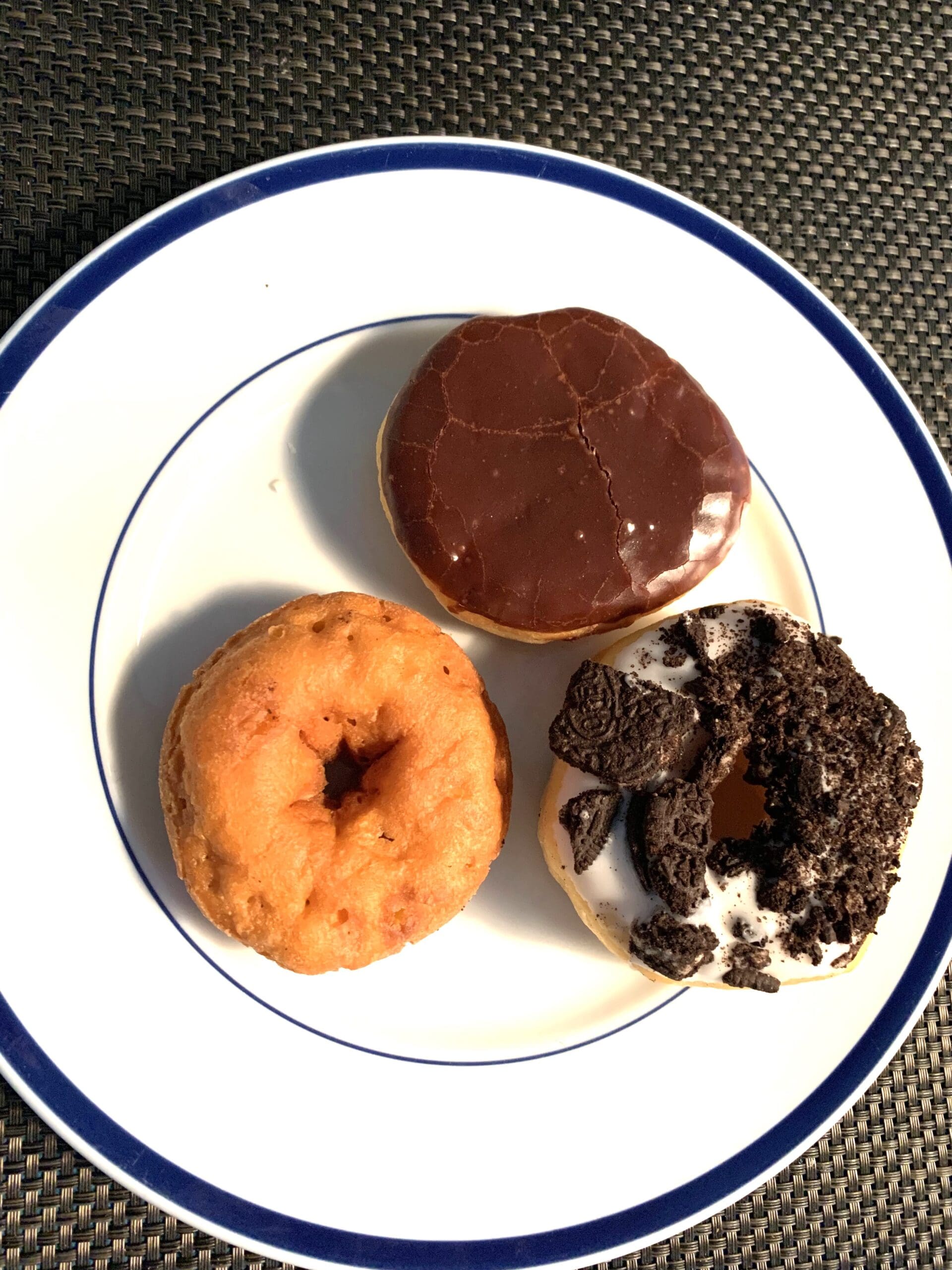 The donuts at Fray's were surprisingly delicious and fresh-tasting — surprising because (full disclosure) we had to keep them in the refrigerator for a day after purchase. We'd hoped to buy and taste the competing donuts on the same morning, a Sunday, but Daddies turns out to be closed Sunday mornings. (What's up with that? What better time to dine on donuts than a Sunday morning?) Sooo… right up front, points for convenience to Fray's. Plus, there's a shady little patio area alongside the 34th St. Fray's, a nice spot for a nosh.
The dope on the donuts: 
Plain: A smallish version of the classic, but it looked just like you want this ur-donut to look — plump, golden, with bumps and crevasses that promise a satisfying bite. Promise fulfilled: the flavor was rich, the texture soft with just the right bit of crunch. And yes, it was highly dunkable.
Boston creme: An excellent version of an old favorite. The chocolate icing and the custard filling are just sweet enough, leaving none of that suspicious Dunkin aftertaste, and the dough in the doughnut is fluffy and light.
Specialty: The Oreo doughnut. This was the most surprising of all. The pile-up of Oreo crumbles on the icing threatened sugar overkill, but in fact the cookie bits blended nicely with the not-too-sweet icing, and the raised dough had an unexpectedly light texture and fresh-baked aroma.
DADDIES DONUTS & DELITES
Just two weeks old, this cheerful donuttery is high in style, from the think-pink decor (including a retro fridge) to the madcap donut names, from Shark Attack! to Sour Patch Kid. There's homemade ice cream, too, so you can order a donut sundae if you're so inclined. Special credit for food presentation: The proprietor drizzled the icing onto the Boston Cream and Cookies and Dream donuts as we watched. (Great back-story here: The Daddies are four friends — two male couples, all with first names that begin with "J" — who opened the shop to realize their collective dream of having a business in St. Pete.)
The dope on the donuts:
Naked: Yup, that's what they call their plain donut. Unfortunately for us, they didn't have any of the cake variety on hand, so we went for the glazed. It was fine — especially after we took J's advice of popping it into the microwave for a few seconds. (Unlike the situation with Fray's, we were able to consume these donuts right away at home, not after an overnight stay in the refrigerator.) Warm and delicious, Naked brought back pleasant memories of Krispy Kreme, back when 'Hot Now' was a novelty.
Boston Cream: That fresh Ghirardelli glaze glistened (and it was topped with a nice little dollop of whipped cream), but hoo-boy was it sweet — and also a bit crackly, even after the donut's suggested stay in the microwave. The custard was fine, but it seemed to have migrated to one half of the donut; luckily my partner shared his half with me so I got to sample a bit of it.
Cream and Cookies: Not only did "J" do the custom icing drizzle, he sprinkled the Oreo chunks on the donut himself. The process seemed to guarantee freshness, and the cookie crumbles were indeed nice and crunchy, but the overall impact was less than the sum of its parts — again (and unlike the Fray's version), the lasting impression was a tooth-achey sweetness.
AND THE WINNER IS…
It was close, but Fray's wins this Food Fight. While Daddies scored big on appearance and creativity (and fun), Fray's edged them out on flavor (and value). I'd sum it up this way: If you're throwing a donut-themed birthday bash, go get a whole bunch of varieties from Daddies — they'll make a dazzling first impression. But if you just need a dozen to share with the gang at home on a Sunday morning, stop by Fray's.