I don't have much experience eating fresh fish. For starters, I don't fish. Neither do I have friends or neighbors who go out on their boats, bring in a big haul, stop by and gift me a stack of filets.
So that leaves restaurants. And I don't often order fish there either. But I'd like to change that — mostly because I've heard that fish is good for you — and I'm starting with this week's Friday Food Fight.
My primary criteria is featuring restaurants that serve fish recently caught from our Gulf waters. I'm also going upscale, eschewing mid-price brands where it's almost certain that the fish ain't fresh, and avoiding beachy fish shacks.
Finding two qualified contestants was not as easy as I expected. A knowledgeable source within the wholesale fish industry, who asked to remain anonymous for fear of being paddled with a flounder (but whom I'll call Buck), suggested two places that, in his experience, reliably serve fresh-caught fish from the Gulf of Mexico.
They are familiar names: Salt Rock Grill on Indian Shores and Middle Grounds Grill on Treasure Island. They sit seven miles apart and overlook the Intracoastal.
SALT ROCK GRILL
Tuesday at 6:30, tail end of June, and we're circling Salt Rock Grill's vast parking lot hoping for a spot. Is there another fine-dining restaurant in Tampa Bay that does this kind of business? I can't think of one.
Mercifully, it took us only one lap to find a space, albeit on the far western end of the lot, a few cars from Gulf Boulevard. I'd made a reservation for six, and the host took us all the way to a corner table next to a window with a lovely view of the Intracoastal. Arguably the best seats in the house. From our climate-controlled perch we could see the restaurant's small fleet of boats that brings in its fresh catch.
The menu's Just Caught section offers black grouper, mahi-mahi and American red snapper, with a few basic cooking options that can be customized.
I chose the snapper (market price: $35). Our high-energy server, Brent — whose boomy voice sounded like he gargles with gravel — made some recommendations on how to have it cooked. I settled on lightly blackened over a wood-fire grill, topped with a signature preparation of diced tomatoes, onion, lemon, capers, garlic and fresh basil. I opted for a side of garlic mashed potatoes, and ordered my beloved wedge salad as a starter.
Appearance
The Salt Rock kitchen did not go out of its way to make the presentation fabulous. It's as if the restaurant is saying, "we'll let the eating do the talking."
Texture and Taste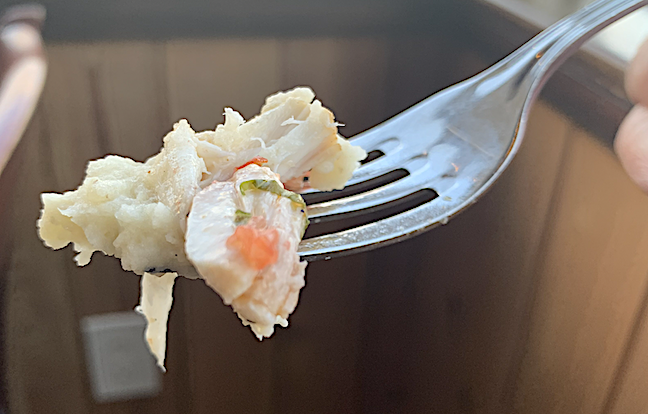 How to say it? Eating this American red snapper was not the transformative experience that fresh-fish aficionados like to wax rhapsodic about. My first few bites, taken from the end, were on the dry(ish) side — which I attributed to the blackening.
The flesh moistened up as I reached the thicker part, but fell short of sublimity.
At one point, I extracted a small bite of just the white fish, and focused on really tasting it. According to my palate, this snapper didn't have much flavor at all. The blackening livened things up some, and provided an agreeable exterior crunch, but the bigger boost came from the topping, which added a level of brightness to the overall flavor.
The mound of mashed potatoes was terrific, its smooth texture balancing the fish's flakiness, the garlic adding some welcome zing.
The portion size was just right. I ate my meal down to the plate.
MIDDLE GROUNDS GRILL
Having forgotten to make a reservation the night before, we arrived at Middle Grounds at 6 to discover a 45- to 60-minute wait for a table. Perhaps I was a bit hasty in proclaiming Salt Rock the busiest restaurant in the Bay area. (It's worth mentioning that Middle Grounds is far more popular with the gray-haired set.)
Then a stroke of luck: A table opened up in the bar area (first come, first serve). Not so lucky: It was a six-top that we'd be sharing with at least three other people. Still, it beat an hour wait. Soon enough, a round four-top opened and Bonnie and I grabbed it.
A solo acoustic act was tuning her guitar about 12 feet away. Not great. Upon closer look, though, I saw that it was Kaleigh Baker, the lead singer of my favorite local band, Someday Honey. So — kinda great.
Middle Grounds opened in 2007, but its interior says, oh, 1987. The decor is built around dark wood, and the space is dimly lit. Small lights hang over each table or booth. The raucous din of the packed joint engulfed us as soon as we walked in, but once seated and acclimated, our ears adjusted and the sound was less distracting. It helped the Bonnie and I sat shoulder to shoulder.
The day's Fresh Gulf Catch was yellowedge grouper ($40, market price). Mo, our server, said it came with green beans. I asked if garlic mashed potatoes were available, and she wrote it down on her pad (no up-charge).
Appearance
With a lemon wedge and some flecks of green sprinkled around the plate, Middle Grounds put more thought and creativity into its presentation than Salt Rock. The fish looked less blackened than the night before, and the addition of green beans was a plus.
The towering wedge salad (half, $6) — drizzled with balsamic glaze and topped by a ring of red onion — was impressive.
Texture and Taste
We're in slightly unsteady waters here, because I'm comparing grouper to red snapper. But we taste on.
It was readily apparent that this piece of fish was marginally more moist and tender than its counterpart. It was also notably denser, which gave it a heartier, "steaky" texture. Unlike the snapper, this grouper had a flavor that stood on its own — although it was not "fishy" in the least. The blackening added a touch of agreeably spicy heat, but not a tough outer shell.
The mashed potatoes were fine, although they could've used more garlic. The green beans were expertly cooked — not crisp, not squishy.
I really dug the wedge salad. It used tiny pieces of prosciutto instead of bacon, an interesting detour that produced a more complex flavor.
And the Trophy For Fresh Catch of the Day Goes to …
Middle Grounds Grill.
It bears repeating that I didn't end up comparing the same species of fish, so it's entirely possible that I simply like grouper better than snapper. But those circumstances were essentially out of my control. Ultimately, I gotta go where my tastebuds take me.
However — Salt Rock easily took the prize for ambience. And it could've been far worse for Middle Grounds if — instead of a true talent like Kaleigh Baker singing Dylan and Tom Waits and Shuggie Otis — some weathered yokel was croaking "A Pirate Looks at Forty."