Horse Soldier Bourbon — it's not just a catchy brand name, but one with real history. The four men who founded the craft spirit — which is headquartered at Urban Stillhouse in St. Pete — were among a small group of special-forces soldiers who stealthily entered Afghanistan shortly after 9/11.
These Green Berets saw a lot of action fighting the Taliban, making their way through the county's brutal terrain on horseback. Hence, horse soldiers. The ownership group also includes Elizabeth Pritchard, the wife of former horse solider and company CEO, John Koko.
But an inspiring backstory only goes so far. The product must be good.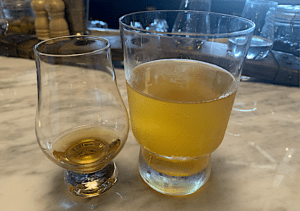 At 5:30 p.m. on a Wednesday earlier this month, I met up with Tom duPont, founder/owner of Registry Tampa Bay, so we could find out for ourselves. We grabbed seats on comfy stools at the bar in an immense room, impressively outfitted with dark woods, brick and stone. And a fireplace. That was burning.
We split a bourbon flight (three shot-sized pours, $25), enough for each of us to sample the three Horse Soldier types: Premium Straight, Small Batch, and Barrel Strength. As accompaniment, we first ordered Spinach & Smoke Gouda Dip, with grilled sourdough bread ($16), then followed it with Wood-Grilled Asparagus ($17).
Because we're doing something different for this Food Fight, we won't pick a winner, per se, but select our favorite among the three bourbons we sample. I'll follow that with an appraisal of the food.
Just so ya know, I'm no bourbon connoisseur, although it is my go-to brown liquor. Tom does not claim to be an expert either. So you liquor aficionados hoping to learn about notes of caramel and oak intensity — sorry, you won't be getting that here.
BOURBON
Horse Soldier Bourbon is currently made in Columbus, Ohio, and will soon be moving into its new $200 million Horse Soldier Farms Distillery in Kentucky. Why not down here in the 'burg? The steamy Florida weather is not conducive to distilling brown liquor, said our bartender, Matt.
We started with the Premium Straight (87 proof), which is what the bar uses for its bourbon-based cocktails. Tom and I each stuck our noses into the curvy glasses and took deep inhales. Because that's what you do, right? Or is that wine? Whatever. It smelled like … sophistication. We lightly clinked glasses and each took a small sip, let it rest in our mouths and swallowed. Smooth. This spirit easily exceeded what you'd think of as a "house bourbon."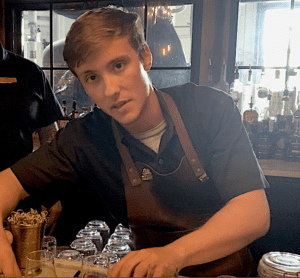 The Small Batch (95 proof) cleared our sinuses. Emboldened, we took bigger swallows. Tom coughed. I chuckled. "Don't breathe in the middle (of a sip)," Tom said with a sly grin. This one had a slightly more vivid flavor than the first.
Onto the Barrel Strength, which Matt told us was "sitting at 121 right now, so a little hot." It had been a very long time since I drank 121-proof booze. This was potent stuff, but not the least bit harsh. It had a richness and boldness that appealed to both of us.
All told, we enjoyed a convivial tasting, with little disagreement. Tom and I both gave a slight edge to the Barrel Strength. For me, that might've had something to do with being a manly man who could knock back 121-proof bourbon and not grimace. (Perhaps "knock back" is not the best way to put it; more like: sip gingerly.)
We enthusiastically recommend all three Horse Soldier bourbons.
FOOD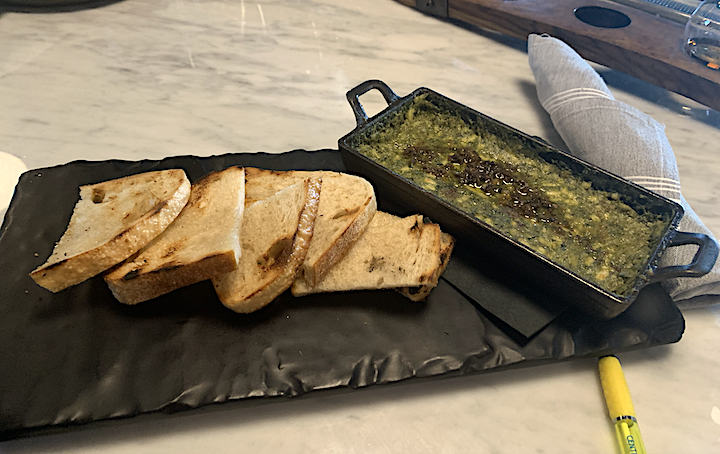 The Spinach and Smoked Gouda dip came in heavy metal crock atop a heavy metal platter, where the bread was artfully arrayed. It tasted as good as it looked. We dipped pieces of the (not too) crusty sourdough into the decadent bog, which was salty and sharp and played well with the bourbon. We laid waste to it.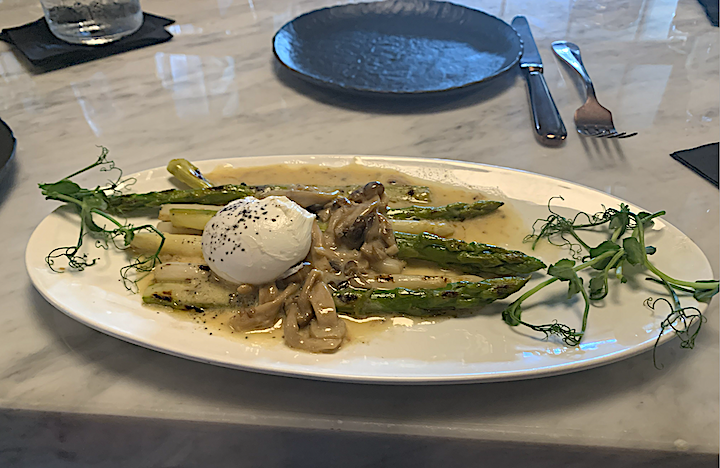 The Wood-Grilled Asparagus was even better — the lower part of the stalks providing crunch while the greener heads brought forth a robust veggie flavor.
I'm not a mushroom guy, as a rule, but these tender slices were mild and did not have the rubbery texture that can be a put-off. They also made for a creamy sauce that oozed flavor. A soft poached egg was the pièce de ré·sis·tance. A slight puncture with a fork let loose the runny yoke to pool with the rest.
Between the two dishes, we didn't leave the bar hungry. Nor did we leave it particularly buzzed. Just two mature adults having a relaxed, upscale experience.