In the dog days of late August/early September? Turns out, there's a good reason.
Chicken noodle soup is a decidedly appropriate subject for this week's Friday Food Fight. That's because, despite my mask-wearing, social-distancing, quadruple vaxxing, outdoor dining whenever possible and other general diligence, I caught my first case of Covid.
As I write this, I'm three days in and have yet to take a turn for the better. But neither am I in a hospital bed hooked up to a ventilator. I'll just say that it's a nastier case than I expected, and I'll do my best to overcome my thick head and write this in some coherent fashion.
As it turns out, eating chicken noodle soup while sick is more than just a page from Mother's dog-eared playbook. It has real curative powers.
The soup hydrates and soothes. It contains tryptophan which helps your body produce mood-enhancing serotonin; it has carbohydrates for energy; and vitamins, antioxidants and minerals. The steam helps clear your head. It also livens up the tastebuds — obviously a plus for this exercise.
Will it do all that for me? Here's to hoping.
I quickly discovered that chicken noodle soup is not a popular menu item in late August, but I managed to find two worthy contenders: Kristina's Cafe on 34th Street in St. Pete, family owned and operated, serves it daily. Earl of Sandwich is a chain with two locations in the Tampa Bay area. We chose the one on 4th Street in St. Pete.
Seeing as I'm under quarantine, Bonnie was kind enough to pick up a bowl (not a cup) at each place and bring them back to the FFF Lab.
While she was out, I spilled a massive amount of cherry-red cough syrup on a Persian rug in the bathroom. A CSI team would've had a field day. To her everlasting credit, she didn't get mad — or at least she didn't let on.
The fog of Covid.
KRISTINA'S CAFE
Appearance
Bigger. A bigger portion ($4.25), by about a third, than the competition. Bigger pieces of chicken, bigger pieces of carrot, bigger pieces of celery. Just bigger — whether in its styrofoam container or in a white soup bowl.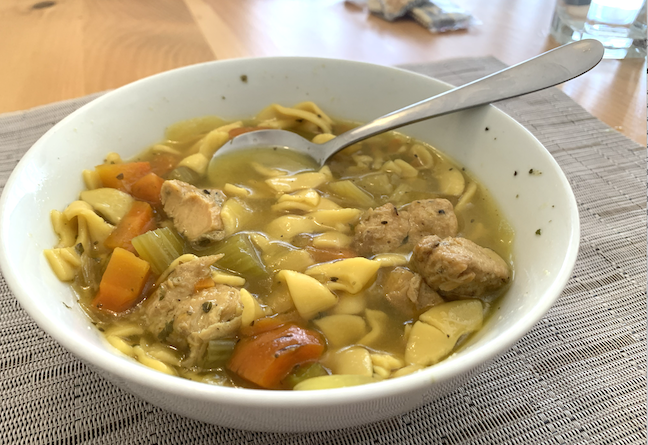 In all, it looked more inviting, like comfort awaited.
Texture and Taste
You know how you can get big pieces of chicken in a soup and end up gnawing your way through them because they're tough, dry or stringy, or all three? Not this soup. The moist, tender chicken radiated goodness. It blended nicely with substantial chunks of carrot and celery, both of which I could taste distinctly.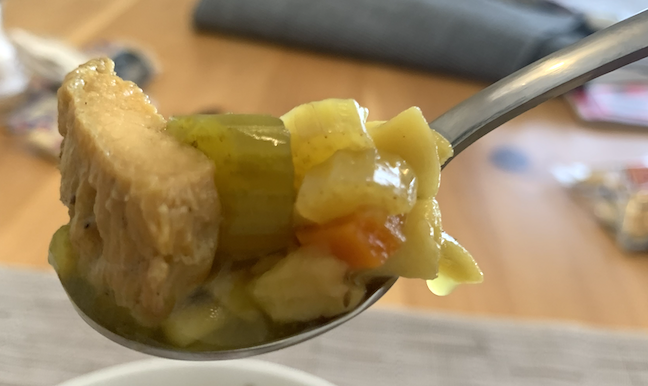 The broth was lovely — and plentiful, so I didn't feel as if I was eating a stew. The noodles tied it all together. Just the right hint of pepper gave the soup a bit of zing, but didn't leave a spicy hotness lingering in my mouth.
All told, this comforting elixir was just what the doctor ordered.
EARL OF SANDWICH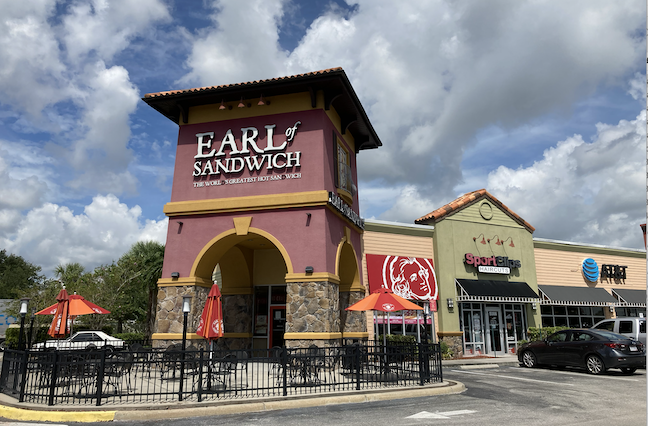 Appearance
Smaller — in almost every way. The container, with the brand logo on it, had more pizazz, but the contents inside looked fairly skimpy when compared to its counterpart. When I poured the serving ($4.49) into a bowl, it looked half-eaten.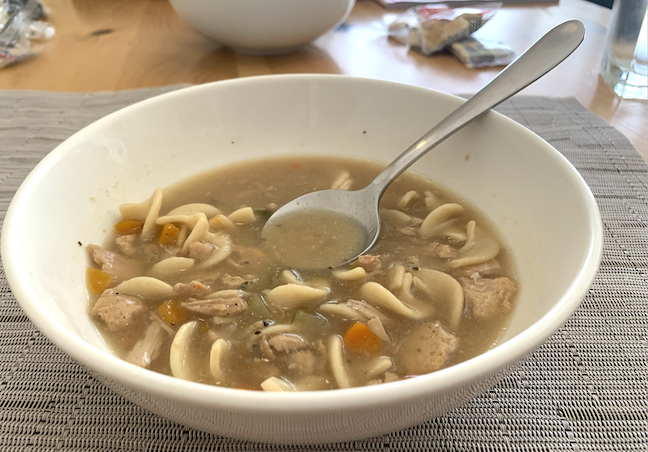 I spooned around for celery and assumed there wasn't any until I came upon what would best be called a granule. Also, the broth had a kind of murky look to it.
Texture and Taste
Despite its less-than-inviting appearance, this was certainly a worthy soup, and I would gladly eat it if I ever get ill again, which, by the way, I refuse to.
But the relative smallness of each ingredient — except for the noodles — and the portion itself, rendered it less substantial.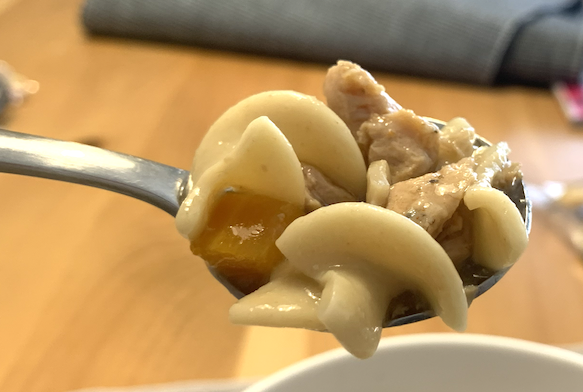 Some of the chicken came up a bit dry, and the broth had a subtle sharpness about it, a kind of tang, that didn't quite agree with my palate.
The Winner of the Chicken Soup for the Sick Guy Taste-Off Is …
No surprise here: Kristina's Cafe.
A clear victor — by all standards.
I sampled these soups (without crackers or croutons) by alternating bites, taking my time, and damn if I didn't get up from the table feeling better, my head clearer, less ill. I poured the remainder back into their containers so I could have another round later.
There really is something to the healing power of chicken noodle soup. Remember that when, or if …