By Eric Snider
I have limited choices when it comes to Cajun/Creole food. It boils down to jambalaya and red beans and rice. Why? Shrimp. About 10 years ago, I had a sudden realization that I didn't like to eat those ugly little critters, cold or hot. And heaven knows there's a lot of shrimp in Louisiana dishes.
So for this Friday Food Fight, I flipped a coin and it came up jambalaya.
If memory serves, the first jambalaya I ever had was at a restaurant in New Orleans while I was covering the New Orleans Jazz & Heritage Festival in the 1980s. I loved the stuff, but it set the bar pretty high — considerably higher than I've experienced since.
But I persevere, sitting down to jambalaya (and/or red beans and rice) at local restaurants now and then.
To be accurate, Creole jambalaya often includes shrimp, but it doesn't at Chief's Creole Cafe, which is located in the Midtown section of St. Petersburg. And, despite its name, Shrimpy's Waterfront on St. Pete Beach does not put shrimp in its jambalaya.
In both restaurants you can add shrimp to your jambalaya for an upcharge. Hey, I saved Registry Tampa Bay a few bucks.
CHIEF'S CREOLE CAFE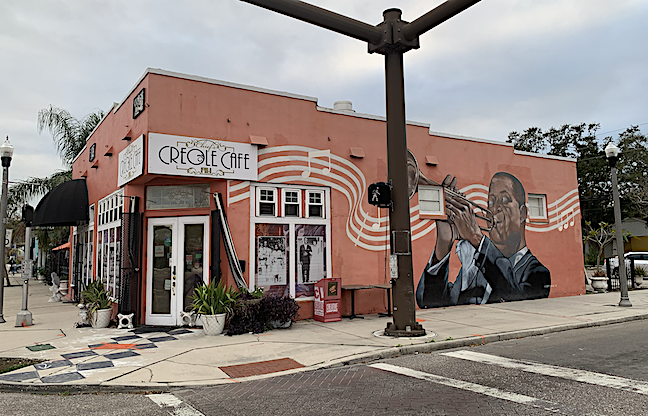 Chief's, which opened in 2014, sits on the corner of 9th Avenue and 22nd Street South, a thoroughfare once known as "The Deuces," a thriving hub of Black commerce, entertainment and culture during segregation. The construction of I-275 in the early '70s effectively sliced the neighborhood in half, leading to its downfall.
On Tuesday just after 5 p.m., the corner looked fatigued, with storefront churches, bodegas and barbershops generating no foot traffic. Chief's, with it's pink exterior paint and image of Louis Armstrong on the north-facing wall, and charming courtyard on the south side, was like a beacon.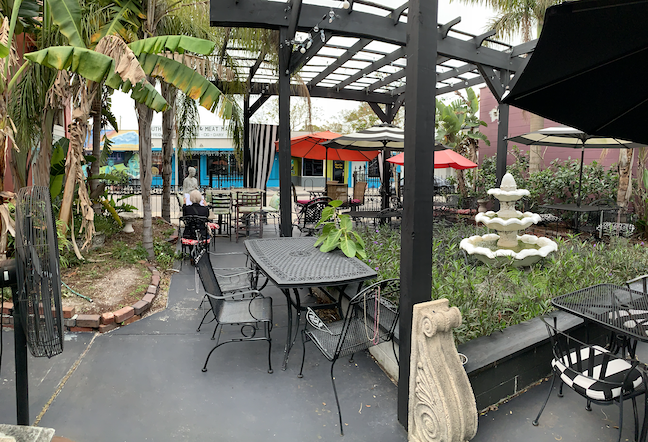 We were the only customers (probably in a while) on a cloudy afternoon, with closing time set at 6. And still, Rhonda, who was dressed for the kitchen but acted as our server, gave us a warm, effusive greeting. We chose to eat in the NOLA-styled courtyard on a wrought-iron table for two.
Rhonda scurried to bring our drinks, all the while making chit-chat. She placed a complimentary order of fried okra and a big bottle of Louisiana Hot Sauce on the table.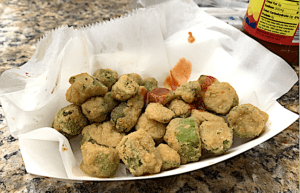 This lagniappe got us off to a tasty start.
Appearance
Unlike any other jambalaya ($16) I've seen. Because Chief's isn't doing proper table service at this time, the food came in a plastic container with a cover that I had to pry off, along with a small plastic spoon.
I don't know the ins and outs of Creole vs. Cajun-style et al, but this jambalaya was very clearly a soup, with the rice hidden on the bottom and pieces of andouille sausage peeking out. The top of the container was heavily rimmed with spices.
Texture and Taste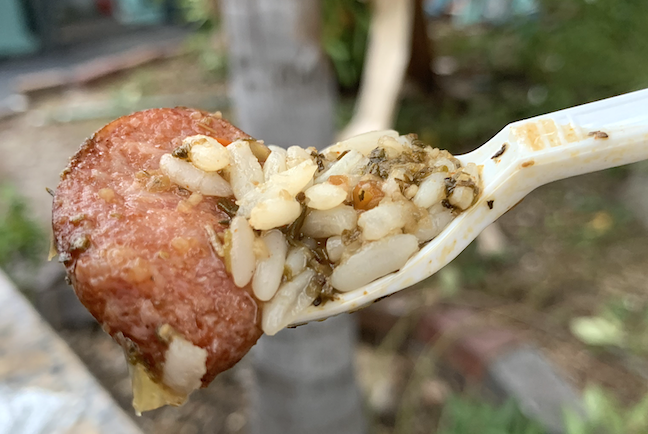 Probably because it came encased in plastic, this jambalaya was simply too hot to eat for several minutes. I gingerly took some small bites, waiting for it to cool enough to comfortably consume. Using such a small spoon made for some slow eating. I didn't mind.
The dark broth combined with large chunks of andouille, occasional pieces of chicken, rice and vegetables cooked down to puree. It had a potent flavor with plenty of spicy heat that lingered in my mouth — but not so hot that it made me want to tap out. This recipe was clearly not tamed for mainstream tastes.
How much this jambalaya veered from authentic Creole/New Orleans convention, I cannot say. I will say that I enjoyed it up to a point, and admired the uniqueness of the Chief's approach. All that said, I prefer my jambalaya to be more stew than soup.
Our visit to Chief's was a unique dining experience from a restaurant doing its best to get by. Rhonda treated us like VIPs the entire time we were there. We left feeling warm-bellied and warmhearted.
SHRIMPY'S WATERFRONT
Shrimpy's is located on the far north end of St. Pete Beach, it's unassuming entrance down a corridor in a typical beachy strip mall. When we walked through the door on Thursday around 6, it opened to a large indoor dining area. A separate, larger room overlooked the narrow Blind Pass waterway, across from Treasure Island.
Because it was a chilly night, the plastic flaps were down and there was no water view. We chose to eat in the dining room.
The place was busy. Service was brisk and efficient. Our server asked if I'd like to add shrimp ($8) or scallops ($10). "No," I replied emphatically, albeit with a smile, then added, "thank you."
Appearance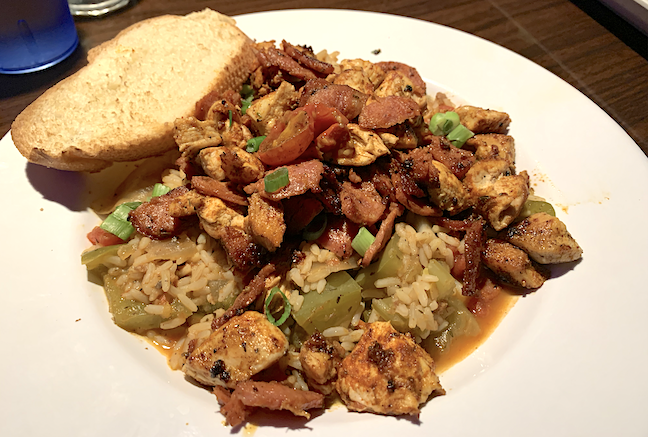 Every bit the stew-style jambalaya ($17) I'm accustomed to. It was preceded by a side salad with a tasty ginger-based dressing. The main course arrived quickly, a bit too quickly. I hadn't finished my small salad.
Large chunks of blackened chicken and andouille sausage nestled with hefty slices of green pepper, onion and celery. A piece of toast joined the party. Nicely presented, the dish looked altogether appetizing.
Texture and Taste
This jambalaya tasted like it looked — a hearty mixture of ingredients that, by and large, worked together well.
The big pieces of vegetable were especially welcome. But the chicken and sausage proved too dominant. Plainly put, there was too much of both. The meat smothered the rice and veggies. And some of the chicken was on the dry side. I wished the dish was more rice-forward.
Whereas Chief's jambalaya was too soupy, Shrimpy's version was wanting of a bit more broth. The dish also could've used some more spice, too. It wasn't bland, exactly, but lacked a certain punch.
I inhaled it. I was hungry, and this jambalaya went down easy.
And the Winner of the Jambalaya Jam Is …
Shrimpy's.
While the waterside restaurant's version provided little in the way of creativity or challenge, its familiarity proved more satisfying than the competition's.
Chief's soup-style jambalaya was interesting, but so far afield of my past experience that I didn't quite know what to make of it.