Farm meets street in a gooey battle.
Mac-and-cheese needs context.
Sure, you can eat it straight, as a meal, maybe mix some meat in there, but ultimately mac-and-cheese is a side dish — and its quality owes at least something to the company it keeps on the plate.
With that in mind, for this edition of Friday Food Fight I'm ordering the creamy, cheesy stuff as a side, and doing so in two contrasting restaurants. I'll appraise the mac-and-cheese, of course, but also evaluate how it works with the accompanying meal.
Our contestants are Naked Farmer and Fo'Cheezy Twisted Meltz, which are within a couple of blocks of each other in downtown St. Pete and could hardly be more different.
NAKED FARMER
This small eatery wedged between Taverna Costale and The Mill on Central strongly touts a farm-to-table priority — right down to a sign right inside the front door.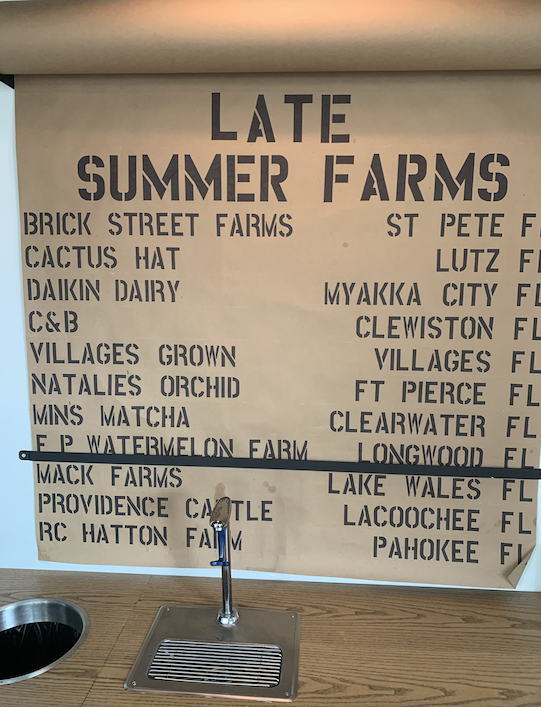 I tend to be a bit suspicious of farm-to-fork claims by local restaurants — we're not America's bread basket, after all — but I give Naked Farmer credit for not trying to snow me when I asked what was actually grown locally. Turns out, in September, not too much: some greens and veggies.
As for mac-and-cheese made from locally produced ingredients? Hah! But I get it. We're not in Wisconsin.
Naked Farmer serves meals bowl style, where you pick a base, a protein and two sides ($14.99) — one of which, of course, was mac-and-cheese. It would not be lacking for context.
Appearance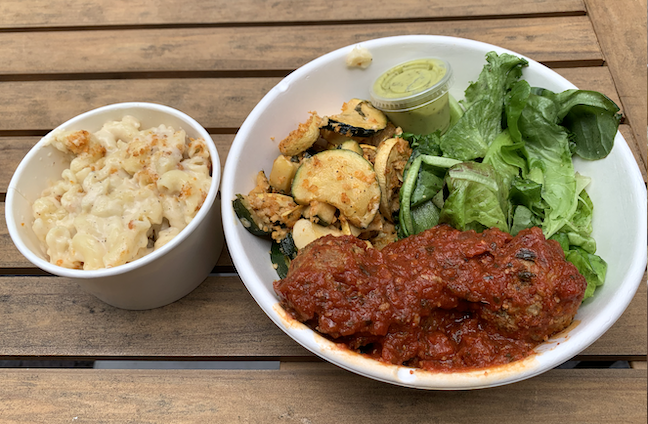 Every fast-serve restaurant should have a counter guy like Daniel. With the zeal of a true believer, he efficiently laid out all our options, and added key details. As a base we chose locally grown greens (from Brick Street Farms in the Warehouse Arts District), with a cilantro avocado dressing. One side was a blend of summer squash and zucchini with lemon, basil and vegan mayo. Got all that?
Our protein: The meatballs in red sauce called out to us. Daniel gladly separated the side of mac-and-cheese into its own paper bowl. About halfway through our visit, he came out with another bowl, this time pipin' hot, fresh from the oven.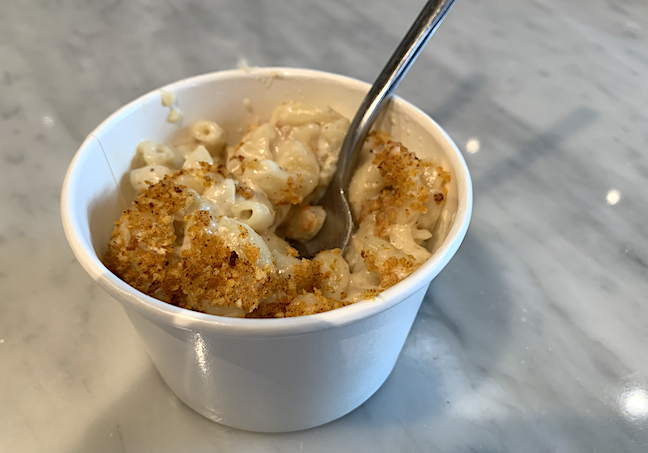 This rather odd mix of components was nicely put together, and in the late-lunch hour, proved itself altogether alluring.
Texture and Taste
There's a lot to unpack here, so let's start with the mac-and-cheese on its own. The blend of fontina, mozzarella, Swiss and cheddar cheeses enveloped the whole-wheat pasta, which was al dente enough to give the dish a pleasing chewiness.
The four-cheese sauce was a shade too thick, but that's far preferable to soupy. It was topped with bold and crispy panko bread crumbs accented by garlic and paprika. While chef Ryan Greenbaum (who emerged from the back and talked to us) put a lot of care into this mac-and-cheese, he didn't go overboard trying to create an innovative masterpiece — like, for instance, making it overly sharp.
Rather, the chef hewed to the basics and added a few special touches.
As for our other choices: The meatballs were rustic and a little spicy-hot; the zucchini blend was terrific; the greens had ample crunch and their own earthy flavor.
They all combined to provide exemplary context.
FO'CHEEZY TWISTED MELTZ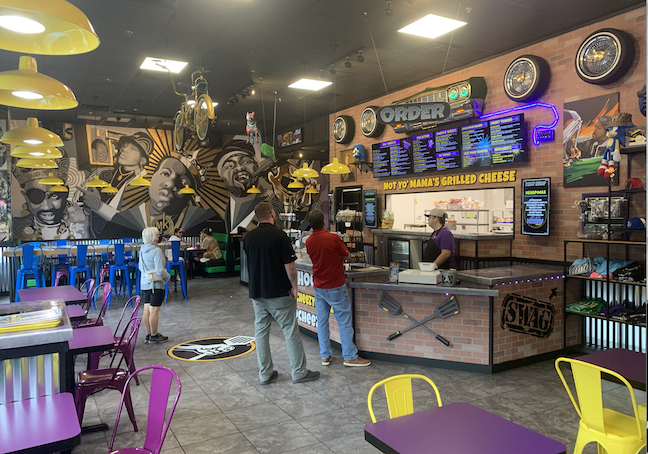 If Naked Farmer is farm-to-table, Fo'Cheezy is street to table. The theme is pure hip-hop — loud colors, loud (but not deafening) music, and pictures of rap legends graffitti'd all over the walls.
Admittedly, I'm several ticks north of Fo'Cheezy's target demographic, but I admire the continuity of the over-the-top branding, and the absolute commitment to it. Don't want to eat with The Notorious B.I.G. as aural accompaniment, don't come.
Where Naked Farmer is dedicated to healthy eating and a holistic ideal, Fo'Cheezy is about unapologetic decadence — for the ears, eyes and palate. You'd better like cheese. You'd better need cheese. This place, too, has a sign (on the window) that states its values …
Fo'Cheezy's stock-in-trade is grilled cheese sandwiches, concocted by chef Robert Hesse, a St. Pete native who participated in two seasons of Hell's Kitchen and appeared multiple times on the Food Network.
More than a dozen such sandwiches are on the menu, with names like Mac N' Rib, That's My Dawg and — my favorite — War Pig.
To go along with our mac-and-cheese, we chose the health-food option: Cheezy Caprese ($14).
Appearance
The hearty sandwich, its crust a perfect golden brown, sat next to a two-person helping of mac-n-cheese ($7), which had a layer of house-made, busted up "tater chips" strewn on top. For good measure, a little side of those chips joined the party.
Texture and Taste
The mac-and-cheese, made with smoked gouda, was creamy and agreeable enough, perhaps a notch above the boxed stuff I get from the frozen section at Trader Joe's. I didn't care for the crust at all. It was a distraction, and had an unpleasant aftertaste.
All told, the mac-and-cheese never stood a chance of standing out. It's another cheese item on a menu filled with cheese items. An afterthought. And that's largely because my sandwich was so seriously, remarkably damn good. Or put another way: It's fire, yo!
I bit through the crispy exterior of the sourdough bread into a delightful blend of buffalo mozzarella, provolone and whipped ricotta, with basil pesto, bruschetta tomatoes, pickled red onions and a balsamic glaze. The sandwich was oozy but not sloppy, and each of the ingredients made its own impression. This is where the chef puts his imagination.
Next time you're hell bent on finding a sandwich that won't do your heart health any favors but will have you nodding your head going "mmm, mmm," try one of Fo'Cheezy's. If you're of a certain age, however, you may want to get it to-go.
The Winner of the Mac-and-Cheese Throwdown Is …
Naked Farmer.
Its side of mac-and-cheese was made with notably more imagination and care, and that showed up in the taste and texture. Furthermore, it nicely complemented its meal mates, and vice versa.
But wait! There's an asterisk.
*
The winner of the best individual food item in this FFF is the Cheezy Caprese by Fo'Cheezy.
Next time I cave to the urge for complete culinary indulgence, I'm gonna get another one of those and — why not? — a War Pig.
To go.