By Eric Snider
For the first time in the storied history of Friday Food Fight — all 16 months of it — we feature Indian food. The South Asian cuisine can no longer be considered exotic, for most of us at least. But I think it's fair to say that around here it has not yet become a standard mode of dining.
So for India's FFF debut, I wanted to choose a familiar dish — and that turned out to be Tandoori chicken.
For the uninitiated, Tandoori chicken is marinated in yogurt and spices, then roasted in a tandoor, a cylindrical clay oven (according to the cuisine bible, Wikipedia). The dish's distinguishing feature is its orange color with streaks of black char.
I've had Tandoori chicken numerous times, and it has ranged from succulently delicious to something akin to jerky (usually as part of a buffet). (Side note: I don't do buffets anymore; it's a pandemic thing.)
For this FFF, I chose two restaurants that tout their Tandoori chops: Flames Indian Cuisine on MacDill Avenue in South Tampa; and Gateway to India in the Bay Pines area of St. Pete.
As accompaniments, we ordered Basmati rice (with no upcharge at either restaurant), Garlic Naan and a Mango Lassi, a traditional, yogurt-based drink that has the consistency of a milkshake.
FLAMES INDIAN CUISINE
Flames is located in a small commercial section of Palma Ceia neighborhood, across South MacDill from Datz and Dough. The interior, with its brown floor, ceiling and tables and dark green walls, gave the restaurant an almost dour ambience as the sun set at 6 o'clock on Tuesday.
But atmosphere was low on our list of priorities. As we waited (a tad too long) for our meals to come out, the lone server — a petite woman whose name I didn't get because she was too busy — must've handed eight or 10 takeout bags to customers, as well as covering a few tables.
I nursed the Mango Lassi as we waited.
Appearance
The first sign that Flames takes Tandoori seriously is that the chicken ($15) consisted of two thigh/leg quarters (rather than puny, mall-chicken thighs or, worse, a breast). This gave me confidence that the meat would likely be tender and juicy. It had that characteristic orange hue with black sections, and was seductively aromatic.
The bird was accompanied by lightly grilled onions and peppers, which would turn out to add nice contrasting flavor and crunch.
After placing the chicken on an extra plate and adding the rice and naan, I was salivating. (Side note #2: Snapping and checking a bunch of photos before eating is one of the burdensome aspects of this gig. Ahh, the woe.)
Texture and Taste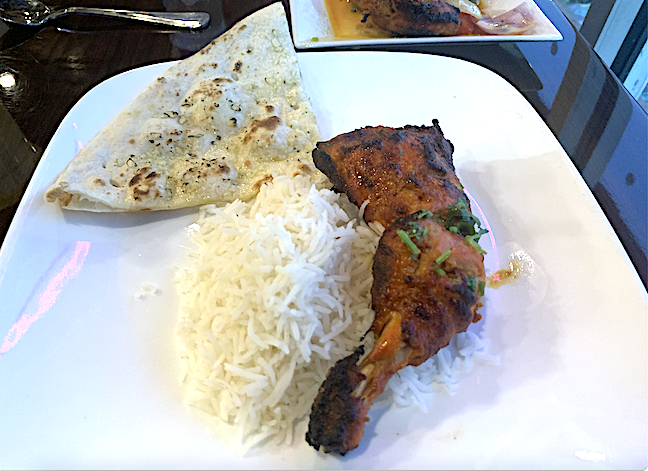 Let's do this chronologically:
The Mango Lassi ($6) was sweet, as the server promised, but not as sweet as I like. The drink had a velvety texture but was a bit too yogurt-forward, with the mango taking a backseat. (Side note #3: My favorite sweet Lassi is at Cafe Masala in St. Pete.)
The Basmati rice was fine, but lacked the subtle spice found in the best versions I've had.
The chicken tasted like it looked, which is to say: tender and juicy. I regret to say that I'm incapable of providing an adequate description of what Tandoori tastes like. Savory with a hint of sweetness and ample saltiness? That's lame. I give up. I checked online and found that Tandoori recipes can include a laundry list of spices that I'll not list here. Suffice to say that the chicken tasted really good, bordering on really, really good.
When it comes to chicken quarters, I'm very limited with a knife and fork — who isn't? — so I quickly reverted to using my hands, which the Internet tells me is the traditional Indian way. I'm not a gnaw-it-to-the-bone guy, but enjoyed the chicken enough that I didn't leave much behind. I'll spare you a photo of the remains.
The Garlic Naan ($4) was probably the most impressive part of the meal. Thin, soft (I've had it close to crispy) and agreeably chewy, it found a lovely balance of garlic, butter and bread flavors. Very likely the best I've ever had.
GATEWAY TO INDIA
We arrived at 5 p.m. on Tuesday, just as Gateway to India's doors opened for dinner service. Unlike Flames, this restaurant works hard to evoke the homeland, with ornate chandeliers, colorful drapes, faux flowers, Indian art on the walls, Bollywood ensemble dances on TVs, and other touches. Indian pop played over the sound system at a comfortable volume.
Some might regard all this as gaudy. I like to think of it as fun. Gateway had a much homier feel than its Tampa counterpart. The service was friendly and attentive. Three people saw to our needs, including the owner.
I ordered a half Tandoori chicken ($13.99).
Appearance
Much different than the competition's. Rather than two chicken quarters, this version came as eight distinct pieces of dark-meat chicken, smothered in orange-tinted onions. (The owner explained that the reason Tandoori chicken generally does not use breasts is that the spices don't adequately sink into the meat.)
The Basmati rice was more finely granulated than that of Flames — and here I thought all Basmati rice came in one size. The chicken legs were petite, almost drummette-like, and black on the outside. The thighs were small. In all, the meal did not look as appetizing as its counterpart from across the bay.
Texture and Taste
Chronologically:
The Mango Lassi ($5.99) was sweeter, thinner, smoother, more mango-flavored (and colored) than Flames' version. And came in a glass rather than a plastic cup. It was the superior drink, by far. I'd stop in Gateway again just to have another.
My first bite of the chicken was from a cute little leg piece. Uh oh, jerky alert. This was dry, chewy stuff, with a tough exterior skin.
The eating did get better, though. The small pieces made for easier hand-to-mouth consumption (kind of like munching chicken wings, without the wings). The thighs were more moist and tasty.
At one point, I literally bit off more than I could chew — well, almost. I took a healthy bite of a thigh, then decided to chomp an extra chunk. Whoops. I realized I'd just have to chew my way out of it, so chew and chew I did. It took a while. At one point, I looked over at Bonnie, snickered and said, "Yup, still chewing."
Gateway's chicken was not only more dry, but also had less of that delectable Tandoori spice — not bland, but not as flavorful as over at Flames. The lightly cooked onions added a welcome element of moisture as well as crunch.
The Basmati rice, like that of Flames, was fine but lacked seasoning or much in the way of character.
Finally, the Naan ($4.99) was a bit too heavy on the garlic for my tastes, and it didn't match the delicate texture of the competition's.
And the Winner of the Tandoori Chicken Taste-Off Is …
Flames Indian Cuisine.
I selected the winner based on the main attraction: Tandoori chicken. Plus, Flames' naan gets the nod.
But Gateway to India takes honors for atmosphere and its heavenly Mango Lassi.