Two very different versions from very different restaurants square off.
Of all the yummy things you can get at Mexican restaurants, my favorite is sauce-covered enchiladas. That's not to say that I choose enchiladas only; I still make plenty of time for tacos and burritos and occasionally things like flautas and tostadas. But for this Friday Food Fight, we'll go to my go-to.
I chose two restaurants that fall on ostensibly opposite ends of the Mexican-food spectrum — one elevated and the other down-to-earth.
Our contestants are Red Mesa, an institution on 4th Street in St. Pete that has spawned two sister brands (Red Mesa Cantina and Red Mesa Mercado), and Chili Verde, situated in a former convenience store near the the I-275 exit on 22nd Avenue N. They represent a significant contrast in the Mexican food experience.
Regular readers of this column know that I battled Covid last week, but managed to, heroically, publish a Friday Food Fight about chicken noodle soup. I'm still feeling slight after-effects, which prompted me to pick up this week's meals and bring them back to the FFF Lab.
I expect to be back dining in restaurants next week.
RED MESA
I'm a regular. It's safe to say that I've eaten at Red Mesa more than any other restaurant in Tampa Bay. It helps that it's 1.3 miles from the house, but, more so, the place just makes high-quality meals that blend Mex with Tex and other Latin American influences.
Red Mesa has never drifted into exorbitant pricing, and its consistency is remarkable. I can't recall ever having a substandard meal there. Its Mexican staples — tacos, burritos, chile rellenos, enchiladas — don't claim to be authentically Mexican, but rather reflect the chef's own take.
I've eaten the Mesa enchiladas often, but don't believe I've ever had them with chicken. (Do yourself a favor and give the ones made with grilled vegetables a try; you don't have to be a vegetarian.)
Appearance
They came in a three-compartment plastic container, nicely organized. The two enchiladas were distinctly visible, and not overly drenched in the combination of chili verde and tomatillo sauces. A liberal dose of cheese crumbles and drizzles of sour cream sat atop.
Each component resided in its own compartment, nothing spilling into another's territory.
Unlike traditional Mexican restaurants. Red Mesa serves its enchiladas ($13.50) with black beans and white rice.
Texture and Taste
The dish was delish, per usual. The only new element for me was the chicken, which was shredded (my preference) rather than chunked. As expected, it was moist and easily chewable. The red sauce was sharp and tangy, but not the least bit spicy-hot.
Inside the tortillas, bits of pepper joined the chicken to add subtle flavor enhancement. They were not overly gorged with Monterey Jack cheese, either, and probably could've used a bit more.
The black beans and rice, standard with all the restaurant's Mexican dishes, is solid, but ultimately falls a little on the bland side.
In all, the dish could've stood to be a bit messier.
CHILI VERDE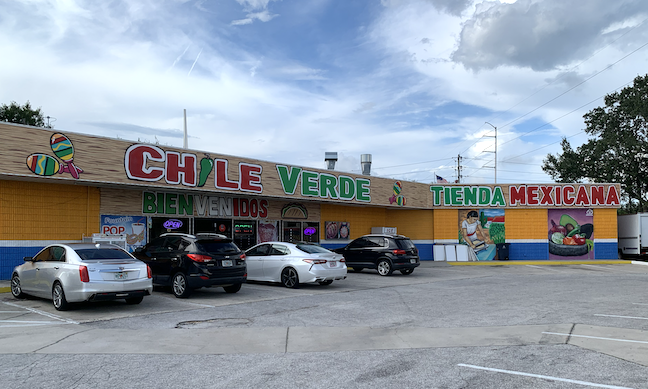 This was my first time at Chili Verde, although the eatery's vibrant exterior color scheme has hollered at me many times as I drove by. As we walked up, a sign that said "Authentic Mexican Food" seemed redundant.
Any doubts about Chili Verde's convenience-store past are allayed by a wall-length drink cooler.
You don't come here for ambience, or table service. The interior — clean and well-lit — had a few four-toppers and some ramshackle booths with pitted tables. You order at the counter from a plastic menu. Our English-challenged counter man was polite and aimed to please.
Appearance
I could've done some curls with the styrofoam container as I carried it to the FFF Lab's photo studio on the back porch. We're talking real heft here. Bonnie had taken care of her own dinner, so I was on my own.
Chili Verde's enchilada meal was a big, gooey mess, and I say that in the most positive way. No tellin' how many actual enchiladas were in there, so covered they were with cheese, cilantro and lettuce.
The refried beans liberally dripped into the the yellow rice's territory — like they belonged together.
Texture and Taste
First bite, spicy hot … but, give it a sec, not too much so. I quickly acclimated, and appreciated the zing.
It ate the enchiladas ($11.99) by simply jabbing a fork into the stuff and shoveling in what came out. No knife-slicing neat chunks of tortilla here. But that was okay, definitely okay. A little surprise in every bite.
The components all blended together nicely, and made for some good, tasty eating. The innards used ground chicken, which took some getting used to. I'd have preferred shredded. I found the pronounced cilantro flavor pleasing, and appreciated the crunch from the lettuce.
The yellow rice and refried beans accentuated the gooey mess, and contributed mightily to my enjoyment of the meal.
The Winner of the Enchilada Challenge is …
Chili Verde.
This choice was about as subjective as it gets. Red Mesa's was a far more polite and tidy meal. And if you tilt toward healthier eating, it's the clear favorite.
But Chili Verde lived up to its promise of Mexican authenticity. It was unpolished — sloppy even — and decadent. I don't want to equivocate too much, but this meal hit the right spot on this particular day.
I ate these two dishes side-by-side. I could've finished my Red Mesa portion, as I routinely do. Chile Verde? Not a chance. I got less than a quarter the way through.
I'm not sure how big a family one order could feed. But one thing is for certain: It's a whole lotta enchilada.