I'm a filet mignon man. My wife Bonnie cooks up a mean one by searing the meat on a cast-iron skillet and finishing it in the oven. Never fails. I'm betting our outdoor grill has become a bug hotel.
In the interest of mixing up my carnivorous pursuits, I chose to try a different steak for this edition of Friday Food Fight. And I did a 180 by switching from one of the leanest cuts — filet — to the fattiest:
Ribeye. (I suppose saying that it has the "most marbling" rather than "fattiest" is a more delicate way of putting it.)
I was extremely fat-averse as a chid carnivore. If I detected even the slightest bit of it — especially gristle — I spewed it out onto the plate, occasionally missing. I may have even hit my dad with a flying morsel once or twice. Over the years, I've become more fat-tolerant, but only to a point. If my teeth encounter a piece of gristle, everyone should duck.
So endeavoring into the ribeye realm was really testing my limits. When it comes to Friday Food Fight, I'm nothing if not brave.
Our two contestants are:
• Fleming's Prime Steakhouse & Wine Bar in Tampa
• Rococo Steak in St. Pete
To raise the stakes in this FFF competition, I decided to include the same extras from both restaurants: a wedge salad and mac & cheese.
Fleming's
We arrived around 7. Business was brisk, probably due to it being Tomahawk Tuesday, a popular dinner-for-two special. Tempting — but this was not part of our mission. I had asked for outdoor seating when I made the reservation, and we were escorted to a patio area that had one of those vinyl enclosures with plastic windows. Voila — private dining! We were the only customers seated in the large section. Everyone else was occupying booths and tables inside. Go figure.
Fleming's broils its steaks at 1,200 degrees and finishes them on a flat-top grill, with a bit of butter and parsley. The only seasonings they use are kosher salt and back pepper.
Our waiter was named Dave, and he was terrific. I told him we were on a ribeye safari and he effusively declared that the Prime Bone-in Ribeye was his favorite steak on the menu. And you know what? I believed him! He suggested having it cooked medium rather than medium-rare, to accentuate certain flavors for reasons that I can't recall.
Salad & Side Dish
I'll cover these rather quickly so we can get to the main event. Both the Wedge and the Chipotle Cheddar Mac & Cheese were superb. The salad had a squiggle of balsamic, which added a touch of sweetness, and there were chopped-up pieces of bacon, not bits. Pieces are way better than bits. I should've ordered the wedge with a side of bacon.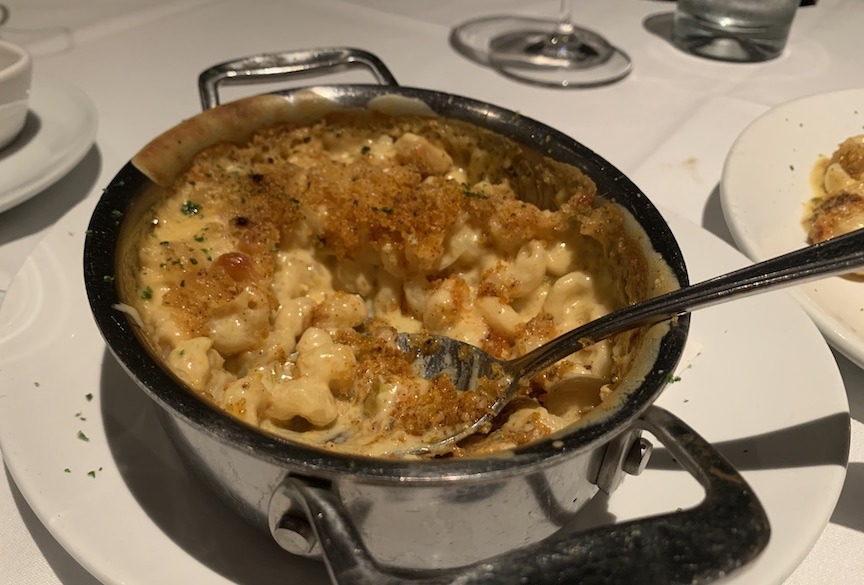 The mac & cheese had a creamy blend of Monterey Jack, smoked cheddar and regular cheddar. The chipotle added the tiniest bit of heat and a lot of character. Some of the best m&c I've had.
On to the ribeye:
Appearance: Different than a filet, for sure. A bit intimidating. It was resting there, all by itself, a 20-ounce slab of beef with a menacing bone jutting out, daring me: go 'head, dig in, pal. The plate was hot and I had to gingerly reposition it for photos. I forgot that's how they (usually) do in steakhouses. Bonnie remarked a bit later, "It keeps the food hot." (What a concept.)
I picked up my pearl-handled steak knife and made the first incision. Staring back at me: fat. (Just stay the course, man.) I trimmed away a little of it. The meat was redder than I had expected — but not in off-putting way, not bloody. I cut off a chunk.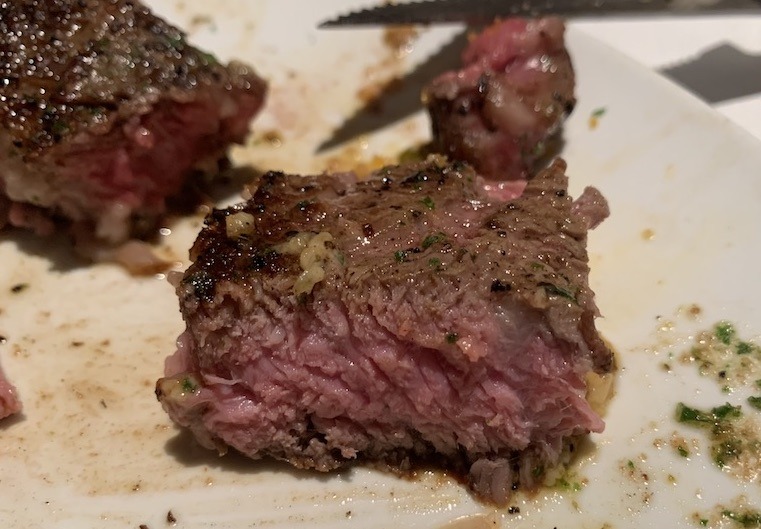 Texture: Way more fibrous and chewy than my usual go-to. But not chewy in a bad way — just a good mandibular workout. And as I was masticating, luscious gushes of juice dazzled my mouth. Must've been due to the fat content. A juicy steak with a lot of fat (excuse me: marbling) — now there's an idea.
Taste: Those juices? They pack a lot of flavor. The ribeye had an earthy taste, but I'm not gonna fake it and say that I detected hint of nuttiness or citrus. This ribeye tasted like steak — really, really good steak.
Rococo Steak
We arrived at 5:40 p.m. Thursday, a perfect late afternoon, 70 degrees, the sun beginning to dip behind the buildings across the street.
The hostess seated us on a lovely open-air patio, the front porch of a historic building (a former YWCA) on the southern side of downtown St. Pete. The tablecloths were black. The Fleming's tablecloths were white. A stark contrast for Round Two of the Friday Food Fight.
Our server's name was Joshua. He was funny and flamboyant, and explained that the kitchen grills the steak at 1,200 degrees and finishes it in the broiler. Another opposite. Things were heatin' up. We ordered our meat cooked medium.
Salad & Side Dish
Rococo's Wedge Salad had more imagination than its counterpart. Rather than chopped pieces of conventional bacon, it featured small, powerful chunks, which were more chewy and smokey, and were enhanced by a subtle bacon jam. The bleu cheese was more prominent. The wedge may have been a tad too sweet at first, but I soon got into the groove. The salad competition goes to Rococo.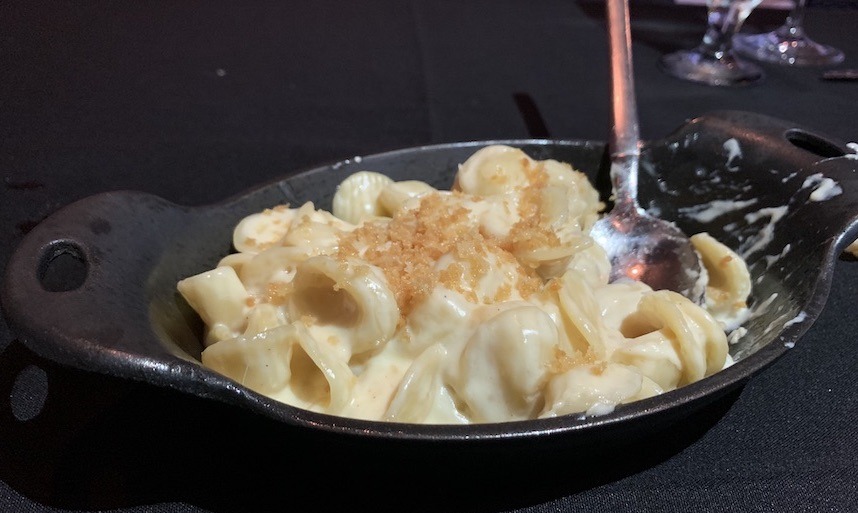 The mac & cheese featured a four-cheese blend and pasta shells. Nothing special. The crock did not come out hot, and soon enough the dish was borderline cold. The side-dish contest goes to Fleming's.
On to the ribeye:
Appearance: Another contrast — this 16-ounce ribeye was boneless. Less intimidating. Inviting, even. I had forgotten all about my fat phobia. The plate was not hot, though, which, like the mac & cheese, would turn out to matter. A slice of charred onion and bit of greens made this steak look kinder and gentler than the competition.
When I sliced and opened it with my pearl-handled steak knife, it gave way easily, and I did not notice any visible fat. It looked leaner than the opposition, but also less juicy.
Texture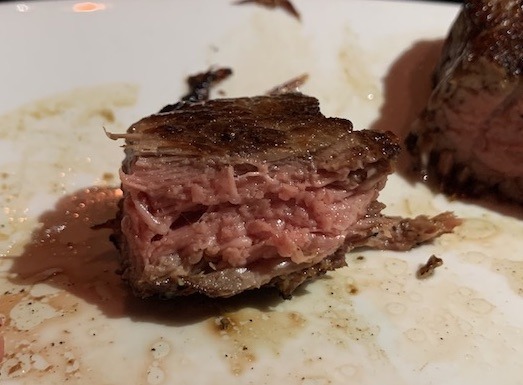 Definitely less juicy, less marbled. It had a similar density, and the outer crust was superior, but the bursts of juice were not as evident. Overall, this ribeye did not have the same level of mmmmmm-mouth feel.
Taste
Very good, but — relatively speaking — lacking character. As we got down to the last couple of chunks, the ribeye was almost cold, it was beginning to dry out, and the taste had essentially drained away. I left a morsel or two stranded, lonely. Now, if the steak had come out on a be-careful-it's-hot plate, who knows?
The Decision
Although both restaurant experiences were very good, and each notched wins — atmosphere and salad to Rococo, mac & cheese to Fleming's — it was ultimately the ribeye that determined the victor. And that victor is:
Fleming's Prime Steakhouse & Wine Bar.
David Warner is taking back Friday Food Fight next week. I thought about fighting him for it. It's been a whole lotta fun.