I'm all but certain that the only time I've ever had Eggs Benedict is from a breakfast buffet. I have no recollection of what the dish is like. But as your intrepid restaurant referee, I must chart unknown courses. Lay my tastebuds on the line.
Before I commence: Who's this Benedict fellow, anyway? There's no definitive answer, unfortunately, but here's the one that's most probable (endorsed by none other than the American Egg Board): In 1894, a stockbroker named Lemuel Benedict was wandering around the Waldorf Hotel in Manhattan in search of a hangover cure. He ordered "buttered toast, poached eggs, crisp bacon and Hollandaise sauce." Chef Oscar Tschirky was impressed with the combination and added it to the menu. Over time, the toast was replaced with English muffin, and the bacon became Canadian.
Our Eggs Benedict competitors are The Frog Pond in St. Pete and Benedict's Family Restaurant in Pinellas Park, both of which are breakfast-centric eateries.
These days, Eggs Benedict can include a variety of ingredients — The Frog Pond has 11 types on its menu — but for this Food Fight I chose to stay with the traditional version.
BENEDICT'S FAMILY RESTAURANT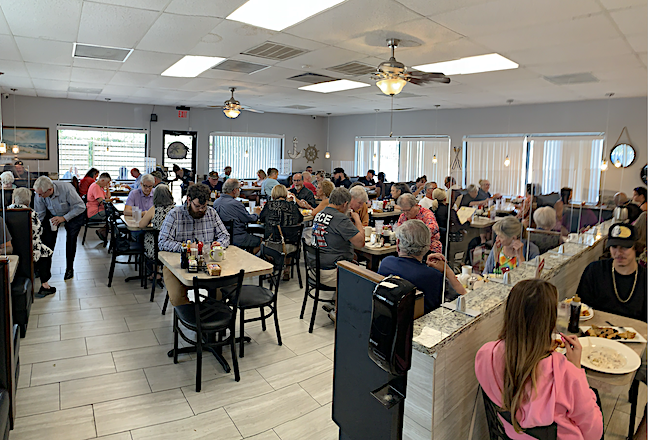 Featuring this place was kind of a no-brainer, right?
I asked one of the servers if Benedict's was named after Eggs Benedict. She didn't know, and the place was so busy on Sunday at noon that I didn't want to bother anyone else with the question.
The restaurant — near the corner of Park Boulevard and Belcher Road — is one of five locations, all in Pinellas County. The interior is a strictly functional space, crowded with tables, although the C-shaped breakfast counter near the front adds a nice old-school touch.
On this Sunday, Benedict's was populated with a lot of seniors. Mustaches and white New Balance sneakers were common sights.
A brigade of servers — all women — buzzed around. There was little time for niceties, and that was okay.
Appearance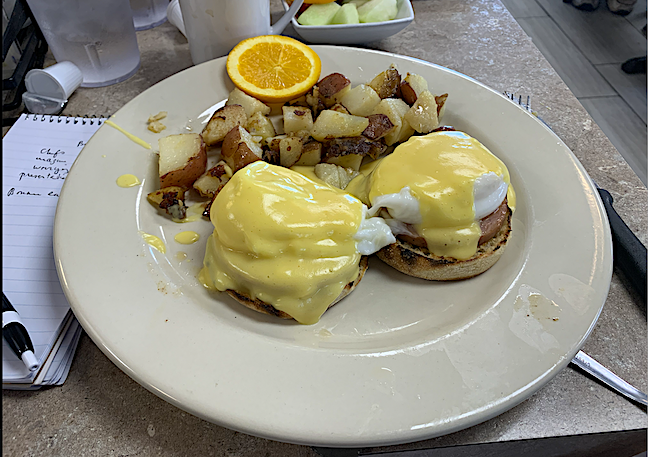 Having never ordered Eggs Benedict before, and given the dish's haughty name, I expected a more elaborate presentation. But then again, this wasn't the Waldorf.
The two Benedicts — or is it two halves of the Benedict? — looked pretty imposing. I figured I was in for some richness. I had a hunch that the home fries would be my salivation.
Texture and Taste
One flavor grabbed my palate by the collar and shook it. The Canadian bacon was so smoke-flavored it was like it had sat next to someone's fireplace in Saskatchewan for the better part of January. Too thick, too.
I struggled to give the Benny a fair shake, and Bonnie finally suggested I eat it without the meat. That helped, but even then the Hollandaise sauce was too lemony for my taste and overpowered the egg yolk. I tapped out after eating just one (or half).
Big, big ups to the potatoes, though. They were the ideal size, perfectly cooked, moist, tender, delish. And the addition of a small bowl of fresh fruit was a nice addition.
THE FROG POND
When we showed up on Tuesday at 11, it was a gorgeous 80 degrees with low humidity, perhaps the last gasp of spring. The Frog Pond is a couple of blocks east of Tropicana Field in a tidy shopping center. I wore my faded Rays shirt.
The large, homey interior is outfitted in dark brown carpet and woods, offset by green walls festooned with cartoon frogs. Large vertical windows let in plenty of light. Palms and bushes lined a generous patio. We opted to dine indoors.
The original Frog Pond opened in 1982 on Redington Beach, followed by one on St. Pete Beach. The St. Pete location opened in 2017, shut down during the pandemic, then reopened under new ownership in April of 2022. It's the only one of the three that's a franchise.
Even though business was slow, a woman greeted us warmly as we entered, and our server, Heather, was a real pro.
At one point, Donna Summer's "On the Radio" played faintly on the sound system, flashing me back to my days of bellbottoms, rayon shirts and high-heeled shoes. (What can I say? I liked to dance. Still do.)
Appearance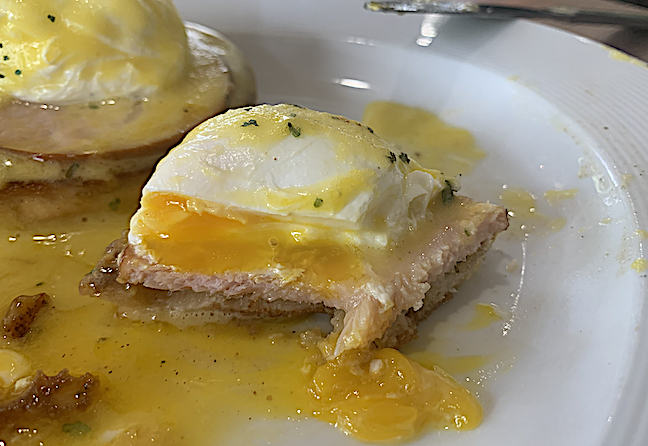 These Bennies (shown in photo at top) didn't  stand as tall as the ones at Benedict's. A bit of fluffy white something oozed onto the plate, giving me pause. Could it be some kind of whipped cheese? Whipped cream? It turned out to be egg white, a telltale sign of one well poached.
The potatoes, cubed, were not as appetizing as the competition's.
Texture and Taste
Thankfully, the Canadian bacon wasn't nearly as smokey as that of Benedict's. I detected a hint of smoke, but it added to the overall flavor rather than dominated. The meat was also thinner and thus easier to cut and chew.
I don't have much history with poached eggs, but these were so delicate and downy that I may have to add them to my repertoire.
The velvety Hollandaise had just a hint of lemon and played well with the runny yolk. The English muffin was chewy but not tough. All the elements combined for a nicely integrated flavor and texture. I effortlessly ate both Benedicts — or both halves of my Benedict.
The home fries, though, were a letdown: dry-ish and not nearly warm enough. I left half on the plate.
And the Winner of the Battle of the Benedicts Is …
The Frog Pond.
A lopsided decision, for one essential reason: I couldn't get past the suffocating smokiness of the Canadian bacon at Benedict's.