It's nearly Christmas and there's some real cold coming our way, so what better time to feature beef stew? Asian-style. Okay, so this French-Vietnamese comfort food won't make it to many Holiday dinner tables. Consider this column my little gift to you. I absolutely love this stuff and urge you to try it. I came across it at a French-Vietnamese restaurant about 10 years ago and decided to take a flyer. I didn't know what to expect. Out came a marvel. Unlike the American-style, gravy-based beef stew Mother used to make and serve on a plate with Wonder bread, this version came in a big bowl, with large chunks of beef and carrots and other good stuff, swimming in a brown broth — no potatoes — accompanied by a French baguette. I tasted the broth … it was one of those magical food moments. You've been there, right? "Nectar of the gods," I effused, and handed the spoon to Bonnie. She sipped and agreed. I went on to rave about the dish in between bites. I've since discovered that there's no one recipe for Asian-style beef stew, but two local French Vietnamese places make it in an a roughly similar fashion:
La V
on Central Avenue in downtown St. Pete; and
Alesia
, six miles west on the same thoroughfare.
LA V
We arrived at this downtown mainstay around 6 p.m. on Saturday. Like most of the other storefronts on Central, the space was long and narrow. The place cultivates an inviting urban vibe. La V was about three-quarters full, so we were seated right away. Bonnie ordered her own entree. There would be not splitting this Asian-style beef stew. I was hungry, so as a starter I got a lemongrass beef bánh mì sandwich. I enjoyed it so much that I had to force myself to only eat half.
APPEARANCE
No need to ask "where's the beef?" Generous chunks swam in hearty brown broth, along with pieces of carrot equal in size. I gazed admiringly at this familiar concoction. Given the choice of rice or baguette, I chose the latter, and was rewarded with a hefty loaf — although it looked more like a sub roll.
TEXTURE AND TASTE
The lemongrass-infused broth was mighty tasty — a little sweet, a little salty, a lot savory — but came up a tad short on the nectar-of-the-gods scale. Perhaps that was too much to ask. The beef was melt-in-mouth tender, but the carrots had crossed over into a kind of puree, which inhibited their flavor.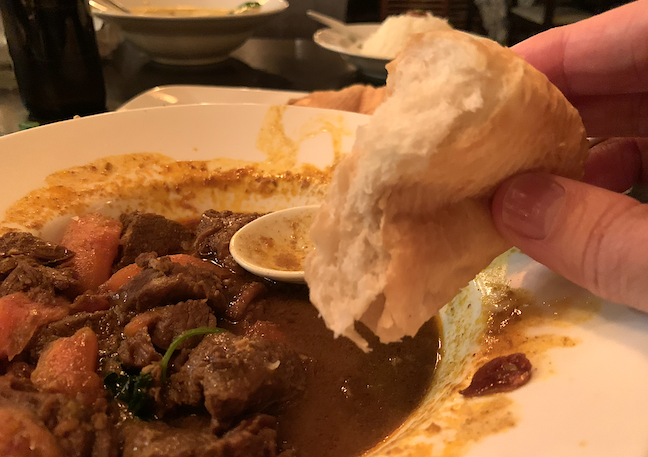 The best eating technique was dipping a piece of the fluffy bread into the broth, taking a bite, then chasing it with a spoonful of meat and carrot. (I tried putting some of Bonnie's rice in the bowl, and it did not work.) I thoroughly enjoyed my Asian-style beef stew at La V. It just didn't provide one of those — y'know — moments.
ALESIA
We arrived at 5 p.m. on Tuesday under gray skies, a light rain falling. An ideal beef stew day, Asian or otherwise. Alesia's blocky brown building sits amid a western stretch of Central populated by shabby strip centers and small office buildings. We were fortunate enough to snag one of the few spots in the tiny parking lot.
With its array of wooden tables and chairs, white walls and arched windows, Alesia's interior conveys a kind of casual elegance. The room was a bit too brightly lit for my taste. And it was too inclement for us to sit out on the covered patio, although a few customers did. No need for appetizers on this culinary excursion. I ordered the Asian-style beef stew, with water. Our server — a charming and attentive young woman named Taylor — nodded approvingly as she wrote down my order.
APPEARANCE
The stew was topped with raw onions, scallions and other greens. Its was not as beef-forward as La V's. Mondo chunks of carrot peeked out from the broth. There was no mistaking the small loaf for anything other than a French baguette. Alesia gets its bread from, "an older French man who comes in the mornings," Taylor said. "He says 'bonjour.' He's so cute."
TEXTURE AND TASTE
It started with the broth, a nectar-like blend of flavors that was complex but familiar, at once exciting and soothing. It infused the tender beef, which was not as plentiful as the La V version. The carrots, firmer and more flavorful than their counterpart, were as present as the chunks of meat. Hidden on the bottom of the bowl was a generous helping of Vermicelli noodles, which provided more texture and substance. The raw onions added little crunchy moments. The bread was rustic and chewy rather than fluffy. It stood on its own — not just for dipping. I would've liked the loaf to be a bit larger.
And the Winner of the Asian-Style Beef Stew Challenge Is …
Alesia.
However, if you prefer more beef in your Asian beef stew, and a marginally heavier broth, it's likely you'd prefer the La V's. All told, this week's FFF was not so much a competition as a comparison — and an excuse to let all you readers know about the wonders of Asian-style beef stew. Make a point to try it.