Which of two seafood restaurants will claw their way to the win?
In my middle-class, suburban New York family in the '60s/'70s, seafood meant frozen fish sticks. I mindlessly shoveled them in — something to fill my belly. They had no taste. Dad might've used the leftovers to plug holes in the driveway.
I don't recall eating real seafood until I was in my early 20s and living in Florida. Maybe it was the late start, but I never really took to it.
That's why I like a good crab cake — a seafood-esque dish for folks who aren't seafood lovers.
This week's contestants are a study in contrast: Sea Hut Restaurant sits all by its lonesome on open stretch of Rt. 19 just south of the Skyway in Palmetto, while The Oyster Bar is wedged into a bustling block in downtown St. Pete.
THE OYSTER BAR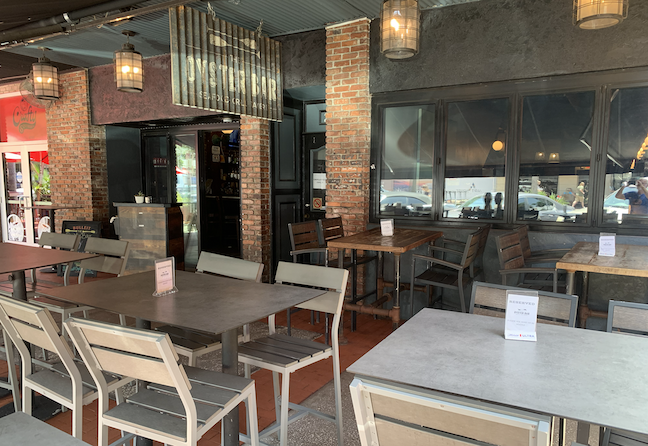 The Oyster Bar is located in downtown's busiest party block, the north side of Central between 2nd and 3rd streets. On a steamy, sunny Tuesday at 1:30 p.m., with a handful of people idling about, the Five Bucks Drinkery next door was blasting dance music on the sidewalk. C'mon, really?
That din was one reason why we chose to eat indoors. The other was that the Oyster Bar's big, black awning, rolled out to protect against the sun, soaked up the afternoon heat like Bounty on a milk spill, and then radiated it downward.
Inside, it was nice. The brick walls and dark woods provided a cool and calming respite from the throbbing swelter, glare and obnoxiously loud music outside.
We ordered the crab cakes off the Starters menu. I generally avoid using this space to comment on prices, but $24 made my eyes widen a bit.
Appearance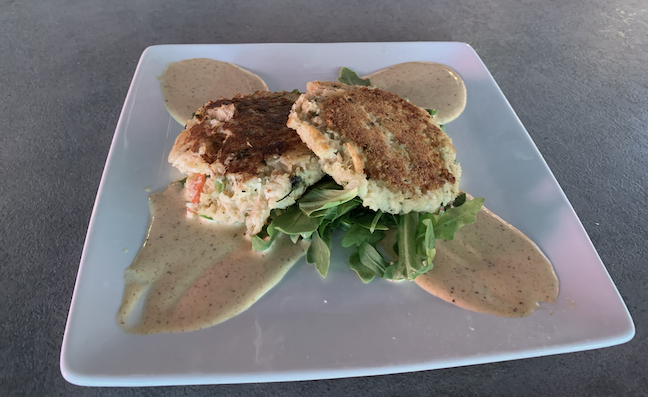 The presentation had a simple elegance: two burger-sized patties, golden brown on the top, sitting on a bed of arugula, with pools of aioli sauce fanning out to each corner.
When it arrived, the dish had a seductive aroma that wafted from the plate into my nostrils and made me pick up a fork.
Texture and Taste
These were not the kind of crab cakes that feature hefty chunks of crab and little else to bind them together. Oyster Bar doesn't ignore the "cake" part. What else, exactly, goes into a crab cake besides crab? I did some poking around online and it can include a lot of things, so I'm going to call it — stuff.
The stuff was finely ground and melded with the crab, which served to mute the taste of the crab itself. After biting through the delicate outer crust, my mouth discovered a smoothly textured concoction with a subtle grace. I quickly found that constructing bites that included arugula and a slurp of the first-rate aoli sauce added just the right amount of crunch and tang.
Bonnie and I wiped out the Oyster Bar crab cakes in a few minutes and I left wondering if I should make a sandwich back at the house. (I didn't.) The dish is not insubstantial, but I would recommend it as an appetizer. Light-biters, though, could make a meal out of it.
SEA HUT RESTAURANT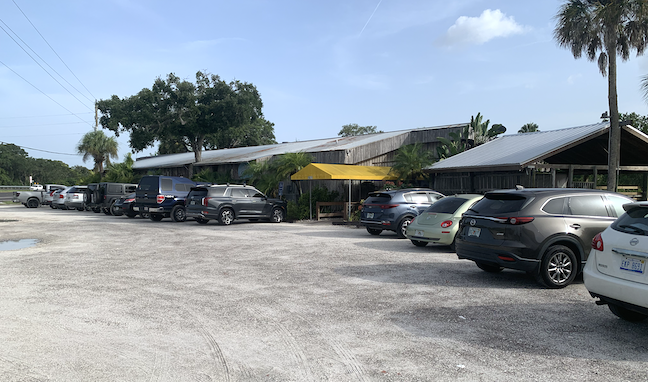 In another life, this place could've been a roadhouse with chicken wire in front of the stage. Its unpaved parking lot has pits and puddles. The signs on the wooden building are faded to oblivion. A yellow awning indicates the entrance. A narrow finger of Terra Ceia Bay sits motionless near the back deck. At least the Sea Hut doesn't tout waterfront dining.
In business 37 years, the Sea Hut has the look of an authentic Old Florida seafood joint, with a menu to match. Our foursome dined indoors at a big, cushy booth next to wood-paneled walls, with a view of the parking lot. Business was brisk for a Wednesday at 6 p.m.
Appearance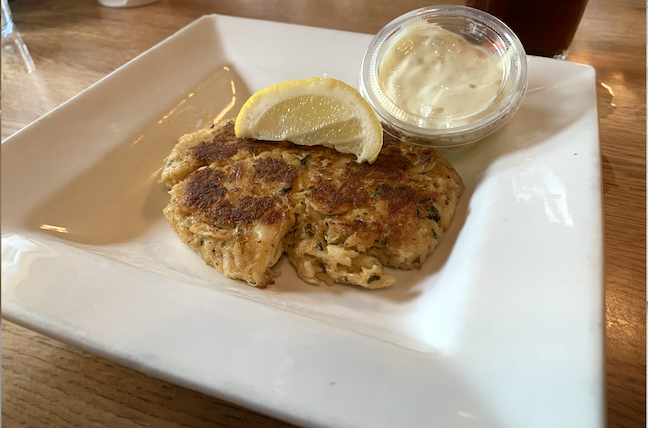 One crab cake cost $14, which made me rethink the price of Oyster Bar's two.
It sat on a white plate, topped by a lemon wedge and flanked by the standard plastic container of tartar sauce. It could've used some company — like, oh, some arugula or an aoli sauce. One ingredient was very noticeable at first glance:
Crab. But would it be too crabby?
TEXTURE AND TASTE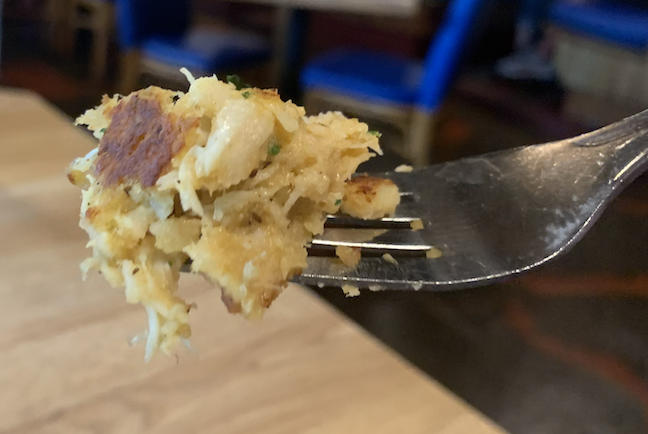 This crab cake was more rustic than its counterparts, with the individual ingredients making a stronger taste impression. The golden brown crust added a touch of crackle.
The stuff complemented the star attraction, sumptuous chunks of crab that in no way tasted too crabby. I found that I naturally ate Sea Hut's version more slowly, contemplating each bite.
The tartar sauce had no business being here. I dipped a forkful into it once, and the thick sauce hindered rather than enhanced the taste. All told, this dish would've benefited from having something else on the plate to add color, texture and flavor.
The Winner of the Crab Cake Face-Off is …
While the Oyster Bar's crabetizer had more flair, and the sauce was far superior, and the arugula amped up the presentation and taste, and there was more of it, the Sea Hut crab cake stood out on its own.
A difficult call. but the victor is —
Sea Hut.