Friday Food Fight: Fish Spread — Which One Will Smoke the Other?
Reel it in or throw it back: We taste-test two markedly different spreads.
I am not a connoisseur of smoked fish spread. (Is anyone?) I've had my share, but usually it involves me slathering the stuff on a cracker and munching on it between gulps of Bud Light and running my mouth. In other words, I've barely noticed it, let alone actually tasted it.
Around here, most any restaurant that falls into the category of sports bar, beach bar, casual restaurant or seafood restaurant — many of which are all of those at once — offers the spread as an appetizer.
This edition of FFF has provided me the opportunity to stop and really taste — and savor — a dish that I think most of us treat as gastronomic background music. (Kudos to those of you who don't.) This week's tilt pits Nachman's Seafood Market & Smokehouse in Redington Shores against The Galley tavern in downtown St. Pete.
These opponents provide a significant contrast: Nachmann's distributes its Famous Smoked Fish Spread to restaurants throughout the Tampa Bay area, so there's a very good chance you may have unknowingly eaten it. (And also, just a theory: Nachman's might be a major reason why fish spread is so present on Bay area menus.) By contrast, The Galley is an intimate, nautical-themed bar/eatery that makes its spread in small batches.
Ready? Let's tip it off!
NACHMAN'S
I purchased an 8-ounce container of the spread ($8.75, a buck an ounce?) at a funky little fish market called I.C. Sharks at Gandy and 4th Street in St. Pete. The woman at the counter was kind enough to throw in a few packets of saltines.
Appearance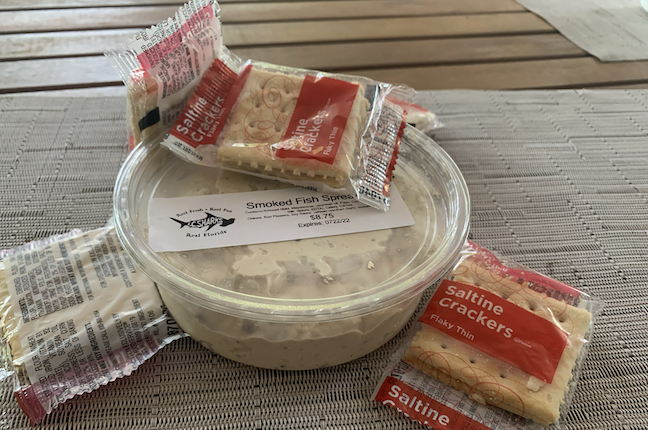 N/A (see photo). Actually, one quick kudo: The container did not come with a hard-plastic seal that you need an X-acto knife and a pry bar to remove. All I had to do was pull the top and open.
Texture and Taste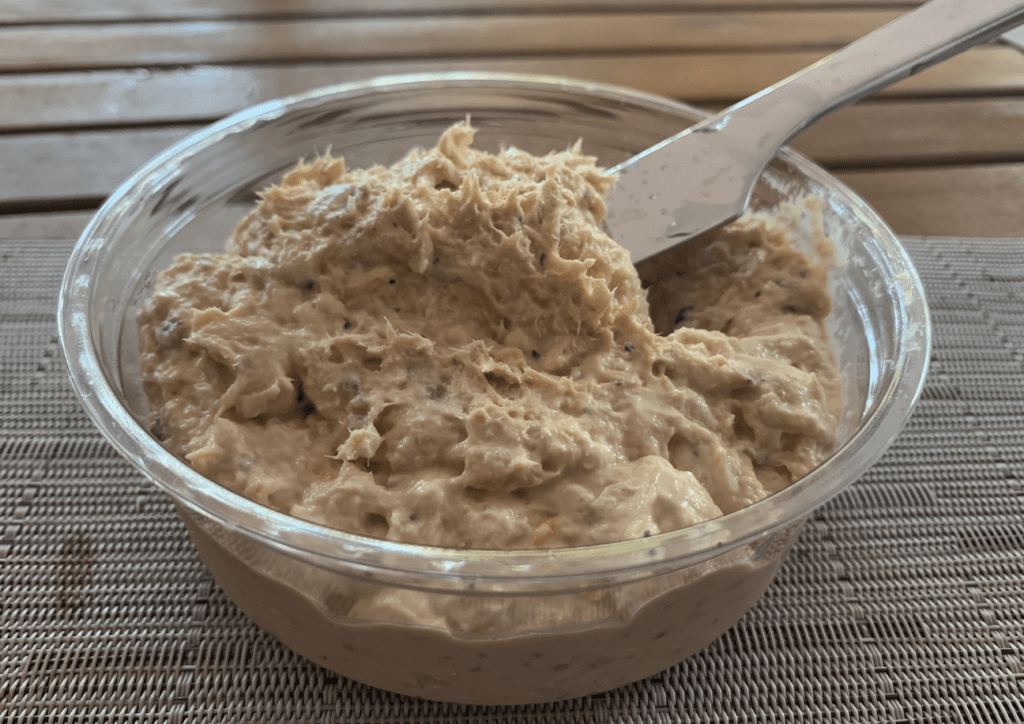 Nachman's spread is like a pâté, bordering on dip. All of the ingredients are so finely ground that nothing stands out. I did see a speck of orange, which was almost certainly a carrot molecule. The ingredients on the label (in what must be 3-point type) say that the stuff also includes celery, onions and red peppers. I'll take their word for it.
As bland as the spread looked, I was pleasantly surprised to discover that it packed genuine flavor. There's not a lot of smokiness to the smoked Mahi and spread has an agreeable tang (due to the vinegar?), but overall the taste is pleasant. It's not complicated.
The thoroughly blended ingredients all come together nicely, though. I've certainly munched on this stuff before between quaffs of Bud Light, and will be glad to do so again. Maybe next time I'll stop bumpin' my gums for a few seconds and savor the flavor.
THE GALLEY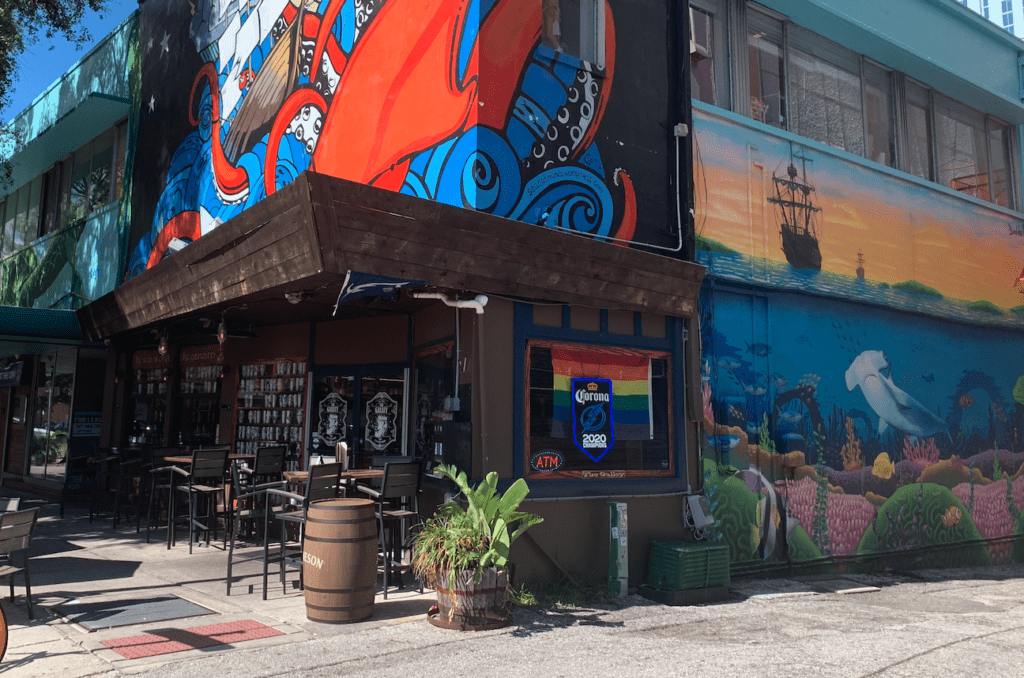 In an attempt at being fair to the Nachman's plain clear container, I ordered my Smoked Fish Spread starter ($12.50) to go, then brought it back to the FFF Lab. I put on my white coat (metaphorically speaking).
Hmm, why do restaurant kitchen workers wear white? It doesn't seem to make sense, what with all the stains. I'll put the answer at the bottom. I believe we call that: BONUS CONTENT!
Appearance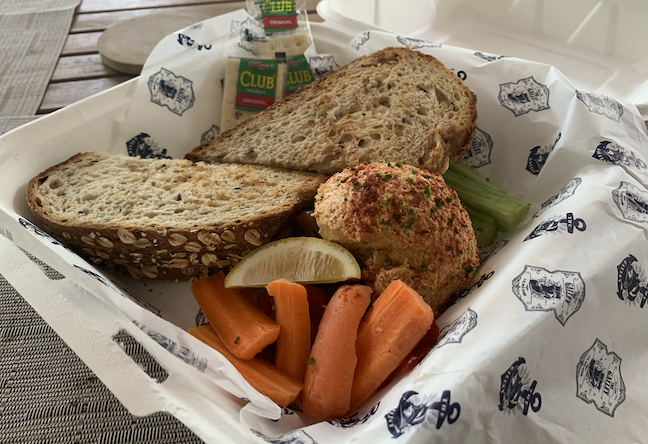 Even in a takeout container, the dish looked mighty tempting — and substantial. The scoop of red-flecked spread came with hefty carrot sticks, celery, two slices of bread , a lemon wedge and even a few packages of Kellogg's Club Crackers — all nicely arrayed and intact when I opened it.
I don't recall ever ordering fish spread and having it show up with bread. But it seemed to make sense.
Texture and Taste
This spread was also pâté-like, the elements mashed and smoothed. The Galley usually uses amberjack, smoking it in-house over wood chips, but on this day they were bereft of their preferred fish so had to use yellowfin tuna. Other ingredients include cream cheese, herbs and spices. The reddish hue and residue of spicy heat come from smoked paprika.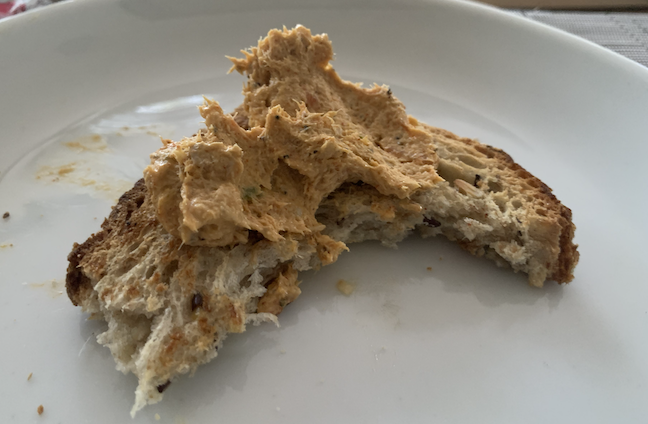 The Galley version had a considerably stronger and more complex flavor than the competition. The fish was smokier and fishier (but not to the point of being "fishy"). It's clear that the restaurant is really going for something here, trying to elevate a humdrum item into something with character.
But for all its ambition, this spread didn't quite coalesce as palette-pleaser. My chief complaint: too salty. The stuff did grow on me, though, especially when I had some the next day. If I had to spend a month on a remote island with only smoked fished spread to eat, I'd choose this one over the Nachman's.
A Detour
Before I reveal the victor — and to build the suspense — a word about what's best to spread fish spread on.
Crackers, man. Have a little respect for tradition.
The carrots were too intrusive, the celery too coarse (and loud), and the bread required too much chewing. Smoked fish spread is best consumed with a minimum of chewing.
I'll go you one better. I compared saltines and club crackers in a micro-food fight. The latter is a better platform. Club crackers are less salty and crispy, making more room for the main attraction.
Too the business at hand: The winner of the Smoked Fish Spread face-off is …
Nachman's (by a fin)
I chose the safe route, the mass-market stuff (see references above to Bud Light). What can I say? In the realm of smoked fish spread, I'm soft.
Bonus Content (Answer)
After intensive online research for three minutes, I discovered that the main reason restaurants outfit their workers in white is so they'll take their clothes home and wash them. White doesn't hide stains, so a sous-chef who leaves work looking like she was on the losing end of a paintball battle is obligated to clean her togs for the next shift.