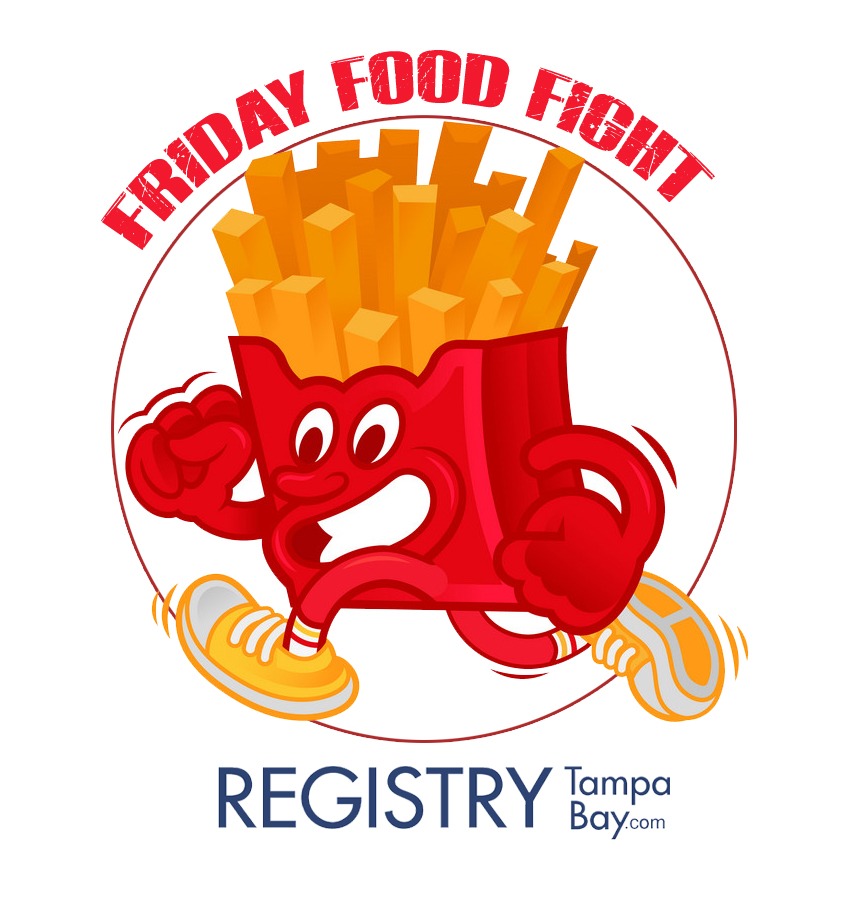 First let me say that, when it comes to bagel-tastings, I broke the cardinal rule: I bought my bagels in the afternoon instead of first thing in the morning, when the selection is plentiful and out-of-the-oven fresh.
But, in my defense, I'd enjoyed previous visits to both of these establishments before deciding to do a bagel à bagel comparison. I'd bought baker's dozens from St. Pete Bagel Co. and cherished the aroma from the bagel bag. I'd had bagels from Pete's General that were purchased by other people for meetings and brunches, and when I heard they'd moved from their Historic Uptown location to a new spot on First Ave. S., I made a pilgrimage there right away.
So, to be clear (and maybe this mitigates the need for a Friday Food Fight), I promise you can't go wrong at either place.
But still, I persisted…
My methodology was this: I bought a breakfast sandwich, a bagel and a sweet item from both. I wanted to match them up as closely as possible, but — because, as I said, afternoon — the varieties at both places had been depleted by the morning rush. So I did as close a match as I could — and even froze or refrigerated halves to see how they'd hold up the next morning (and so I could get my tasting partner, Larry, involved).
Let the bagel battles begin!
ST. PETE BAGEL CO.
If a bagel shop can be said to be an institution, St. Pete Bagel Co. (which many often contract to St. Pete Bagels) is it. Owned since 1999 by the Czech-American couple Olda and Renata Pleva, it's won Best of the Bay year after year for its plump, "NY-style" bagels and also carries an array of donuts, sandwiches and pastry goodies. Early birds and regulars know to get there as close to the 6 a.m. opening time as possible to get their pick of the more than 20 bagel varieties, proudly "boiled and baked daily." There are locations in Largo, Kenneth City and Dunedin, but I shopped at the flagship store on 4th St. in St. Pete, with its iconic red sign and warm, efficient staff. It's small, but there are tables inside and out (by the parking lot), or just place your order at the counter and take your bagels home. 
My order: I scored an Everything bagel; a breakfast sandwich of egg, cheese and sausage on a sesame bagel; and a glazed donut.
PETE'S GENERAL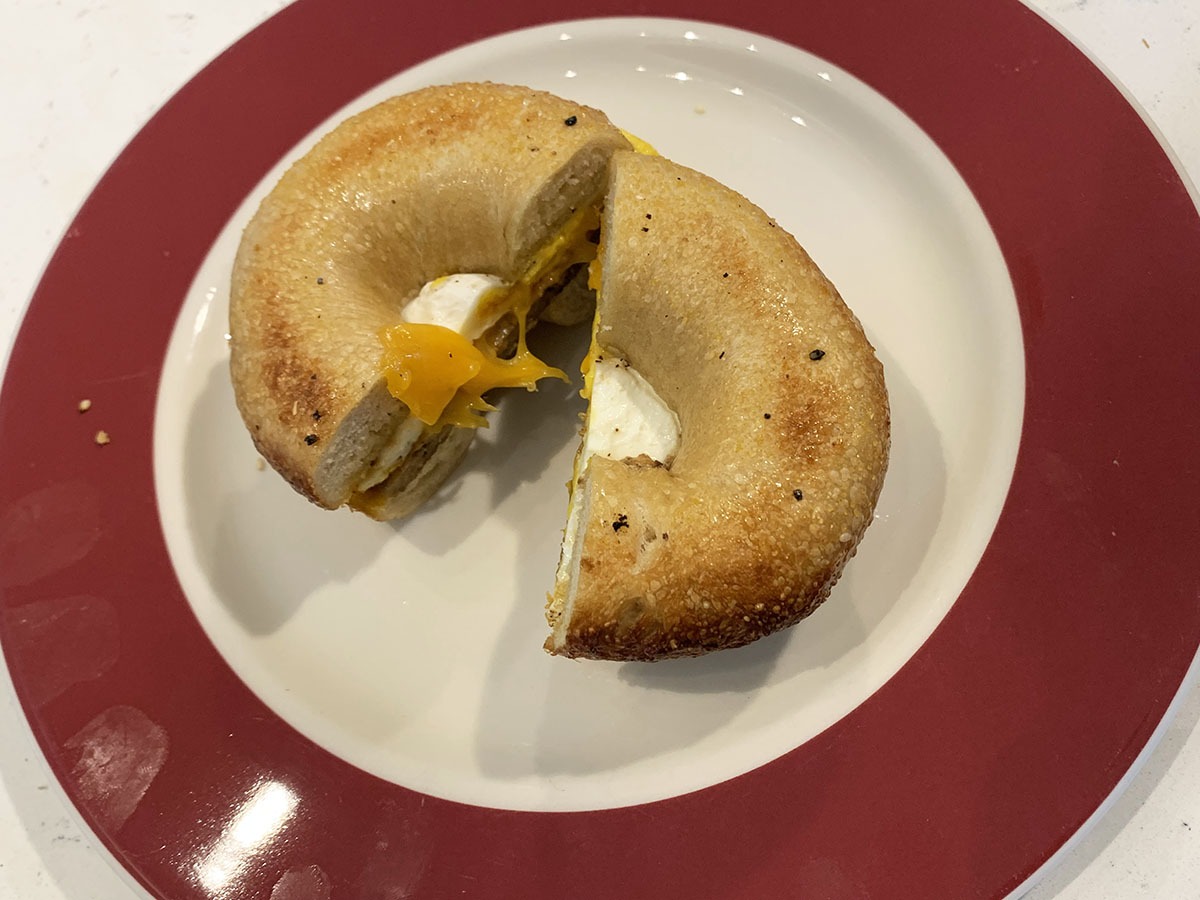 Pete's (the owner's name is Steven Peterman) opened in 2019 in a scenic location by Round Lake. Pete's "Florida" bagels ("Hand-rolled • Boiled • Baked • Made in Florida with love") got so popular, though, that he needed a bigger kitchen and opened a new space in the Grand Central district, eventually closing the Historic Uptown location. The new place is totally charming — not only providing a much bigger open kitchen but more space for Pete's Merch (whimsical t's, totes and mugs, many emblazoned with an adorkable bagel-munching manatee, plus consumables and other giftable items), and a lovely side garden, which would be the perfect spot for a bagel and coffee and a good book (or for a romantic assignation).
My order: Again, afternoon pickings were slim, bagel-wise. But I managed to procure a poppyseed bagel; a breakfast sandwich of egg, cheese and sausage on a plain bagel; and a thickly frosted cinnamon roll topped with pecans. (I also opted for a side of their homemade macaroni salad, since I'm a sucker for macaroni salad; it was tasty but a tad overpriced at $3.50 for a cupful.)
THE BAGELS
This was a close one. Both St. Pete and Pete's have the textural elements down: Their bagels, both the NY and the "Florida," had the right combo of crusty exterior and soft, chewy interior. But Larry and I differed on which was our favorite. For him, Pete's Florida style was more like what he expected a bagel to be. For me, it was St. Pete's "NY-style" that won me over because of a hint of sweetness in the dough that made me want to keep eating right to the last crumb.
THE BAGEL SANDWICHES
Here we both agreed: Pete's General does the better sandwich. The ingredients were the key. St. Pete Bagel Co.'s sandwich was huge, with the standard scrambled egg slab and sausage patty — exactly what you'd expect to get at a NYC breakfast cart, and satisfying. But the egg in Pete's version tasted fresher, with a bit of yolk peeking through, and the sausage was savory and complex. And — surprise! — it was Impossible Sausage — plant-based! Overall, I suppose the St. Pete Bagel sandwich is a better buy: $5.80 as opposed to Pete's smaller $9.50 sandwich. (Just as St. Pete's $1.65 bagel was a better buy than Pete's $2.50 bagel.) But taste will out, and Pete's was a sandwich we'd both order again.
THE SWEETS
You think we could eat a huge cinnamon roll and a glazed donut after all that carbo-loading? No way. We saved them till another day (or two).
THE WINNER(S)
Wow. If I'm buying a baker's dozen of bagels, I'm probably going to make St. Pete Bagel Co. my first choice. But if I'm hankering for the perfect bagel sandwich and maybe a sunny spot to read the Sunday paper and shop for gifts? Pete's General is the destination.
St. Pete Bagel Co.: 7043 4th St. N., St. Petersburg, stpetebagelco.com
Pete's General: 2361 1st Ave. S., St. Petersburg, petesbagels.com.