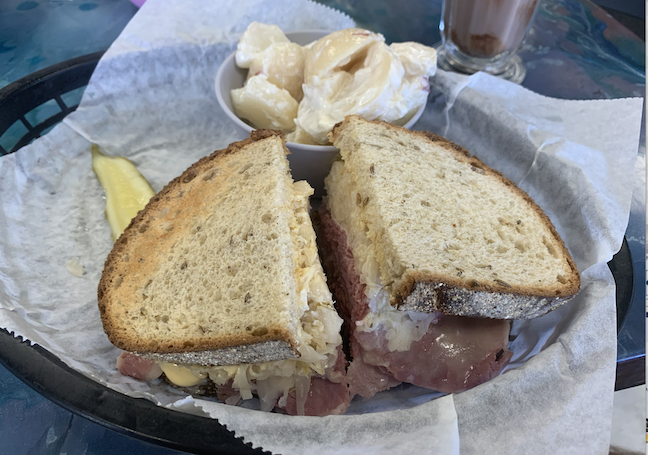 Friday Food Fight: Reuben vs. Reuben
Two delis vie for which can make the best version of the classic sandwich.
Who is Reuben? And why does he have a sandwich named after him?
According to the Historical Record of American Sandwiches, which is not a real thing but sounds important, he's one of two people:
• Reuben Kulakovsky, a grocer in Omaha, Nebraska, who in 1925 invented the sandwich during a late-night poker game. As it happened, one of the players was a hotel owner who put it on his menu.
• Arnold Reuben, owner of Reuben's Restaurant and Deli in Manhattan, who invented it in 1914.
All told, the dish's provenance doesn't really matter a century or so later. (But if you're interested in more detail, here's a link to a fun story that covers it.) Bottom line: Reubens are remarkable, complex creations.
While they're routinely made with pastrami and turkey, this week's FFF focuses on the traditional Reuben sandwich — which, for the uninitiated, includes corned beef, Swiss cheese, sauerkraut and Russian or Thousand Island dressing on rye bread. It's most often grilled.
I chose as our contestants two locally owned deli/restaurants: The Nosh Pit in the Tyrone area of St. Petersburg and Big Stein's Deli on 4th Street.
THE NOSH PIT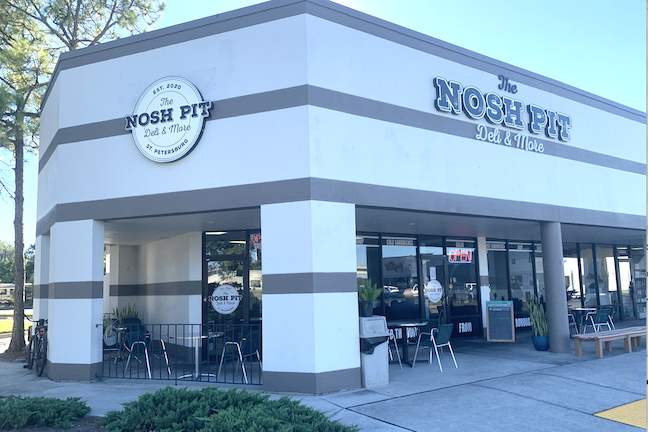 This clean, well-lighted place has been open about a year and bills itself as a "Jew-ish" deli. It's owned by Rachael Finn (a Jewish woman from Albany, N.Y.) and Devin Cashman — this according to our delightful young server Allie, who sported hair of many hues.
We arrived at 4:30 on a Saturday, a half-hour before closing, and were the only customers.
I quickly noticed a promising menu item: New York potato salad. In the decades that I've lived in St. Pete, I've never tasted anything close to the stuff I loved so much as a lad in suburban New York. But this was a Jewish deli, co-owned by a Jewish woman from New York (albeit upstate). So there was hope. It's the ideal side dish for a Reuben.
I ordered my sandwich Stuffed ($10.75) instead of the Super Stuffed ($13.75).
Appearance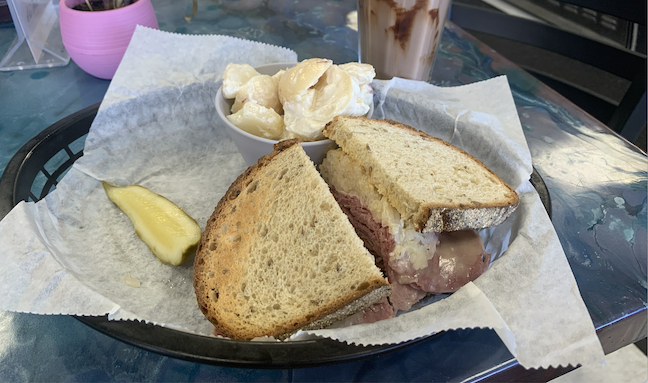 A lot of places that serve Reubens take pride in making them enormous. That can make for sloppy eating, the dreaded reversion to the knife and fork, and more messy take-home than you bargained for.
The Nosh Pit turned out a tidy sandwich. It was thick but I didn't have to figure out how I was going to unhinge my jaws to take a bite. The rye slices were a bit smaller than you usually see. In all, an ideal hand-held, a rarity in the Reuben-verse.
The potato salad was the right white-ish color, but overall it made me take pause. Something didn't look quite right.
And let's not forget the dill pickle — house made.
Texture and Taste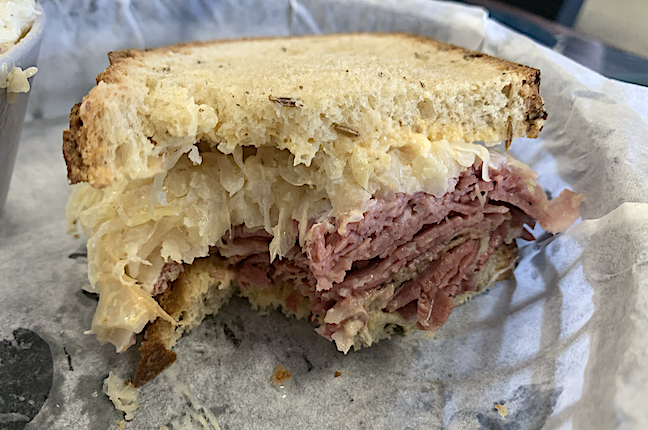 Deli delish.
The first test of a Reuben is if you take a bite and a bunch of corned beef falls out onto the plate (or your shirt) because it's too fatty.
No such calamity here. The first bite was sublime, as were all the rest. The corned beef was beautifully lean and tender, and blended elegantly with the melted Swiss. The sauerkraut added just the right sourness quotient, providing tangy contrast. I didn't taste much dressing, but that was fine by me.
And this doesn't happen much: I ate the whole thing. No muss, no mess, no to-go bag. Just dabbed my fingers with a napkin a few times. The Reuben held together throughout.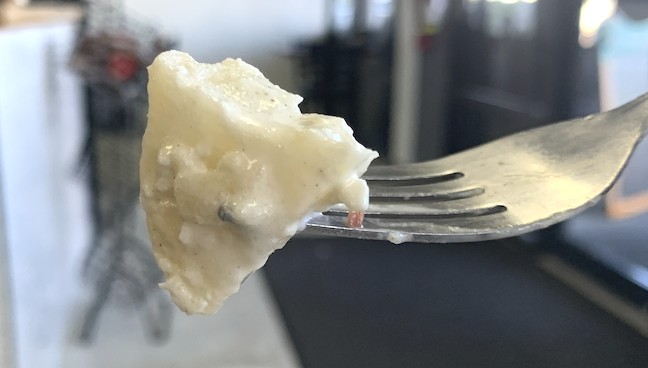 As far as the potato salad, it was an admirable attempt, and came closer to the true New York style than most of the versions I've had around here (I'm talking to you, Publix). The stuff had traces of the requisite sweetness, but the chunks of potato were far too big. They should be more thinly sliced. It also didn't have enough dressing.
In all, my Nosh Pit Reuben meal was terrific. Oh, and the pickle, which I almost overlooked, was a standout.
BIG STEIN'S DELI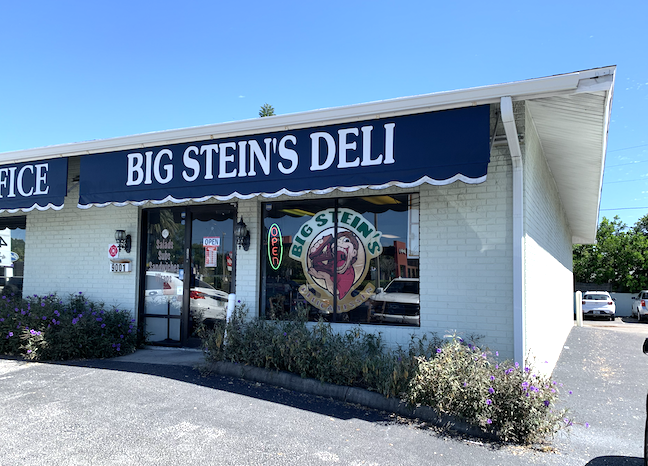 Doesn't the name say Jewish delicatessen? Well, Big Stein's is not. The small eatery in a strip mall on 4th Street in St. Pete was founded a couple of decades ago by a guy who named it after the George Steinbrenner character in Seinfeld (who used to sometimes call himself "Big Stein").
The current owners, Dan and Chris Drumm, from Rochester, N.Y., kept the name when they bought the place a couple of years ago. They're not Jewish, either.
The no-frills deli was doing a brisk takeout business on Wednesday around 1 p.m., and the handful of tables were occupied as well. Dan was working the register and phone, and Chris was back in the kitchen.
I ordered the Reuben with potato salad — which was not billed as New York-style.
Appearance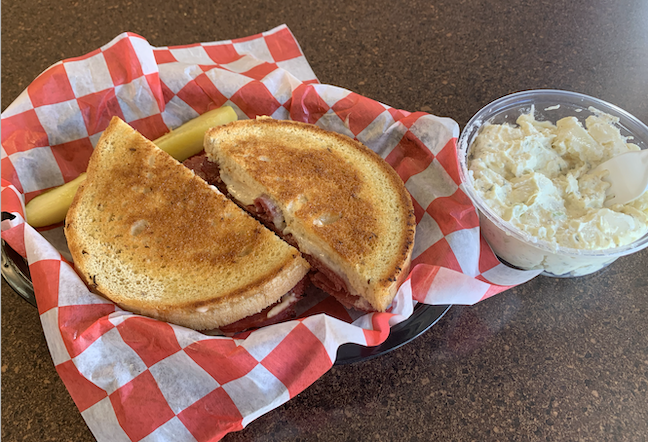 The Reuben, on round rye bread, was considerably bigger and toastier than the one over at The Nosh Pit — and less expensive at $8.99. (It just occurred to me that I take notice when a sandwich costs less than 10 bucks.)
The helping of potato salad was generous, and I knew there'd be plenty left to take home.
Texture and Taste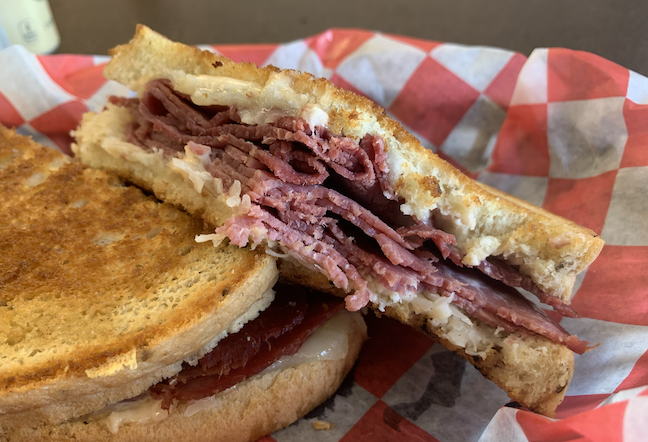 The corned beef, more thickly cut than the competition, was lean but coarser — it didn't quite match the melt-in-your-mouth goodness of The Nosh Pit's.
It dawned on me while doing my field work that the key to making a next-level Reuben is finding the right ratio of sauerkraut. It should be present enough to provide tart boldness, but not so liberally applied that it overwhelms everything else.
My Big Stein's Reuben played it safe with the sauerkraut. It was in there — I could see it — but couldn't taste it much. On a few bites, the kraut shone through, and those were the best ones. The melted Swiss didn't make much of an impression, either.
This was essentially a thick corned beef sandwich with some Reuben-esque accoutrements. I liked it well enough, but it was not what I'd hoped for.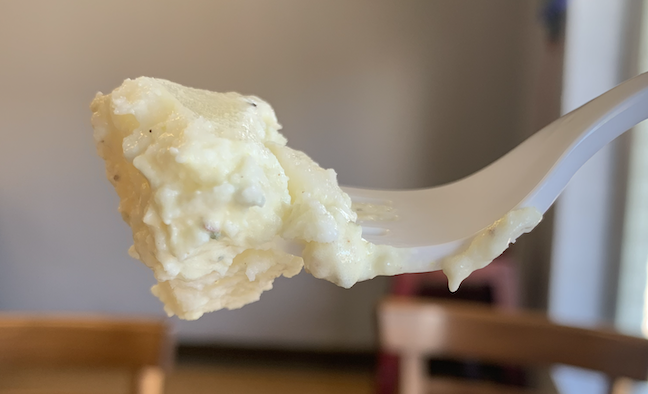 The potato salad, which Dan makes himself, was nicely textured, but on the bland side. It could've used a bit more zip.
The Winner of the Reuben vs. Reuben Friday Food Fight Is …
The Nosh Pit.
To be fair, the Nosh Pit bills itself as a Jewish eatery with a Jewish sensibility — and therefore should be expected to be on top of its Reuben game.
Big Stein's, the name notwithstanding, makes no such claim. The Gentiles there made a worthy Reuben all the same.