Several years ago, a friend from my college days in upstate New York was in town for a few hours. We had time for lunch so I threw out a few ideas. "How 'bout sushi?" I said, to which he replied in his Long Island tough-guy growl, "Nah — undercooked."
I was too busy laughing to explain to him that you could get sushi that was cooked.
I was well into adulthood before venturing into a sushi restaurant, and it was several more years before I took the dive into raw fish. I like it — especially tuna — but only once in a while.
For this week's episode, I chose two contrasting restaurants, both in St. Pete: Hook's, a no-frills sushi mainstay that's been at the same location on 4th Street for 20 years; and Good Fortune, a newer, larger and fancier place, situated in the subterranean room of the Station House downtown.
I tried my best to find comparable rolls in each place, but wasn't all that successful. And I didn't include sashimi, although I probably should have. I guess it just wasn't my week for hefty slabs of raw fish.
HOOK'S
Hook's lost a good part of its soul when founder/owner Hook Atsavinh died unexpectedly in 2009 at age 44. An irrepressibly gregarious character, he was the face of the restaurant, as well as a first-class sushi chef.
Quick story: As senior editor in charge of arts coverage for Creative Loafing in the aughts, I took on the role of food photographer — essentially by default. I went to shoot pics for a review of Hook's, and asked Hook to make a couple of sushi dishes mentioned in the piece. Ignoring me, he set about creating one of his elaborate sushi boats, plus two or three more rolls, talking all the while. After the shoot, Hook insisted that I take home everything he'd made. No charge. Bonnie and I tried our best to make the biggest dent we could, which wasn't a lot.
Fast-forward to this week: We arrived on Tuesday at 6 and asked for a table by the window up front. A bored-looking teenage boy mumbled that we had to sit in another section. Um, okay. I didn't bother asking why. The kid showed us to a two-top near the back of the small dining room. I had a seat on the bench against the wall. Bonnie got the chair.
I ordered three rolls: Spicy (raw) Tuna ($8), Tampa ($6.50) and Vegetable Delight ($9).
Appearance
My entire order came on a long, narrow plate. The veggie one was wrapped in dark-green nori (made of dried seaweed; I looked it up).
Next to the clump of wasabi stood a tall pile of sliced ginger, nearly all of which would go to waste because I don't care for ginger with my sushi. The only ginger I do is in ginger ale.
All told, it was a basic presentation, certainly when compared to the imaginative and artful ones I've eaten in the past. (Let me pause here and acknowledge to sushi-philes that it could've been due to my pedestrian order.)
Texture and Taste
The rice was sticky and chewy. The fish was tender. The vegetables were crunchy. The flavors and feels combined well, but nothing in particular stood out as exemplary. The closest to that was the Tampa roll's panko white fish, which was smooth and added a bit of extra crunch.
The spicy tuna could've been spicier. It worked best when dipped in my little bowl of wasabi-infused soy sauce. I'm not a fan of nori wrap, so that worked against the Vegetable Delight, whose mix of seven veggies was bright and crackly but needed a little something more to be delightful.
GOOD FORTUNE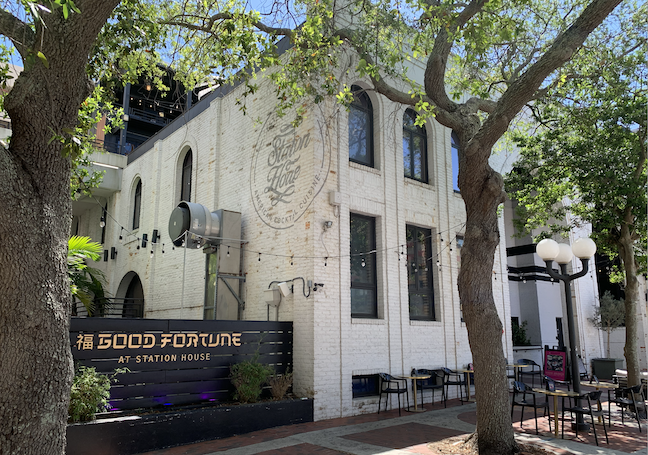 Good Fortune, which opened last August, didn't set the best vibe for a quick sushi stop at 3 p.m. on Thursday. The massive space, reportedly 6,000 square feet, has a distinct nightclub feel — dark, with neon accents and signs that say stuff like "Rollin' with My Homies" over the sushi bar.
The place is clearly targeted at a younger, nightlife crowd. And that included the thump thump thump of contemporary dance music, which, I'm happy to report, played at a modest volume.
Good Fortune's menu features a dozen signature rolls, and doesn't allow for much customization. We ordered the Do Not Disturb ($17), with spicy tuna, cucumber, avocado and some other stuff (they were nice enough to hold the "shrimp chips"), and Seeing Green ($18), the vegan option, with Japanese sweet potato, emoki mushrooms, tempura asparagus and some other stuff.
Appearance
Arrayed on a pebbled metal platter, these rolls stood out for their bursts of color. The Do Not Disturb was topped with small cubes of raw salmon and the Seeing Green was impressively wrapped with sliced avocado. These also had little tentacles sticking out that I assume was from the plant family on Earth.
Texture and Taste
The spicy tuna in the Do Not Disturb was not spicy at all, and its flavor was muted by the other ingredients and a heavy, cloying sauce. The sticky rice was too stuck, and rendered a pasty feel. These rolls were so overstuffed that they were very hard to eat in one bite. I took to cutting them in half with a knife and fork. Overall, I did not enjoy.
Seeing Green was a different story. The mix of ingredients made for a complex, pleasing flavor. The avocado added a creamy quality that played off the crunch of the asparagus.
And the Winner of the Sushi Slugfest Is …
Hook's.
This decision came down to value. While the Hook's rolls were not as ambitious or elaborate or pretty as the competition's, they cost about half as much. And Hook's simple spicy tuna roll was superior to Good Fortune's Do Not Disturb, which suffered from overreach.
On the other hand, I would recommend Good Fortune's Seeing Green to any vegan — or omnivore, for that matter. And the restaurant's service easily aced the sluggishness at Hook's. Our waiter, Bastian, was attentive, even though our order was tiny.
The gregarious GM, Antonio, came by to make sure everything was ship-shape, and invited us to check out the boffo karaoke room after our meal. We slipped out instead. I can't carry a tune in a bucket, and didn't want to revisit the trauma of my past karaoke embarassments.