Until recently, I thought shepherd's pie and cottage pie were interchangeable names for the same dish. Not so, as it turns out. The difference is in the minced meat: Cottage pie includes beef and shepherd's pie is — duh — made with lamb.
The dishes have more commonalities than differences. Both originated in England, and both are consummate comfort foods. The term "cottage pie" was in use by by the 1790s, while "shepherd's pie" didn't show up until 1854. For these dishes, we don't want bold or innovative. We want familiar. We want quality ingredients lovingly prepared in traditional fashion. We want comfort.
This edition of Friday Food Fight pits the shepherd's pie at Three Birds Tavern against the cottage pie at Horse & Jockey. Going in, I was curious: Would there be much difference between the two? Would one be clearly better than the other? Read on and find out.
Three Birds Tavern: Shepherd's Pie
Round One of our Friday Food Fight took place on Wednesday around 5 p.m., so there were plenty of open tables in the courtyard. Three Birds is set in a 140-year-old former farmhouse and has a large deck and two ample courtyards. It's under new ownership: Hospitality professionals John and Haley Ruetz took over last fall. We sat in the north courtyard under a massive canopy of live oaks. 
Three Birds is not categorically an English tavern, but when it comes to shepherd's pie, the kitchen folk clearly know what they're doing. I should note from the outset that Three Birds cheats a smidge on its shepherd's pie by using a combination of lamb and beef. But hey, it's 2022, and they're not feeding 19th Century peasants huddled and starving at crude wooden tables dimly lit by candlelight. We'll give the place some leeway.
Appearance: Shepherd's pie is not an intrinsically pretty dish, but Three Birds' version is more attractive than most. The restaurant presented it simply — in a white bowl on a white plate with a soup spoon. A small pool of gravy peaked above the mashed-potato top, hinting at what lay beneath. The tobacco onions added a bit of flair.
Ingredients: Seasoned ground lamb and beef (tsk tsk), mashed potatoes, vegetable succotash, Guinness gravy, tobacco onions.
Flavor: What's the word? Scrumptious, that's it. A good shepherd's pie is about how the ingredients meld into one savory flavor. Three Birds' version scored very high here. It had just the right amount of richness while not straying from its nature as comfort food. I detected the slightest hint of (welcome) sweetness, which probably came from the vegetables, particularly the corn. There's a generous amount of brown gravy but the dish is not swimming in it. My only complaint is that the tobacco onions were stringy, more of nuisance than anything. After one chewy bite, I pushed them to the side.
Texture: A sublime blend of smooth gravy, toothsome ground meat and subtle crunch, the vegetables properly cooked. The top layer of mashed potatoes — about a half-inch thick — blended beautifully with the savory goodness beneath. One element I particularly appreciated was the larger morsels of ground meat, some of which were damn near meatballs. In the past, I've had this dish where the meat was like puree. A single spoonful of this Three Birds' entree contained all of the stuff that makes a first-rate shepherd's pie.
Decisions, Decisions: I crossed the dining Rubicon. You know when you're eating a restaurant meal and you start to feel full and you wonder if you should bring it home for later but you take just a few more bites and then you have to decide whether to continue eating and at some point there's just no point in doggie-bagging it so you keep chowing? How far did I get? Even though this was a healthy portion of Shepherd's Pie, I went all the way.
Horse & Jockey: Cottage Pie
Round Two was on Thursday night, out on the deck at a restaurant that's become an institution in Pasadena and the surrounding area. The Horse & Jockey is all in as an English pub, with Union-Jack imagery everywhere. Our party of five sat on the deck. It was a perfect night, light-jacket weather. I started with a pint of Harp, which was my go-to draft during a trip to Ireland a few years ago.
Horse & Jockey has a few savory pies on the menu: chicken pot pie, steak & ale pie, chicken & mushroom pie. Those would have to wait, though. I was strictly there for the cottage pie. (The restaurant does not offer shepherd's pie.)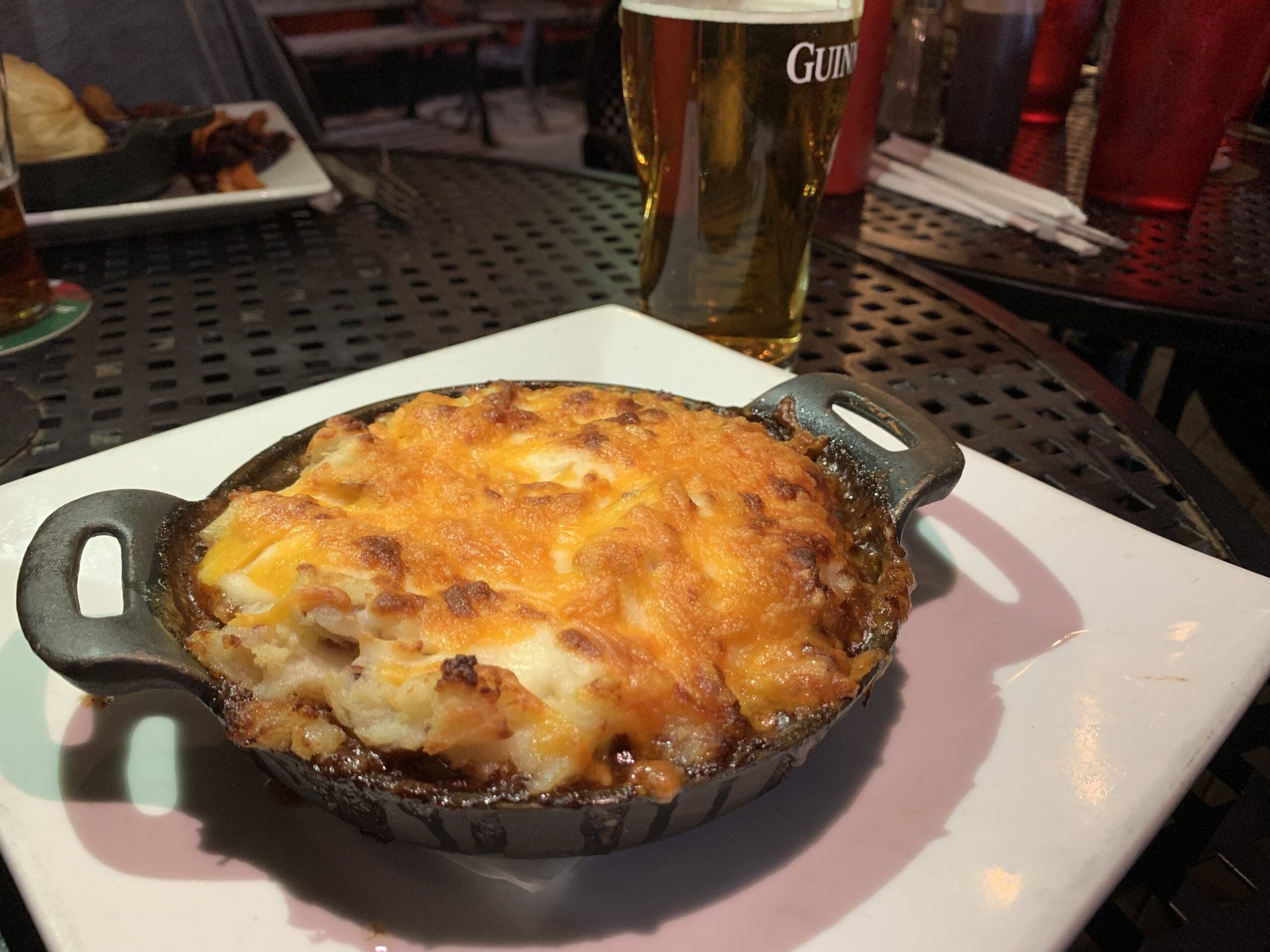 Appearance: It was as if this cottage pie somehow knew it was up against its rival shepherd's pie, because it set itself apart by showing up in a black cast-iron casserole dish. The major difference between this dish and Three Birds', other than the meat, was the melted cheese on top. There were some burnt spots on the edges, but overall the cottage pie looked inviting.
Ingredients: Carrots, onion, peas, ground beef, gravy, mashed potatoes, cheese.
Flavor: What's the word? Delicious, that's it. I'm a fellow who likes his peas (much to my wife's chagrin) and the cottage pie had the ideal amount. Same with carrots, another one of my faves. The ground beef was … well, ground beef — it lacked some of the character of the mixed blend in the shepherd's pie. It also offered no chunky surprises like its opponent. The cheese added a nice dimension — until it became a bit much. This cottage pie was more dense and rich than the shepherd's pie.
Texture: The cheesy top added an inviting crust, which gave way to the layer of mashed potatoes beneath, then the moist blend of meat and veg. It all worked together beautifully.
Decisions, Decisions: I'm tempted to call this Friday Food Fight a draw, but — as the guest columnist — that seems like a cop-out. Courage of your convictions, and all that. So: The winner in a close contest is …
The Shepherd's Pie at Three Birds
In the end, the Three Birds dish was a bit more interesting, with its blend of smoothness, crunch and subtle sweetness.
But I'd gladly order either one of these entrees again.