It's my considered opinion that the meat that's the trickiest to get right at a BBQ restaurant is beef brisket. Pulled pork, for instance, is almost impossible for a legitimate smokehouse to screw up. Ribs, as long as they're fall-off-the-bone — pretty fool-proof.
But brisket? I've had it gloriously tender and juicy, and I've had it dry and chewy to the point of pushing it away, or so encumbered with blobs of fat that I sent it back. 
For this week's FFF, we pit two barbecue restaurants in a showdown of which can make the better brisket sandwich. It's another city vs. city edition: Wood's Chapel BBQ in the Summerhill neighborhood of Atlanta, and Dr. BBQ, across from Tropicana Field on 1st Avenue South in St. Pete. 
As sides, we opted for potato salad and barbecue beans.
WOOD'S CHAPEL BBQ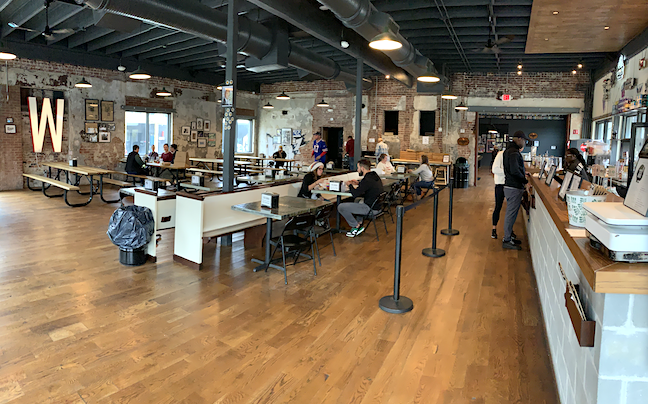 We showed up outside this gray block of a building about two miles south of downtown Atlanta on a drizzly Sunday around 2 p.m. The interior was a large converted industrial space, with wood floors and unfinished brick walls. There was plenty of space between the picnic tables. In all, a nice ambience. Smooth R&B played over the sound system, but not too loudly.
We ordered at the counter: Chopped Brisket Sandwich ($16 with one side: Butter Milk & Dill Potato Salad) and Pork Beans & Burnt Ends ($4).
Appearance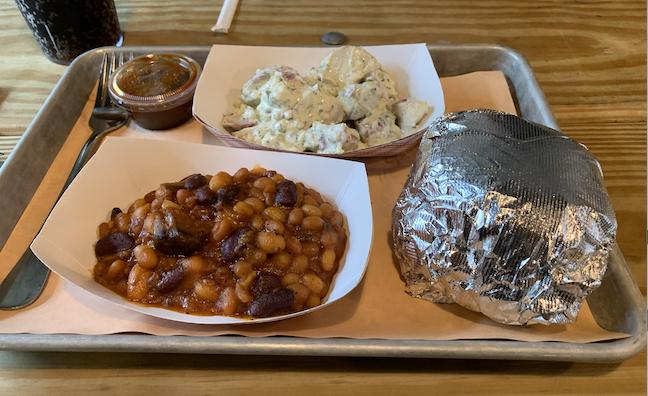 Wood's Chapel added a bit of suspense by wrapping the sandwich in aluminum foil. The beans and potato salad, in paper containers, looked tempting. I opened the sandwich's wrapper to find a bun stuffed with chunks of brisket with a tantalizing black char. 
Most intriguing: the meat laid on a bed of dill pickles. That looked promising to me. Bonnie would've recoiled in horror.
Texture and Taste
The brisket was — tada! — tender and juicy. The chunks provided a nice fat ratio, with only a few bites hampered by the dreaded blob. 
Once I rearranged some of the meat on the roll, the sandwich became a manageable handheld, and made for thoroughly enjoyable eating. The bed of pickles added some welcome crunch, and a bit of contrasting flavor.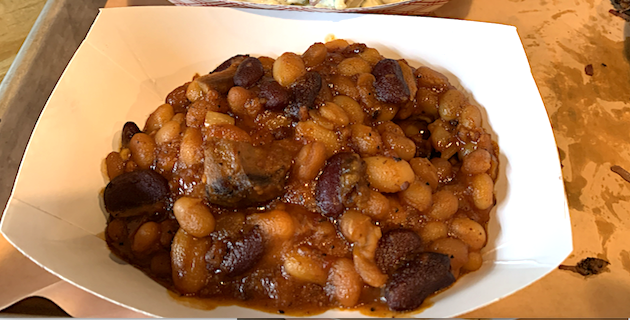 The sauce deserves a special mention. It had a comforting rather than potent flavor — not too sweet, hot or tangy — and therefore provided an ideal complement to the sandwich.
As far as the sides, the chunks of potato in the salad were too large, and the buttermilk/mayo sauce too heavy. The beans were mushier than I like, and the dish would've benefited from a few more burnt ends.
DR. BBQ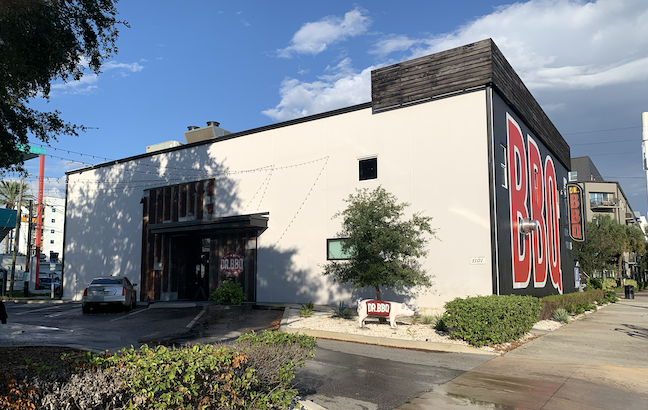 This nicely appointed restaurant takes up the entirety of an enormous former industrial building. Its 6,000 square feet have been beautifuly renovated to create a comfortable urban space. The seating capacity is a whopping 280. 
We arrived at about 5 p.m. on a Thursday, so we chose to eat on the covered patio. I heard Grateful Dead and country music come out of the speakers (at an agreeable volume), quite a contrast to its counterpart in the ATL.
We ordered — via table service — a Just the Basics Brisket sandwich (which came with no sides, $10), along with Jack Daniels BBQ Beans and Aunt Tootsie's Potato Salad (both $6).
Appearance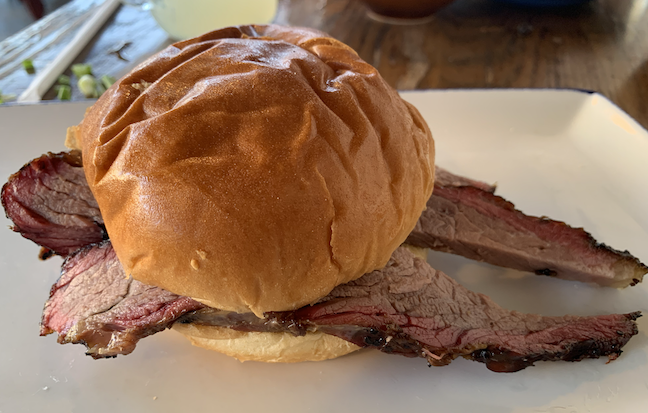 A significant difference from the Atlanta sandwich. Dr. BBQ's version featured thick slices of brisket — with a hefty outer char — that hung out from either side of the bun. 
Impressive, but it also made me wary. Would the beef be tougher, chewier, perhaps even stringy? As a rule, I generally prefer chopped brisket.
The sides came in small bowls. 
Texture and Taste
The brisket was — perhaps surprisingly — tender and juicy, a pleasing medium-rare. It was a tad less smokey than the competition's. 
The fat was marbled into the meat — visible but sans blobs. Not once did I encounter a bite that I had to do battle with. The eating experience flowed.
The sides contributed significantly: The potato salad was smooth and silky, the potato chunks ideally sized; scallions scattered on top added personality. The beans were firmer than those in Atlanta, with generous chunks of pork and a tangy-sweet sauce.
And the Winner of the TB vs. ATL BBQ Brisket Taste-Off Is …
Dr. BBQ!
I could write something like "Yay for the home team!" but (tsk tsk) that would suggest bias. 
The sandwiches, although very different, came in at a near-dead heat. I give the edge to Dr. BBQ because, to my way of thinking, making sliced brisket this good is harder to pull off than the chunked version in Atlanta. And I liked each of the St. Pete restaurant's sides better.
Bottom line, though: I've eaten at both places a few times, and would gladly do so again.