Friday Food Fight: The Fabled Grouper Sandwich — Which One Is Better?
Two restaurants — one legendary, one new — duke it out.
What!? — the grouper sandwich hasn't been featured on Friday Food Fight yet?
Yessss. That means I'm up.
This week's standoff pits a relative newcomer — Mullet's Fish Camp in south St. Pete, which still has a "Now Open" sign out front — versus the venerable, 45-year-old Hurricane Seafood Restaurant on Pass-a-Grille Beach.
But before we get into it, a few words on how the grouper sandwich became the Grouper Sandwich (go 'head, skip ahead to the action — if you must).
USF historian Gary Mormino has said that grouper was not well-regarded in the early 1900s, but with the advent of WWI concerns over food shortages called for people to eat less meat. Folks in the Tampa Bay area were coaxed toward fish, and that meant grouper. Still, grouper didn't catch on, according to Mormino. In food lines during the Great Depression of the 1930s, people could get a five-to-ten pound chunk of the fish for free. Can you imagine the lines today?
So when did grouper catch on? "Its popularity, beginning in the '70s, was because it was cheap, prolific and abundant," he told Fox 13 in February. (Times change, huh?)
At some point, ordering a grouper sandwich at a beachside restaurant became a tourist rite of passage. One of the most popular places to do so was the Hurricane, which opened as a small joint in 1977. Over time, the grouper sandwich became an all but mandatory menu item at any restaurant that served fish.
Okay, back to the business at hand: I decided to order both of my grouper sandwiches fried, because that's the most traditional style.
MULLET'S FISH CAMP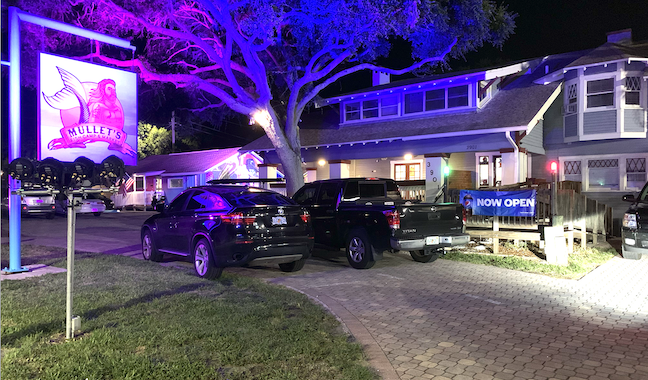 I'm sure I would've discovered this place at some point, but thanks to my friend Diana for alerting me to it. Mullet's, situated in a 102-year-old house and on the surrounding grounds, opened in the spring of '21 in a restaurant no-man's land, three miles south of downtown, just after 4th Street curves into 6th Street.
The complex serves food indoors and outdoors, and we chose the covered front porch — with the ceiling fans.
The Mullet's brand is more in reference to the silly men's hairstyle than to the barely edible fish. The logo is a tattoo'd merman, his mullet proudly billowing in the sea breeze. The restaurant has the good sense not to have mullet on the menu.
On this Saturday night, a duo was playing live music out back on a small stage while people watched, ate and drink on picnic tables. We wandered over there and had a cocktail after our meal.
In all, the Mullet's Fish Camp concept is fun. The food is better. I was the only one in our party of four to order the grouper sandwich. The others loved their meals as well.
Appearance
A feast beckoned. The entree ($13.99) came on an aluminum tray covered in brown paper. Three hefty chunks of grouper rested on a garlic-toasted brioche bun, a bed of lettuce nestled between. (I would not have ordered the sandwich with cheese, but I couldn't have anyway, because the restaurant refuses to put cheese on any of its fish dishes. You go, Mullet's!)
The presentation was rounded out by a generous helping of coleslaw — which was really good, crispy not soupy — a lemon wedge and tartar sauce. Overall: traditional, no-nonsense, irresistible.
A small piece of grouper fell off the bun, as if to say, "Don't I look yummy. Do you really need bread?"
I applied some tartar sauce and affixed the top part of the bun. This was a perfectly manageable sandwich that I ate entirely with my (two) hands. I've had grouper sandwiches that were such monstrosities that I just gave up grabbed a knife and fork. Size matters, but there comes a point … 
Texture and Taste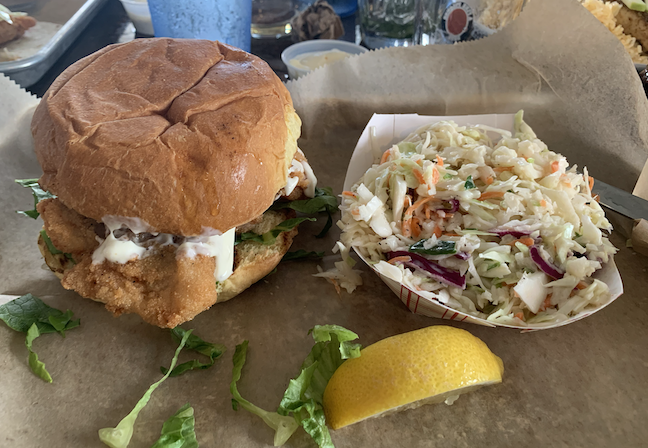 Most important, this grouper was not over-breaded or over-fried. It had just the right amount of coating, which added to the flavor but didn't dominate. Inside, the white fish was flaky while remaining sumptuously moist. (I've had my share of dry grouper sandwiches that went half-eaten.) I did not detect a whiff of fishiness. All of this screamed one thing: fresh. 
It's clear that Mullet's put a great deal of pride and care into its product and presentation. I give the sandwich — and the place overall — my wholehearted recommendation.
HURRICANE SEAFOOD RESTAURANT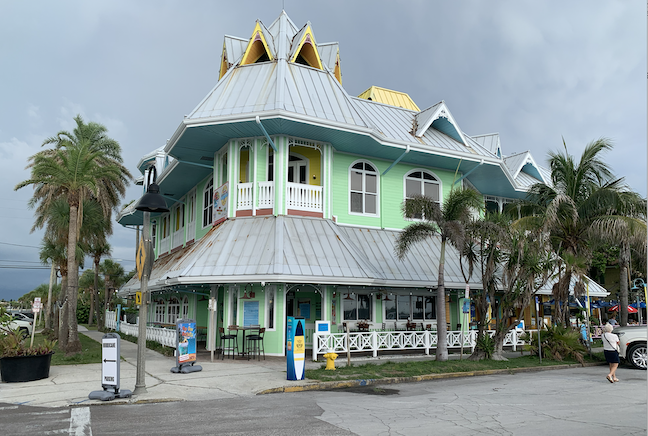 We arrived on an early Wednesday evening with storm clouds brewing in the east. An omen, pray tell?
We sat on the ground-floor South Deck under an umbrella. The massive Hurricane building has a color palette that includes light green, blue, yellow and orange. I kind of like it, although someone who knows of such things might say it's busy. Hey, it's the beach.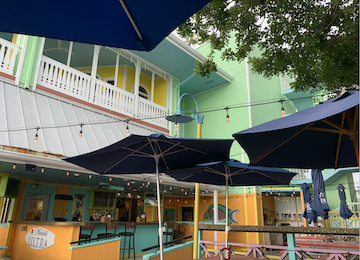 Our server had a laconic air — not quite disinterested, but close. She skipped the cheerful formalities, which was okay with me, and handed us the big plastic menus. I ordered an Amber Bock draft, which came in a hefty pint glass, not a cup (kudos), but it was bordering on flat. I drank it anyway. The server asked if I wanted cheese on my grouper sandwich ($.23.25) I declined. I ordered coleslaw as a side.
The food came out quickly. A little too quickly.
Appearance
Two big fingers fried grouper — a half-pound, according to the menu — looked, um, quite fried, the exterior crispy. Lettuce, onion and two slices of over-ripe tomato were hidden under the top of the bun. The slaw, tartar sauce and a lemon wedge rounded it out. In all, a typical beach-restaurant presentation. 
I ordered a Bud Light when our meals came out. It was flat, no trace of a head, with only a smattering of bubbles. (I know it's Bud Light, but still…) When our server returned, I asked her to take it away and remove it from our bill. Water would have to suffice.
Texture and Taste
The first bite bore out my concerns: I chomped through the crusty coasting to discover grouper that was not quite dry, but definitely not moist. I detected a slight hint of fishiness. I'm no cook, but I'm guessing that this grouper was over-fried. And I'm not sure it was a mistake — perhaps this is just how the Hurricane does. But but their approach didn't work for me.
The coleslaw had that annoying soupy quality. I was sensing a theme. The tartar sauce was good, though, and necessary.
As I ate, the sandwich began to fall apart, and ultimately became an unholy mess. I started in with the knife and fork, eating the fish, pushing the bun to the side.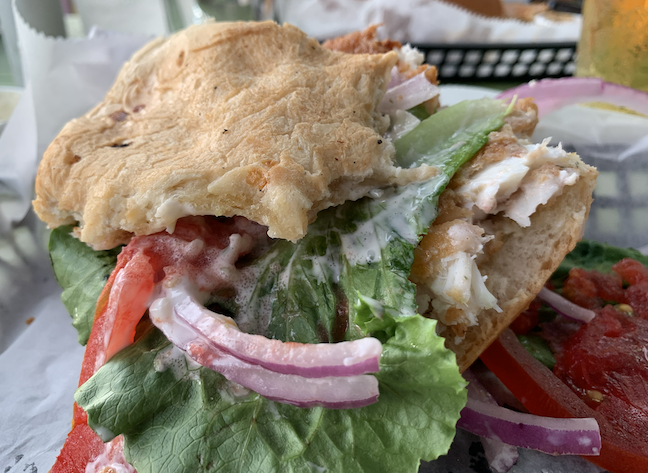 The Hurricane's grouper sandwich was passable, I guess, but I'm not seeing any more of them in my future. The restaurant's vibe, food, and service all suggested a beach restaurant slogging its way through the summer-season doldrums.
The Winner of the Grouper Sandwich Face-off is …
(We really could have skipped this reveal) Mullet's Fish Camp!
This competition pitted a new, energetic restaurant against a storied one that appears to be resting out on its laurels. An easy call.
And then there's the issue of value: At $13.99, the Mullet's grouper sandwich is almost 10 bucks less expensive than the Hurricane's $23.25.