For the record, Eric Snider (a.k.a. "The Ref") is out of town and unable to provide the documentary investigation required for this week's FFF. So this week's opinion-maker is "The Skipper," Tom duPont. By the way, Eric doesn't really care for stone crabs and they are one of Tom duPont's favorite dishes.
It's already started! Stone crab harvesting season began on October 15 and runs until May 1. Finding a purveyor of stone crabs in the Tampa Bay area is almost as easy as finding the local Wawa.
For this week's FFF, I selected two restaurants belonging to two separate local restaurant groups: Frenchy's Saltwater Cafe and Rumba Island Bar & Grill.
FRENCHY'S
Although best known for its sumptuous grouper sandwich, Frenchy's puts on a Stone Crab Weekend every October. (The 38th annual is happening now, October 28-30, at Frenchy's locations on Clearwater Beach and Dunedin Causeway).
Of special note: Frenchy's has its own fleet of fishing boats. All six Frenchy's serve stone crabs — hot or cold; medium, large and jumbo. To conduct our review, we selected Frenchy's Saltwater Cafe on Poinsettia Avenue in Clearwater Beach.
It's an eclectic open-air, modified fish shack with a jovial environment, happy staff and a wonderful menu.
To start the evening, my assistant and I ordered the smoked fish spread. It came beautifully presented with a dozen wrapped packages of Lance's crackers. (We also got a little cup to hold the discarded wrappers.) There's no picture of it here because we ate it all before we thought to snap any.
An amazing chopped Greek salad followed, topped by Frenchy's own special dressing.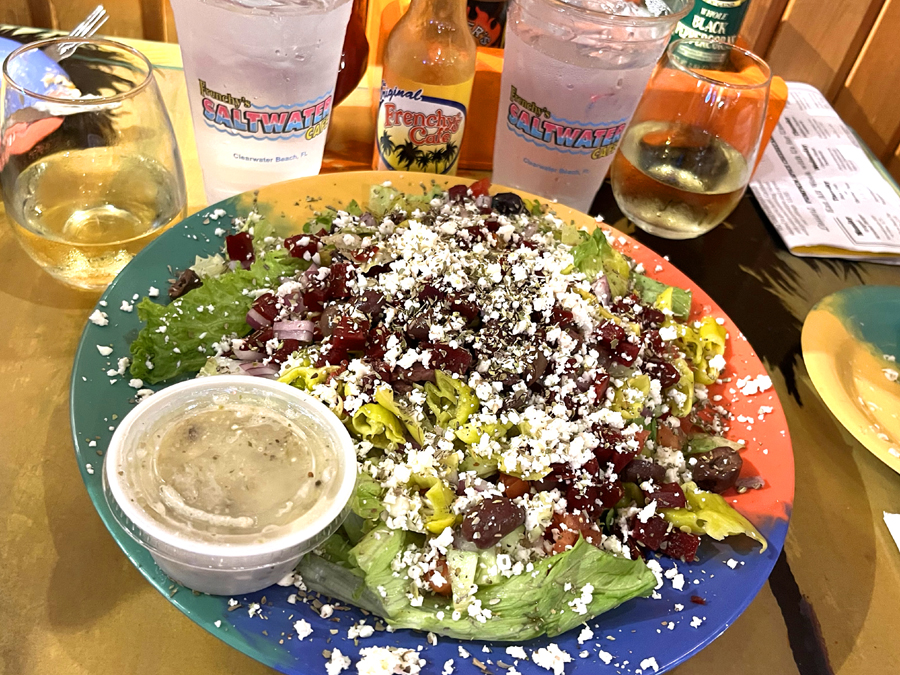 It included beets, olives, onions, lettuce, a few banana peppers, and more. And of course, there was the obligatory scoop of delicious, creamy potato salad and a generous sprinkling of Feta cheese.
A fabulous start to our meal.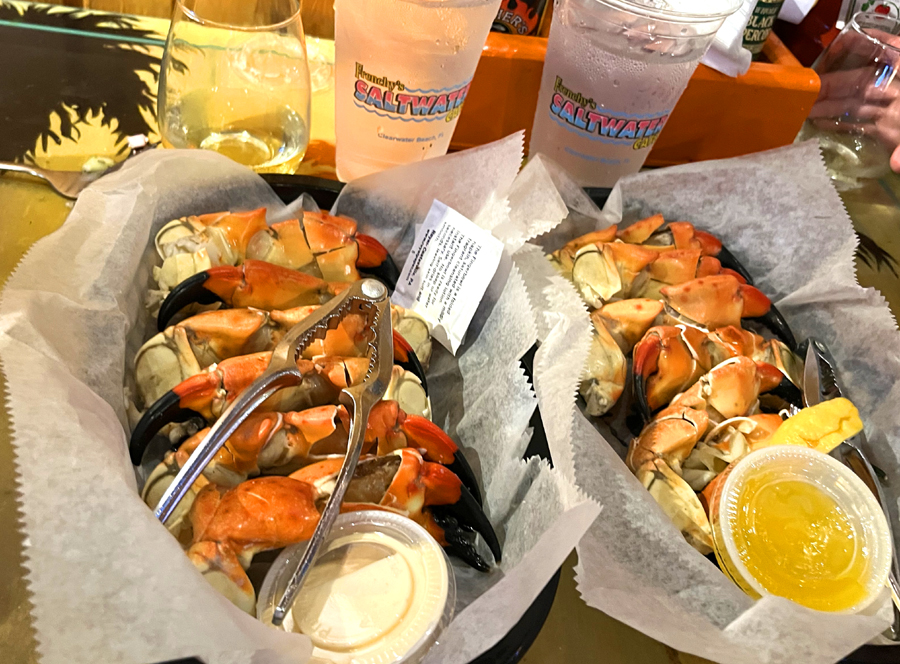 We ordered the Large stone crabs — cold and hot. They were properly pre-cracked, making it easy to extract the meat. Both were delicious and came with the appropriate mustard sauce or melted butter with lemon. The hot crabs had a bit more flavor.
The presentation was elementary, as you'd expect in an outdoor fish shack turned specialty seafood emporium.
There was the customary basket for disposing of the shells, a mini-fork, and a set of plastic claw crackers for that final effort to consume every morsel. Two glasses of Chardonnay made the evening most enjoyable.
Our server was more than attentive and made sure we had everything we needed from start to finish.
Stone crabs may be expensive but these were well worth it.
RUMBA ISLAND BAR & GRILL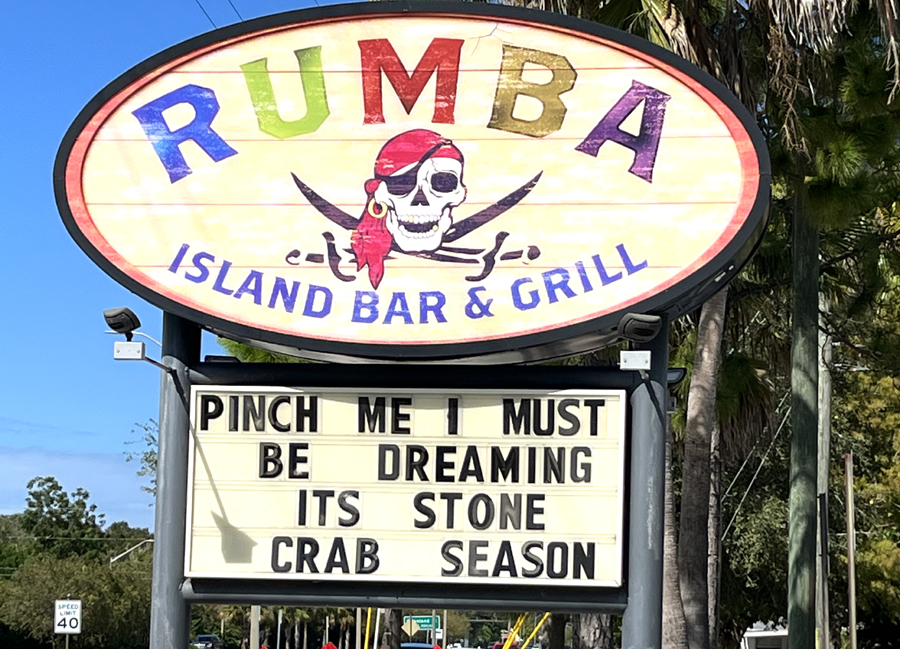 This location, on the corner of Gulf to Bay and Keene in Clearwater, is a slice of paradise surrounded by lush tropical landscaping. Authentic Island cuisine dominates the menu.
The seafood sanctuary is part of Frank Chevis's Baystar Restaurant Group (which has 10 concepts, including Salt Rock Grill, Island Way Grill and Marina Cantina).
Each of Baystar's seafood restaurants has its own special aura. All of them have an exceptionally well-trained and friendly staff. And Baystar also has its own fleet of fishing boats.
My assistant and I dropped by for lunch. The pleasant outdoor surroundings were wonderful on a sunny weekday. The place was full, a tribute to the restaurant's quality.
We began our meal with the obligatory fish spread, which was quite different from the Frenchy's version. This one contained small bits of bacon and was paired with regular saltine crackers.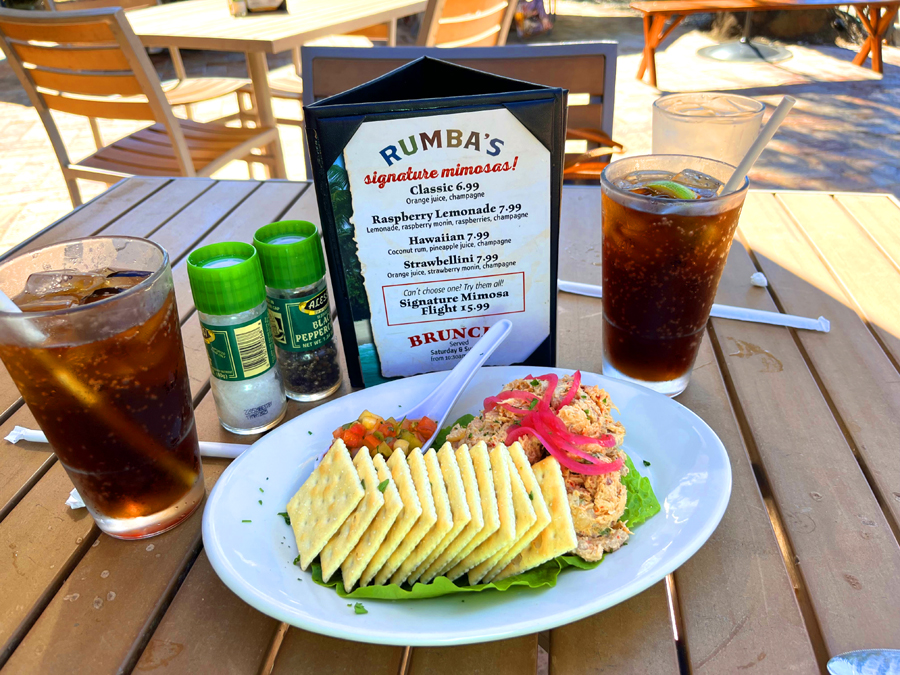 Next up: stone crab claws. We ordered both hot and cold, of course. They came with the customary melted butter with lemon and mustard sauce. And we had a surprise side of delicious corn muffins with a bit of spice. Quite good.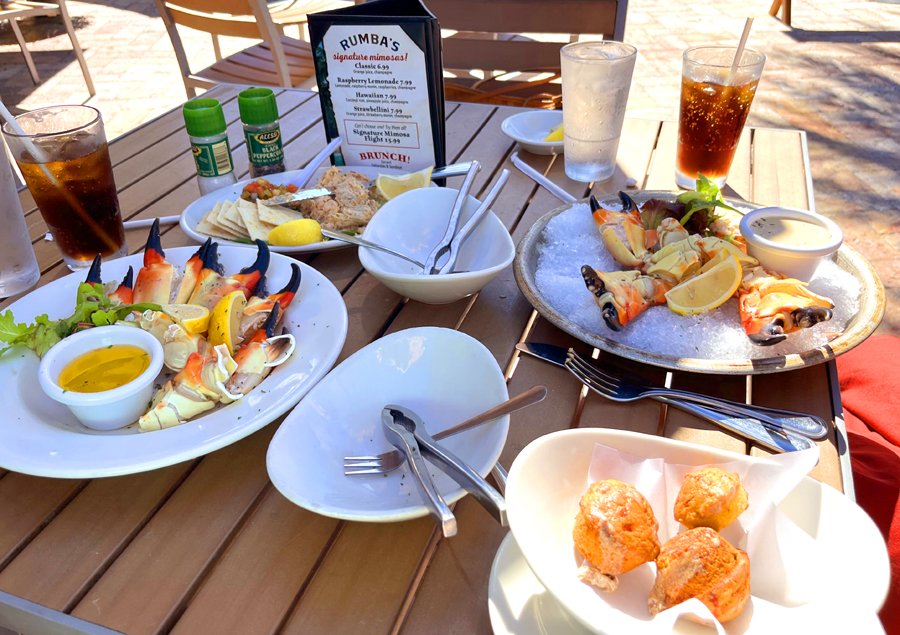 The presentation was very attractive. Both the hot and cold claws were delicious — although the cold ones were very cold, which minimized their taste.
We easily and quickly consumed the fish spread, the corn muffins, and both versions of the stone crabs. It all made for a wonderful lunch. When we were done there was nothing but empty shells.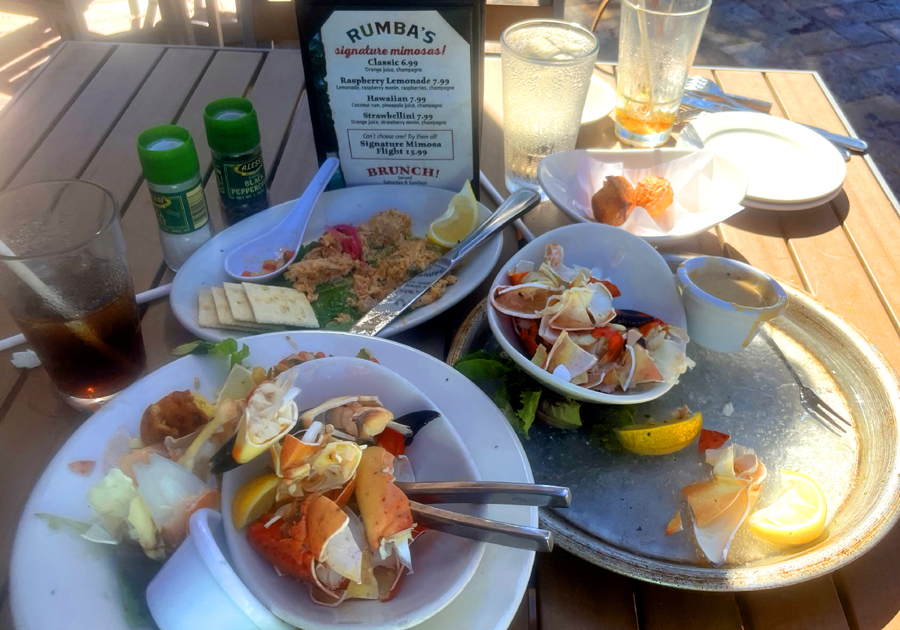 The winner of this week's Friday Food Fight is …
Rumba Island Bar & Grill (in a close decision).
However, the real winner is this week's guest author — because I was treated to a couple of fantastic stone crab meals.
Eric "The Ref" Snider will be back for next week's Friday Food Fight.