My first ever vegan pizza. Yes! Yuck! Meh.
We'll find out.
I like the idea of veganism. I actually tried it once a couple of years ago. Lasted for about a week, and even then I think I cheated. My mistake was that I jumped into the salad bowl with both feet. All in. I've come to learn that it's better to take it incrementally, one celery stalk at a time, so to speak.
Very recently, I've been incorporating more veg and less meat into my diet. Making progress, too. I can eat kale!
Still, vegan pizza is a significant step — one that I'm not sure I'd take if I didn't have this column to write.
This installment of Friday Food Fight pits Cali against Cappy's, both in St. Pete. I tried to find two vegan restaurants that made pizzas, but had no luck.
As a result, we're dealing with something of an apples/oranges scenario. Cali (formerly Ciccio Cali) essentially serves healthy (but not "health") food, and has a vegan pizza on the menu called the Amalfi. Cappy's, on the other hand, is a pizza joint that will make your pizza vegan upon request. I tried my best to duplicate the ingredients.
These circumstances suggest that Cappy's may be at a handicap. Grade on a curve? We'll see.
All told, not perfect, but we'll go with what we got.
Cali
Order: The Amalfi — Almond ricotta base, roasted broccoli, grape tomatoes & mushrooms, pomodoro, herb-garlic oil crust
Appearance
It looked like … pizza. That's a compliment. The Amalfi didn't look like the kind of pizza I prefer, though, which is New York-style, where the cheese melds with red sauce and drips over the crust. In fact, the red in the Amalfi came courtesy of the grape tomatoes, slightly wilted from the oven.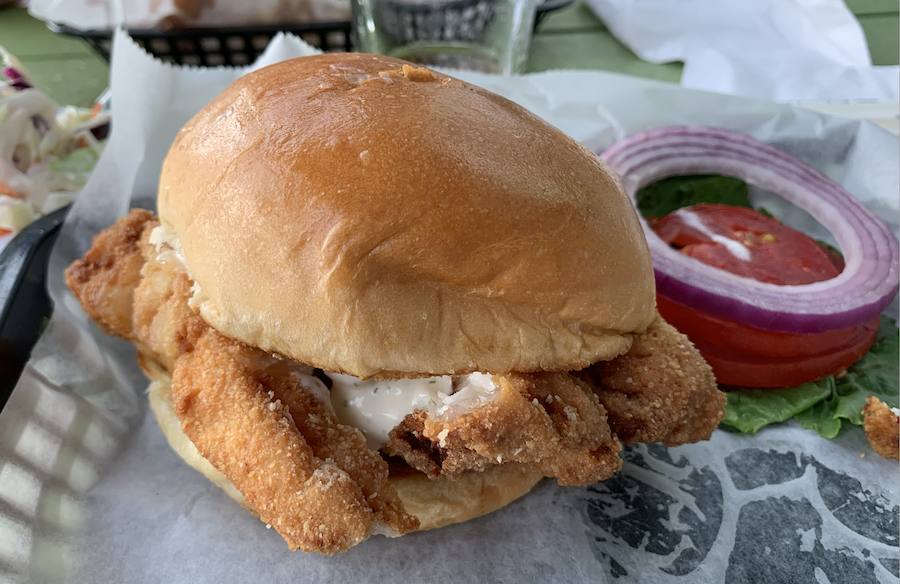 The Amalfi comes in one size, and I was so eager to dig in that I neglected to break out the tape measure, but I feel safe in calling it a Medium. All told, this one looked inviting enough, although it was apparent that, pizza-wise, I was dealing with a different animal (sorry).
Taste and Texture
It tasted like pizza. That's a compliment. The Amalfi is Neapolitan-esque, with a relative dearth of red sauce. As a result, no ooze, and it was a bit more dry than I'm used to — but that was expected.
I really boils down to the cheese — or "cheese" — right? To Cali's credit, they call it a "base," so let's think of it a cheese substitute, at least among us omnivores. The Amalfi's crust and toppings were all stuff I'm used to on pizza, except for mushrooms and whatever they mean by pomodoro. So what's the verdict on the faux cheese?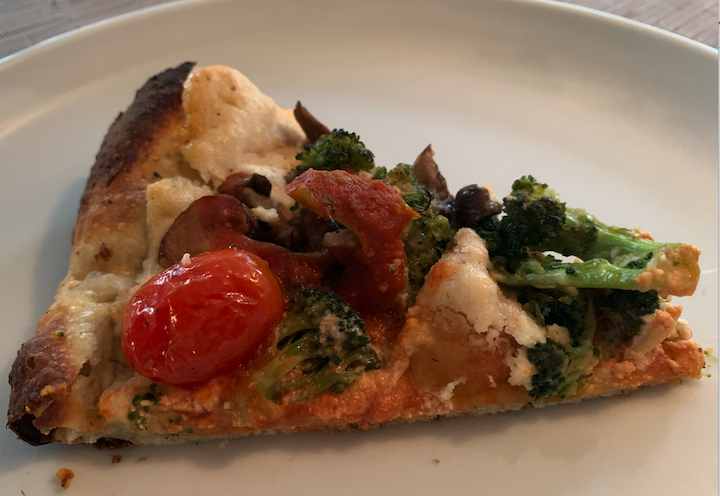 To put it bluntly, the base is the worst thing about this pizza. It's pasty and imbues the pie with a kind of subtle smokiness that I initially found off-putting but quickly got used to. All told, I found the almond-ricotta paste somewhere north of edible. Let's put it this way: In all probability, I wasn't nearly as put off by this fake cheese as a committed vegan would be appalled by eating real cheese (although certain vegans might be find a momentary lapse into authentic cheese a delight).
On to the crust.
My close friend Charles, who's been a vegan since people thought the word referred to a new Oldsmobile model, told me that the problem with plant-based pizza often lies in the crust. The Amalfi had no such issue. The crust lifted the pizza up, with just the right level of chewiness, thin but not crispy, and full of flavor on its own.
This crust would be right at home beneath smears of tomato sauce, double mozzarella and stacks of sausage, pepperoni and ham. (Salivating yet?) I ate it down to the charred ends — almost. (With a New York-style pizza, I toss the crustlings to the side because they're a waste of stomach space.)
As far as toppings, the grape tomatoes provided nice bursts of flavor, the broccoli added a welcome hint of bitterness, and the mushrooms were tolerable. (I didn't pick them off.) And someone please explain what pomodoro is, other than a time-management technique?
All told, I found the Amalfi tasty and largely agreeable, easily surpassing my vegan-pizza expectations, but short of my hope and dreams. I'd gladly eat an Amalfi again. Now, would I order one? I'll have get back to you.
Cappy's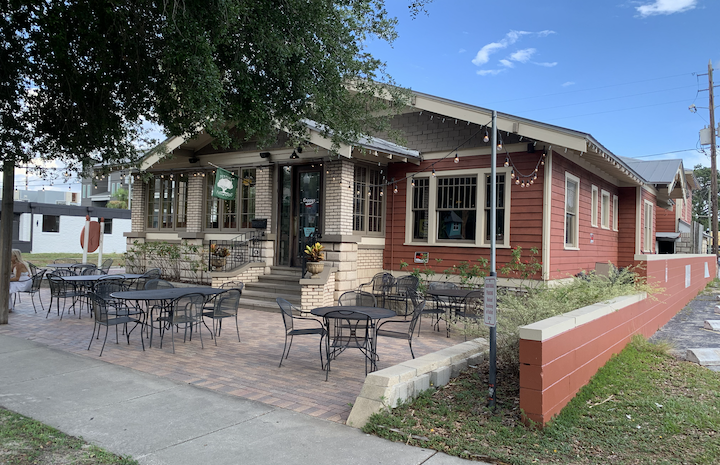 Order: 16-inch New York-style with tomato, (light on the) mushrooms, broccoli
Okay, we are officially grading on a curve. In fact, I'll go so far as to say that this Friday Food Fight was unfair from the get-go. I just didn't know to what extent.
Cali has taken the time to develop its own vegan pizza. Cappy's is a traditional pizzeria that offers both New York and Chicago style, and you can ask the server to make it vegan. That means they substitute cheese for a product called Violife.
Appearance
We ordered NY-style because I find the thick, Chicago pies an abomination. The pizza did not look all that New York. From arm's length, it appeared appetizing enough, but on closer inspection the Violife resembled glue and I could see little shreds of it on the crust that hadn't melted. Not a good sign.
Taste and Texture
The Violife tasted like glue, too. It stuck to the roof of my mouth and my teeth, which made this Cappy's pizza tough to swallow. Furthermore, the cheese substitute emitted a vaguely unpleasant odor, which wafted around my nose when I leaned in for a bite.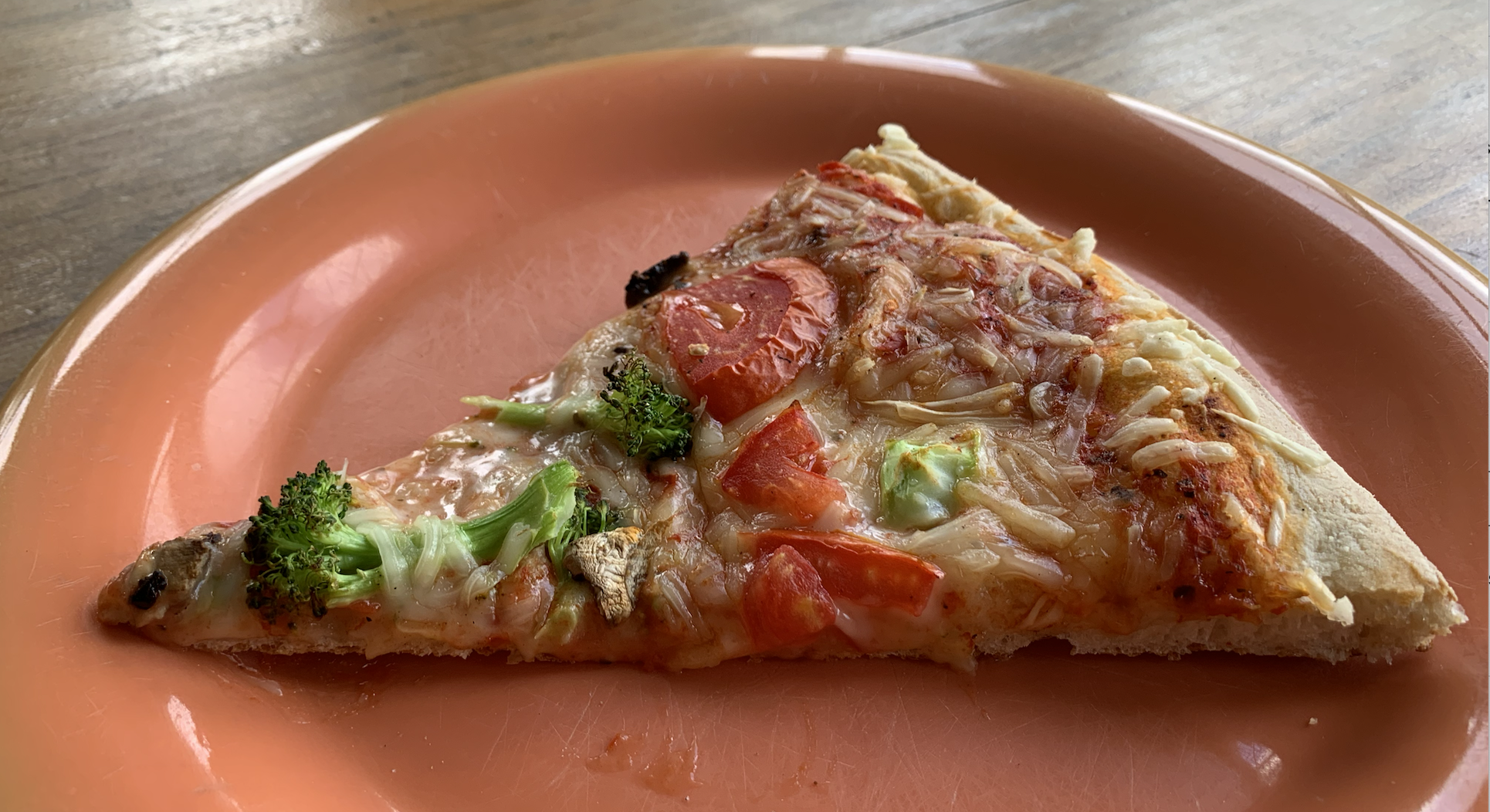 Cappy's crust was fine, but was thicker than the New York-style I know and love. The broccoli florets were nice, better than the big chunks on the Cali pie. The sliced tomatoes did not have the same character and taste-enhancing quality of the competition's grape tomatoes. So …
The winner of this week's Friday Food Fight is …
Cali — and it's, as you've gathered, not even close.
A couple of closing notes:
If you're a vegan virgin and you want to try vegan pizza, choose a place with a reputation for making plant-based food. Somewhere, perhaps on another astral plane, there's a traditional pizzeria that makes a fantastic vegan pie. Cappy's just ain't it.
However, if you do order vegan pizza at a pizza restaurant, ask them what they use for a cheese substitute. If they say Violife — leave.
We enjoyed the Cappy's vibe. It's located in converted bungalow on 1st Avenue North in Grand Central District. We ate inside, and the dark woods created a warm, homey ambience. There was a small picture of W.C. Fields on the wall. Random, but cool.
I'll be back to order a conventional pizza pie.