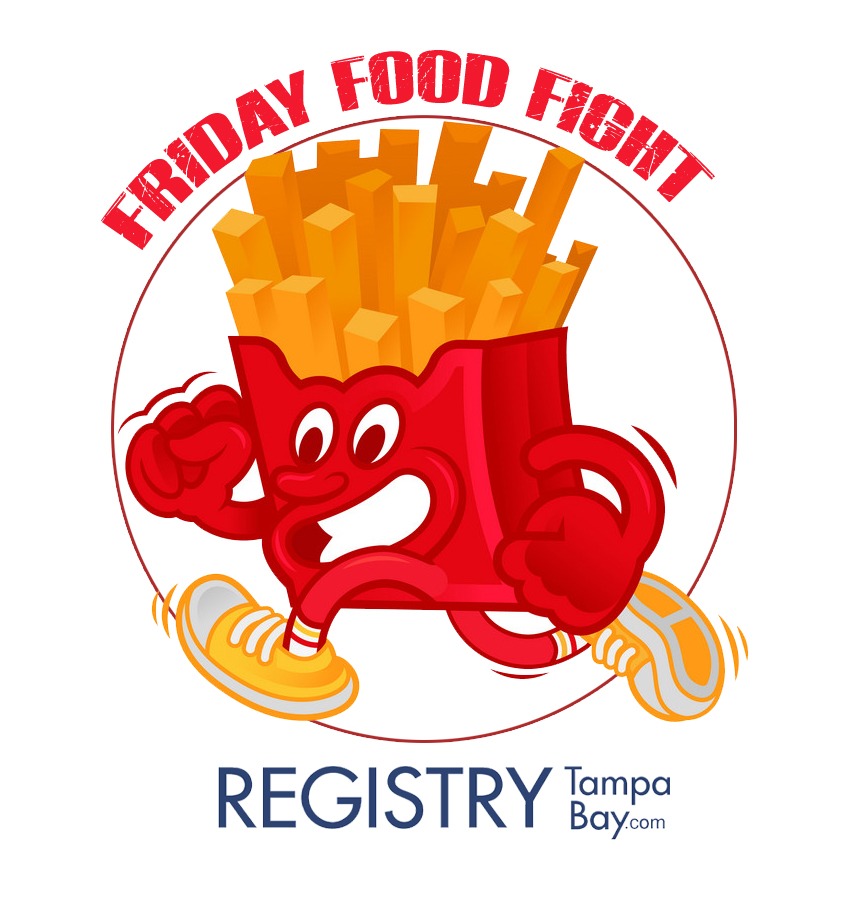 "… pea protein isolates, rice protein, mung bean protein, canola oil, coconut oil, potato starch, apple extract, sunflowerlecithin, and pomegranate powder…"
Sounds yummy, right?
Maybe not. But somehow these ingredients add up to something that is indeed very tasty: the Beyond Meat Burger, a product introduced to the market only six years ago that has become a staple of veggie and vegan restaurants everywhere.
And not just veggie restaurants. McDonald's McPlant Burger uses Beyond Meat, while Burger King uses another plant-based brand in its Impossible Whopper. And KFC is slated to introduce its new Beyond Fried Chicken on Monday.
So where to go to find the top Beyond Burger contenders for a Friday Food Fight?
The obvious choice was the Best of the Bay-winning Golden Dinosaurs, the vegan valhalla where ingredients like seitan and tempeh and Beyond Meat have ruled the menu since the charming Gulfport spot opened in August of 2018.
Perhaps less obvious but no less legendary a choice: Engine No. 9, the real burger kings, serving up an amazing array of award-winning burger options in St. Pete's Edge District since 2012. And yes, you can order any of those options with a Beyond instead of a beef burger.
Who went Beyond and then some? Let the tasting begin.
Engine No.9
I love this place. I love the funny names of the burgers and the mind-boggling flavor combinations they represent (like the Van Helsing, which includes roasted jalapeños, roasted garlic bulbs, pepperjack cheese and crumbled bacon.) I love the TVs at every booth, so if the table across the way wants to watch Fox News, your table can tune them out and watch the Rays. I love to read the loooong list of beers available (even though I usually order wine). And even though Engine No. 9 is a sports bar (the place is owned by the son of two NHL Hall-of-Famers, so sports comes with the territory), it doesn't feel like a sports bar; you can chill in the back room in a booth even when folks are watching games in the bar, and the menu isn't just limited to bar food but includes such tasty items as Sriracha Salmon and New Orleans Jambalaya Pasta.
Aaaaand… the burgers are fantastic, all made with 8 oz. of Black Angus Prime — unless you ask, as I did, for a Beyond Burger instead of beef.
Flavor: My choice of preparation was the aptly named Demi-God, with cheddar, Swiss, sautéed mushrooms, caramelized onions and horseradish mayo, all foods from the gods in my opinion (especially the mushrooms). It had lived up to its name with beef, so I wanted to see how it tasted with the plant-based substitute. Surprise: It didn't taste all that different! And how it did taste was very, very good and quite, quite burger-ish.
Appearance: I love the way the burgers are served here, on a porcelain plate with a sharp knife, plenty of napkins and a Moist Towelette (a sure sign of burger juiciness, and also a good drag name).
Texture: Toward the end of the burger, everything started to collapse. Granted there was a lot else going on with all those toppings, but the burger itself devolved a bit into mushiness instead of maintaining its burger-ish shape.
Extras: The tater tots at Engine No. 9 are a must — crisp, not greasy, with a peppery tang and a satisfying crunch.
Golden Dinosaurs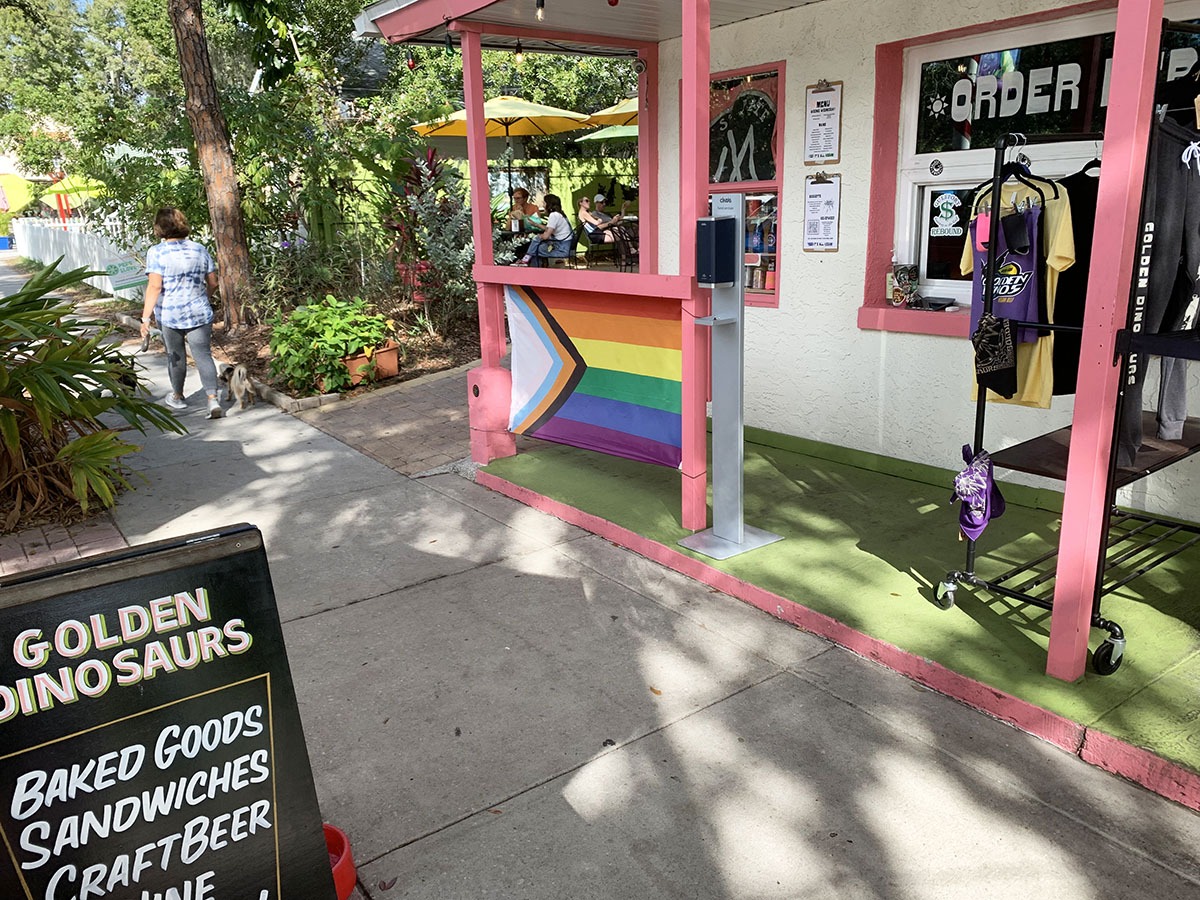 Say it quick and it sounds like you're saying "Gold & Diamond Source." While I doubt somehow that the glamorous Julie Weintraub has ever graced its walk-up order window, Golden Dinosaurs is in fact the gold standard when it comes to vegan fare. One reason (as with Engine No. 9) is the creativity of its menu. "Anything you can make we can make vegan" is their motto , recalling Ethel Merman's proto-feminist anthem in Annie Get Your Gun, "Anything you can do, I can do better," and it seems to be true on both counts: They can make anything vegan, and they can make anything better, whether it's the house-made pastrami seitan in their Reuben, the 'chicky nugs' in their Po' Boi or the 17 different dipping sauces. Plus, on a temperate winter afternoon, Golden Dinosaurs is a delightful place to hang, whether you choose to watch the passing throngs from a sidewalk table or relax in the shady side garden. Ordering is simple: Press the "Ding Dong" button at the window, wait to hear your name called and pick up your bag o' food from the front porch.
I tried to choose toppings for GD's Beyond Burger that were as close as possible to Engine No. 9's: cheese, lettuce, tomato and horseradish mayo, or "horsey" in Gold Dinos parlance. Mushrooms were not on the menu, however — a major demerit in my book.
Taste: Wow. I don't exactly know why (though there's a theory below in Texture), but this tasted so much more interesting than the burger at Engine No. 9. I even went up to the counter person and asked her if they add anything to their Beyond Burger because the flavor was reminiscent of a good meat loaf, one with several ingredients. No, she replied, but there's this…
Texture: The chefs at GD slice the Beyond Burger patties in two, she told me, which makes it possible to give them a crisp smashburger-style char so they don't get mushy inside the bun. Aha! I don't know whether Engine No. 9 uses the same method, but it sure made a difference in the Gold Dinos burger — good to the last firm and meaty crumb.
Extras: The fries are delicious. There's also a tempting window in which all of the drink options are lined up on shelves; they have wine and beer (in cans and on tap, though nothing like Engine No. 9's encyclopedic list), nostalgic quaffs like Boylan's Creme Soda, and (how can you resist ordering this?) a brand of "100% mountain water from the Alps" called Liquid Death.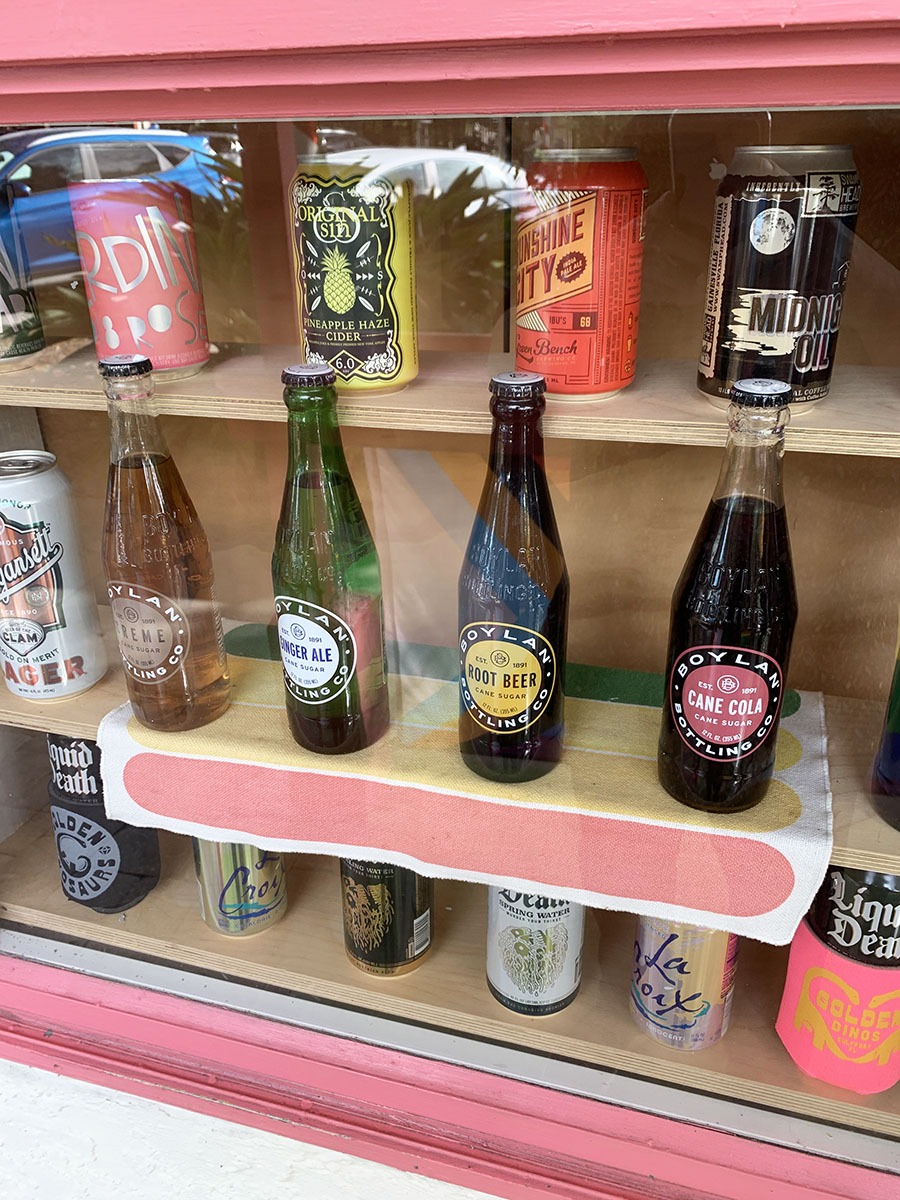 And the burger that went Beyond and then some was:
Golden Dinosaurs
I invited a friend who was a veggie-burger virgin to join me in the Golden Dinosaurs tasting, and he was an immediate convert. Even though I seriously missed Engine No. 9's sauteed mushrooms, there was something indescribably delicious about the GD burger itself (and the deliciously melty vegan cheese) that made it the inarguable winner. I'll be returning to Engine No. 9 soon, though — I might need to try that Van Helsing.
A final note:
I had a smashburger-style burger at another favorite spot the next day, and while I enjoyed it, afterwards I felt that familiar heaviness in the stomach that seems to always follow hamburger consumption.
I didn't get that feeling from either of the veggie burgers. Something to think about.