Now that Tampa's La Segunda has opened an outpost in St. Pete, we ask: How do its Cubans compare to Bodega's?
The debate over the Cuban sandwich — its origins (Miami or Tampa or, um, Cuba?), the meats (salami or no?), the condiments (mayo or mustard or both or neither?) — is a never-ending story that I will not attempt to recount here. But there's big Cuban-sandwich news hereabouts: the recent opening of a St. Pete outpost of the much-venerated La Segunda, the Tampa bakery/cafe from which many area restaurants source the bread for their Cuban sandwiches and which has long been regarded as purveyor of the ideal Cuban itself.
News which, for me, immediately suggested a Friday Food Fight.
With whom? Bodega, of course. George & Debbie Sayegh's walk-up started monopolizing the Cuban-sando conversation nine years ago with a variation that soon started winning Best of the Bays and other awards that would once have been the sole purview of La Segunda. So, now that the veterans are the arrivistes and the newbies have become a St. Pete institution, it seemed a good moment to ask:
Who makes the better Cuban?
Caveat right off the bat: I love both places, and you should totally eat at both of them.
But there's gotta be a winner in every FFF, so…
Let's go to press! (The sandwich press, that is.)
LA SEGUNDA
So what can you say about a place that may have actually invented the Cuban? And whose sublime breads have filled Tampa Bay bellies since 1915? Certainly La Segunda's Ybor City roots lend themselves to the theory that the sandwich originated there. Though this is a point that USF Special Collections Librarian Andy Huse will likely debunk in his upcoming history of the sandwich, its ingredients do seem to line up nicely with the melting pot of cultures that cohabited Ybor for many years: Cuban (the bread and the mojo pork); Spanish (the ham); Italian (the salami); and German (the dill pickles, mustard and Swiss cheese).
But the Cuban is only part of the lure of La Segunda. Whether you're shopping at the original location in Ybor, dining in the sit-down restaurant on Kennedy Boulevard, or visiting the brand new St. Pete branch in Holiday Plaza (former site of the colorful Holiday Motel cottages on 4th Street), you're not only going to find Cubans on the menu but a vast array of other sandwiches, plus salads, warm bites (devil crab!), coffees (cafe con leche!), pastries (guava turnovers!) and other goodies.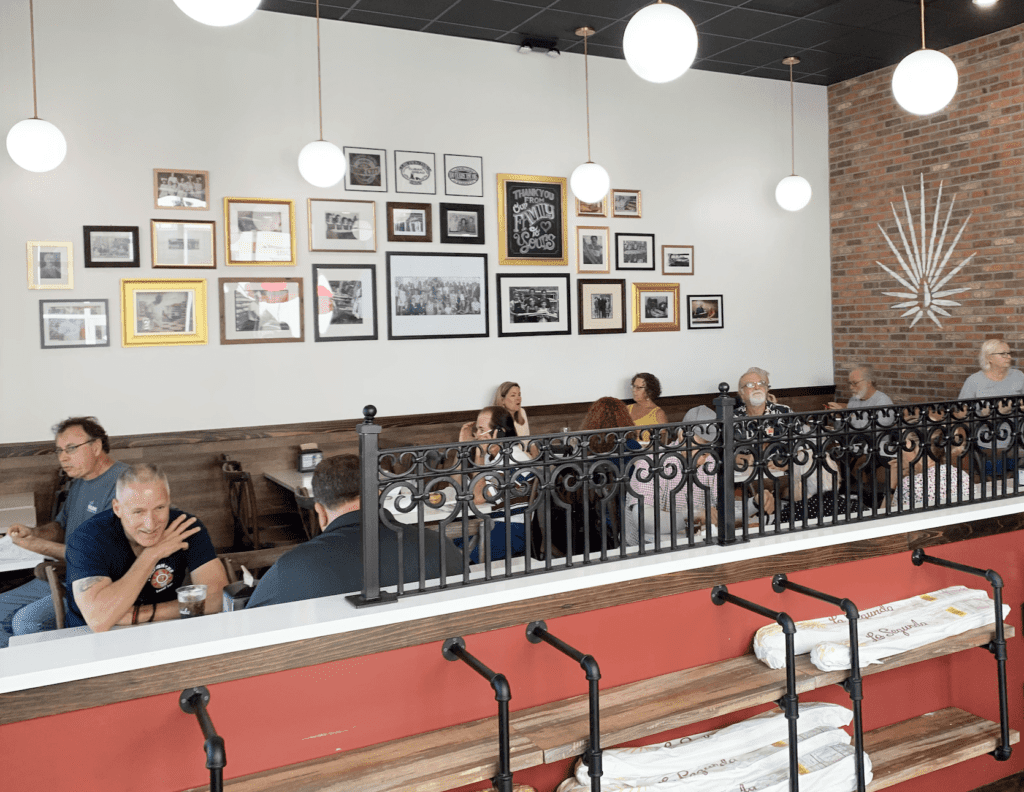 At the new St. Pete spot, there's a friendly, efficient ordering and serving system, but at lunchtime you will probably have to wait in line, along with locals, tourists and St. Pete firefighters (Fire Rescue Station 4 is in the next block on 4th). After you place your order at the counter, you take a number and find a table (if you're lucky) in the smallish dining area, decorated with vintage photos and separated from the folks in line by a divider topped with filigreed wrought iron. Or you can find an outdoor table with a view of the black-clad hotties striding into Grain & Berry next door, where they will likely order food less caloric than yours.
But we're here for the Cuban.
The bread: It's the gold standard. Famously baked with a palmetto leaf atop each loaf to aid in scoring, La Segunda bread has the requisite ratio of crunch to fluffy that is the fundamental building block of any good Cuban sandwich. No wonder they sell an estimated 18,000 loaves a day.
The meats: Ample and tasty, with a good amount of ham and salami slices and a nice bunch of shredded pork.
The condiments: The spread seemed to be a mayo/grainy mustard combo. The pickles and Swiss were fine.
The press: Nicely done, but… it could have used a bit more time in the press to fully melt the cheese.
The portability: Though Huse disputes the idea that portability was key to the sandwich's original popularity (the theory was that immigrant laborers favored the sandwich for that reason), it's still a useful quality. We call our sandwiches "hand-helds" nowadays (or at least restaurants do), and La Segunda's Cuban, pressed tight and wrapped neatly, is a "hand-held" that's actually easy to hold in your hand.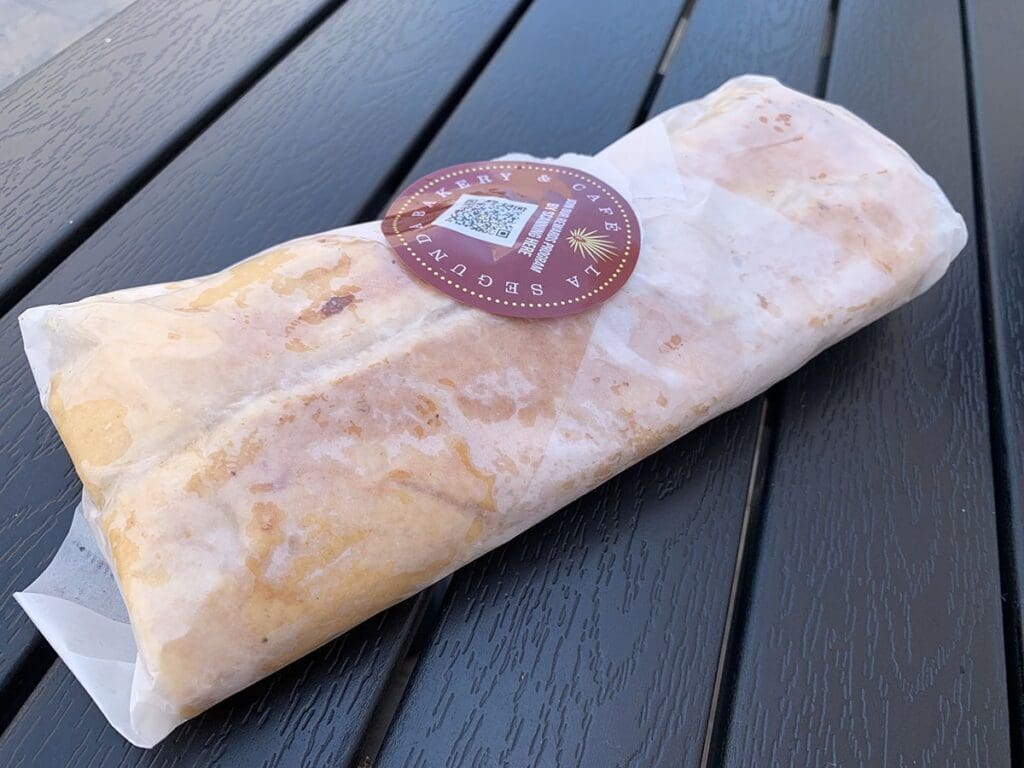 The turnover: Be sure to get a guava turnover — a sweet, flaky treat, especially since…
The price: …if you get a Cuban, a turnover and a drink, it's a combo — $14.99.
BODEGA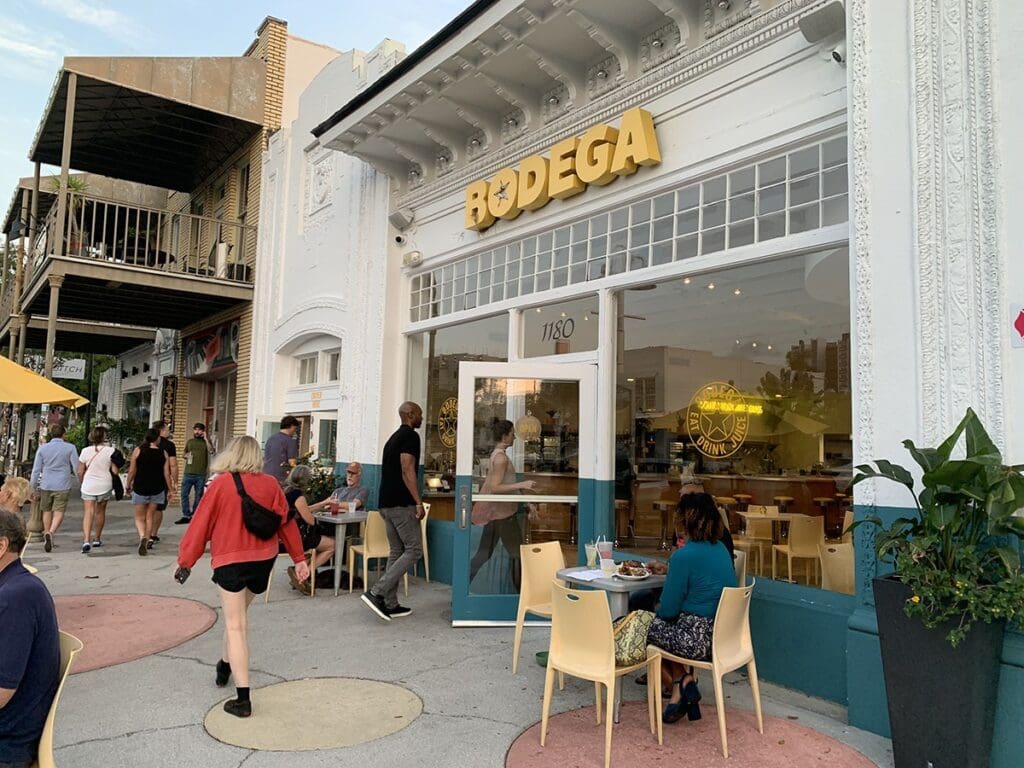 The Bodega saga is now well-known — how St. Pete's EDGE District reminded the Sayeghs of Brooklyn, where they'd run several restaurants, how chef George Sayegh had fallen in love with Latin food while living in South Beach, where he learned the Miami version of the Cuban: no mustard, no salami. Since opening in 2013 and winning multiple local and national accolades, they've expanded from their tiny walk-up and garden to include a sit-down area in the space next door. They also tried expanding with a Bodega branch in Seminole Heights, but that didn't fly (unlike their other restaurant venture, the beloved Baba, serving delicious Middle Eastern/Greek cuisine in the Grand Central District).
Bodega's indoor dining area and juice bar is bright and spacious, with sassy murals on the walls, counter seating and plenty of tables and booths. You still have to order at the walk-up window, and there's usually a line no matter what time of day you visit. But now that there's an indoor option you no longer have to hover over couples at the sidewalk tables, hoping they'll hurry up and finish eating their lechon. Another new addition: a backroom speakeasy called Bar Chica. (Part of the fun is figuring out how to get in: Just keep walking toward the restrooms.)
But again, we're here for the Cuban.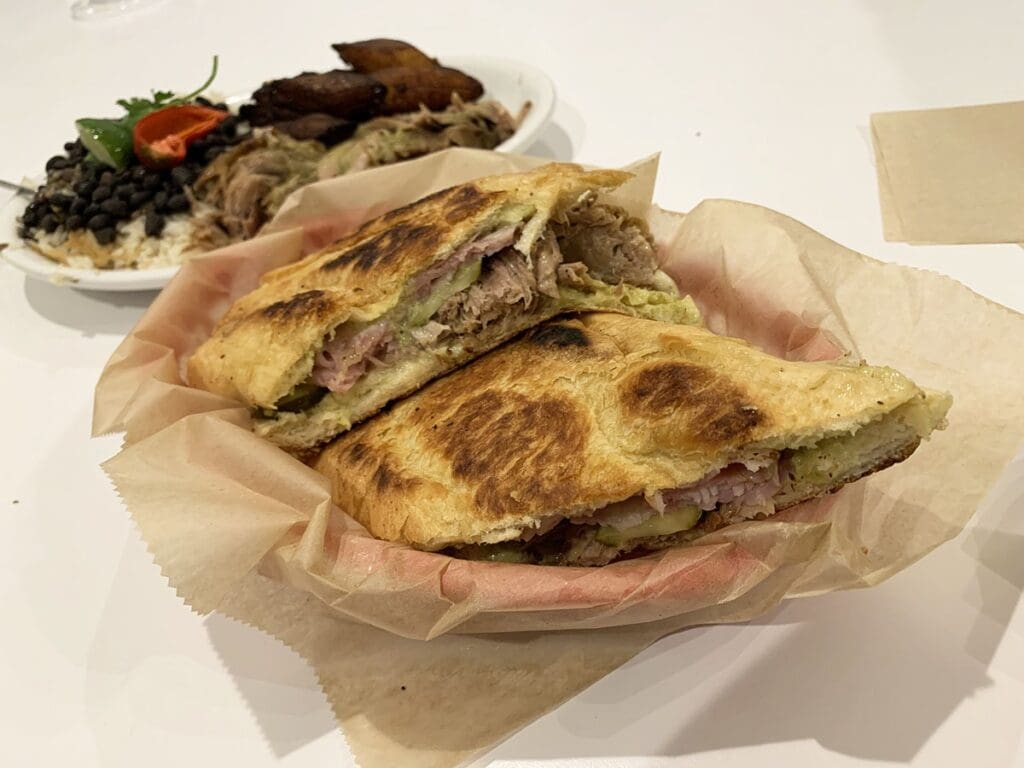 The bread: So good I thought it was La Segunda's. But no — Bodega gets their bread from Casino Bakery in Tampa.
The meats: Oh man, is their mojo working! Bodega's mojo pork is deeply flavorful and fall-apart tender — with big chunks of pork as well as shreds. The ham's tasty, too, though not as generous a portion as La Segunda's. And yes, there is no salami.
The condiments: And nope, no mustard either. Just mayo – but it melds with the mojo deliciously and makes the sandwich nice and drippy. The cheese was melted nicely, and the pickles added the necessary piquancy.
The press: Must have been good and hot, because there was a nice char on the bread and a distinct melty factor.
The portability: Not high — not with chunks of pork falling out and juiciness abounding. But who cares? When a sandwich is this good, all you should do is sit down and chow down — no need to take it with you!
And get some beans and rice: Bodega's version is so rich and addictive, you may not even need a sandwich.
And a drink: Do try a soda Fresca, made with fresh ingredients like ginger, orange and lime.
The price: $9.75 for the Cuban, $4 for the soda Fresca.
And the Cuban that im-pressed me most?
BODEGA
The La Segunda Cuban is a classic, a dependably fine sandwich, and the restaurant is a great new addition to St. Pete's cuisine scene. But Bodega's version, because of whatever magic George Sayegh puts in his mojo,  is positively bodacious. Long may it reign.
UPDATE: A previous version of this story incorrectly identified the source of Bodega's bread. It's from Casino Bakery in Tampa, not La Segunda's bakery.