By Eric Snider
I'm not a wings man.
Still, I've had lots, mostly with the fellas in a sports bar after league basketball games. I'd pull them from a big pile and munch while quaffing pitcher beer. I barely tasted them, but recall not caring for their texture. Those days are long since gone.
To my knowledge, I've never ordered chicken wings in a restaurant. But they're so ubiquitous that sooner or later they had to make it into Friday Food Fight. And what better time than Super Bowl weekend. No less an authority than Al Roker declared on Wednesday's Today Show: "It wouldn't be a Super Bowl without wings."
Who am I to argue?
I'm splitting our chicken-wings competition into two parts: This one features two high-profile chains with long histories as wing meccas. Hooters is a must. It was founded 40 years ago in Clearwater with wings as its marquee dish. Buffalo Wild Wings dates back to 1982 in Columbus, Ohio. There are five locations in the Tampa Bay area.
At a later date, I'll feature two local restaurants.
HOOTERS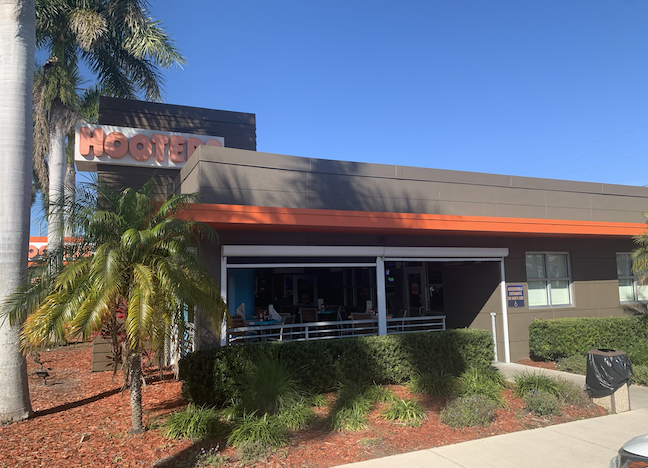 We chose the location on 4th Street in St. Pete, and arrived about 7 p.m. It had been a very long while since I'd set foot in a Hooters.
A Lightning game was on and the play-by-play blared over the sound system. Very annoying. It was nigh impossible to have a conversation while hyper-excited hockey announcers called the game. The place wasn't packed, and there was no watch party going on, so why crank up the play-by-play throughout the entire space? (That said, I'm not a Hooters regular, so what do I know?)
In other matters, the all-female waitstaff wore the same skimpy, clingy outfits that I recalled from decades ago. Our server was polite and efficient.
We ordered eight Original Style, mild, and eight Naked, blackened (both $12.09), plus Curly French Fries ($4.29). An order of ranch and blue cheese dressing cost $.99 each. (Really?)
APPEARANCE
The Original Style sat in a pool of oily-looking sauce, just like Buffalo-style wings are supposed to, but not appealing to these eyes. They were jumbo-sized, made even larger when breaded and sauced. The Naked ones looked more appetizing.
Some of the Curly Fries were as perfect as little Shirley Temple's ringlets.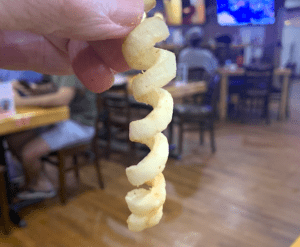 TEXTURE AND TASTE
A surprise: The Original Style morsels were better than the Naked. The Originals nicely blended the Buffalo sauce into the breading, which made each bite balanced with sauce, crust and chicken. The meat was substantial and fall-off-the-bone, the sauce itself surprisingly subtle.
The Nakeds came up short on the blackened seasoning, and bordered on bland. They were rated Medium on the menu's heat scale, but were pretty mild. Dipping them in blue cheese dressing helped.
The fries came out late — but better late than never. They were piping hot, moist and, best of all, potato-y.
BUFFALO WILD WINGS
We chose the BWW on a busy stretch of Park Boulevard just west of US 19 amid a cluster of chain restaurants. It was Wednesday at 2 p.m., during a lull.
The large room had high ceilings and wall-to-wall TVs that shared space with an eclectic tableau of sports memorabilia. Tame classic rock (Journey, of course) and pop played over the sound system at moderate volume.
We sat in a comfy booth. I ordered a combo platter ($23.49) that included six signature wings, mild, and six boneless (they didn't have naked on the menu), with a lemon pepper rub, plus fries and coleslaw. The blue cheese dressing didn't cost extra.
APPEARANCE
At first glance, it was a tidy presentation, neatly arrayed on a tray. Closer inspection, though, revealed some potential problems.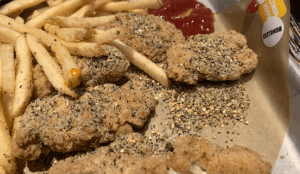 The traditional wings lay in a pool of sauce that looked too thick and too orange. The boneless were not so much rubbed as heavily dusted with a granular mixture. If I saw that stuff on my dining room table, I'd reach for the hand-vac.
Texture and Taste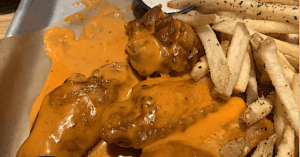 BWW takes a different approach than Hooters. According to our (conventionally clad) server, the restaurant cooks its wings, then tosses them in whatever sauce or rub the customer selects.
That made eating the traditional wings a sloppy mess. And unlike Hooters, BWW did not have a roll of paper towels on the table. Too much sauce — sauce that had an extremely potent flavor that eclipsed the chicken itself.
Now to the lemon-pepper boneless ones: Wow, what an assault on the tastebuds, and not in a good way. Extremely salty, with the lemon adding a harsh tartness, and the pepper only confusing matters more. Mostly, though, it was was the texture — like eating pieces chicken covered in flavored sand. I tried wiping some of it off, which helped a little, but quit after two or three. 
The fries were basic, and quickly became cold.
And the Winner of the Two Chains Wings Taste-off Is …
Hooters.
This was more of a mismatch than I anticipated. I simply didn't care for BWW's cooking-then-coating approach. And I enjoyed my meal at Hooters, although it didn't turn me into a wings man.
A quick postscript: When our BWW server asked how everything was, I gave her a polite but honest assessment of the boneless wings, telling her that I couldn't eat them, and why. She asked me if there was anything she could do. I thanked her, and said it wasn't necessary.
Before we left, she handed us a bag. Inside was a small box filled with lemon-pepper bone-in wings. Credit for good customer service. When I opened the container at home, I saw that the wings had been more lightly dusted. I ate one. It was better — somewhat. I'll leave it at that.
Oops, almost forgot:
Go Eagles!