H is for Happy Hours: The tastiest bargains in Tampa Bay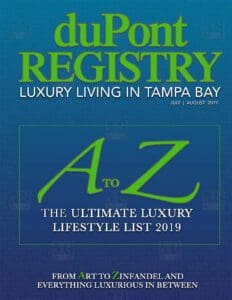 A to Z: The Ultimate Luxury Lifestyles List is duPont Registry Tampa Bay's annual compendium of the best our region has to offer. Each year we choose a different set of categories and then select businesses that are top-of-the-line in each category. This year: Art to Zinfandel (and everything luxurious in between).
For us, the happiest happy hours are the ones at restaurants we already love, so getting a bargain is a bonus. Tops on our list is Haven in South Tampa and its $6 bar bites during "Haven Hour" (5-7 p.m.). In downtown St. Pete, Annata Wine Bar and its next-door sister Alto Mare make for a fine pair (4-6); Cassis, c'est magnifique (M-F 4-7, with additional deals on Tuesdays and Thursdays); and there's no more elegant place to belly up to the bar than Rococo Steak (T-S, 4-6:30). At St. Pete's Sundial complex, the happy hours at Sea Salt (3-6), Ruth's Chris (M-F 4:30-6:30, S 3-6:30) and FarmTable Cucina (M-F 4-6) are legendary. In Tampa, Seminole Heights' top-ranked Rooster & the Till discounts charcuterie, wine and beer from 4-6; Bernini of Ybor's $3 Finlandia martinis (every day until 7) are deliciously dangerous; and downtown Tampa's classic after-work gathering spot is Hotel Bar (weekdays 4-6). On the beaches, we like Pass-A-Grille's Grace, where the small plates are big in taste (W-M, 4-6). And Datz, natch, gets the prize for most creatively titled (and dependably delicious) happy hour treats, with weekday deals from morning to evening.