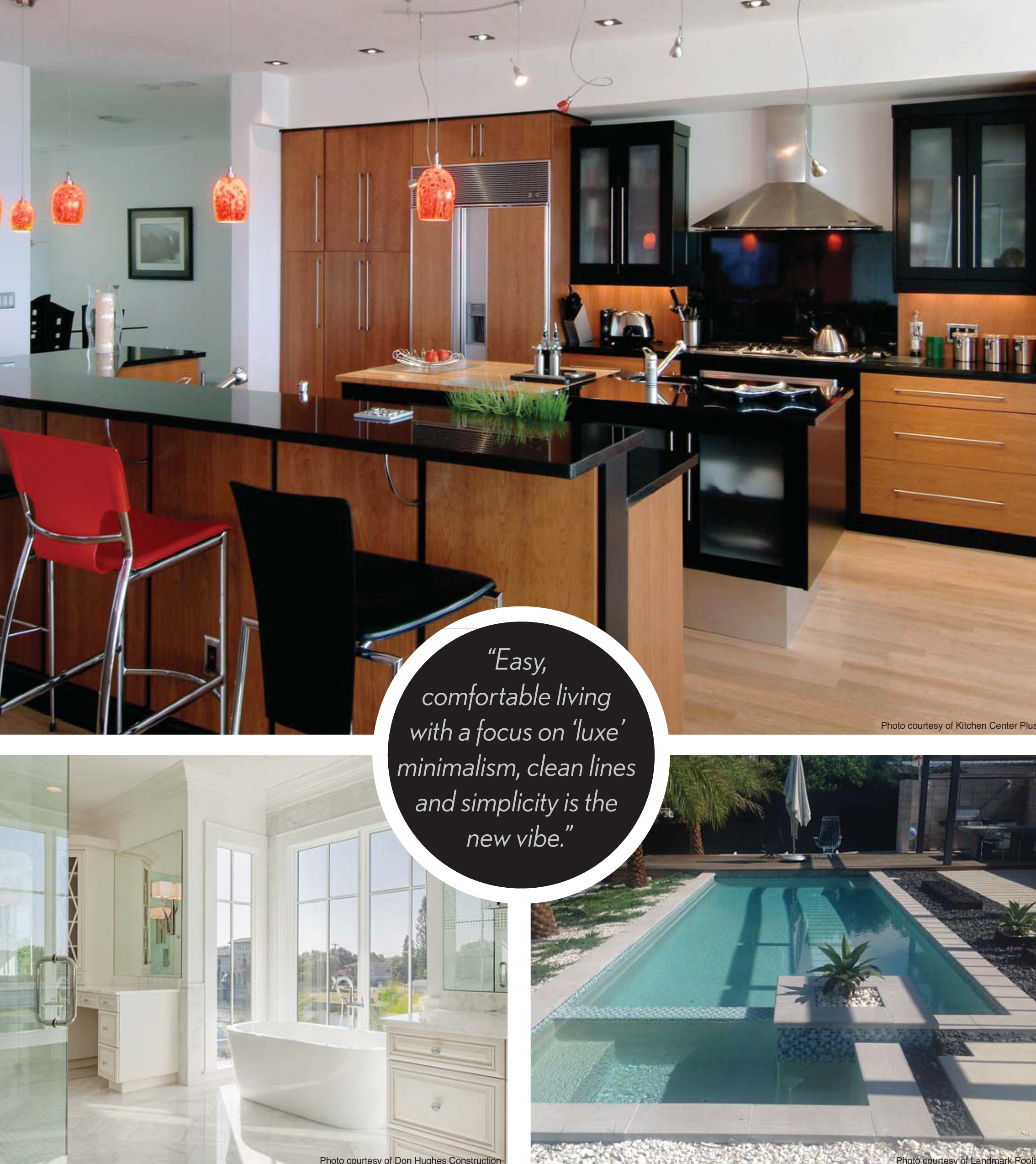 From beautiful area rugs to spacious eat-in kitchens and weatherproof cabinets that look like wood, Tampa Bay's design experts give readers a peek at the latest new trends for kitchens, baths and outdoor rooms.
Minimalist Luxury
"Easy, comfortable living with a focus on 'luxe' minimalism, clean lines and simplicity is the new vibe," says John Cannon, president of John Cannon Homes. Natural, organic elements are mixing with contemporary materials, especially wood, steel and glass. Master bathrooms are evolving into high-end spa retreats, where large tubs take center stage, almost like a work of art or sculpture. In the kitchen, distinctive tiles are adding pizzazz, while the traditional triangle design is giving way to the idea of "work zones" where storage and entertainment are the priorities, says Cannon.
New trends utilize clean white cabinetry as the base palate of color for the kitchen. To contrast the white cabinetry, bold colors are incorporated into areas such as tile backsplash, countertop selection, and hardware. For added glamour and elegance, highlight the upper tier of kitchen cabinetry with glass doors and LED lighting. Other popular trends include wood floors and contrasting butcher-block island countertops, larger farm sinks and commercial grade appliances for those who love to cook.
It's All About the Comfort
Erik Hughes of Don Hughes Construction says kitchens and baths are the two areas where homeowners are willing to make a major investment to get the comfort they want. A recent project Hughes did in Tampa is a good example. An all-white master bath features stunning white statuary quality marble countertops, polished chrome fixtures, marble flooring and marble wall tiles, some of which extend from floor to ceiling.
An oversize freestanding tub stands in front of floor-to-ceiling windows. The master bedroom is equally lavish with a morning bar that includes sink, dishwasher and icemaker, as well as coffee maker and under-the-counter refrigerator. "You don't even have to go downstairs; just grab a cup of coffee and sit on the patio overlooking the water," says Hughes. It's the ultimate Florida lifestyle.
Kitchens Are For Gathering
The design team at Kitchen Center Plus – Nicole Drew, Tevic Sotomayer and Sherry Wohn – says that spacious eat-in kitchens with big islands continue to be a focal point in the home. It's the ideal spot for conversation, for the kids to do homework and everyone to gather. Not surprisingly, built-in charging stations for smartphones and other technology are in demand.
Also popular are counter-depth appliances for a more streamlined look since they don't protrude past the cabinets or countertops. Another popular feature says is the Florida "mud room" or "drop zone." It's that area where backpacks, briefcases, purses, pet bowls and other items and other clutter can hide behind a closed door.
Laura James of Triad Construction agrees that spacious kitchens with large work islands, eat-at bars, large pantries for storage and extra tall cabinets that reach to the ceiling are the hottest new trend. She also seeing a demand for quartz countertops in a variety of colors and patterns, as well as exotic wall tiles in different sizes and materials, including metallic, glass and iridescent. Add cool lighting and artisan pulls on cabinet doors and you have a show-stopping kitchen.
The Outdoors Beckons
As homes become bigger and lot sizes smaller, homeowners want to make best use of their outdoor area for entertainment, says Bart O'Connell of Landmark Pools. That's driving the demand for pools with clean angular lines, which allows homeowners to maximize their space and still leave room for extras like fire elements, especially a fire pit with chairs clustered around. Continued on the next page.
Additional new design trends for pools include decorative, artisan handrails, automation to control everything via smartphone, and travertine pavers rather than brick as the decking material of choice. "Travertine doesn't discolor or bleach out from the sun and it requires less maintenance than traditional brick pavers," says O'Connell.
As outdoor rooms take on the same luxury as the home's interior, products that can withstand Florida's tropical weather are essential. A new line of outdoor cabinetry offered by Olde World Cabinetry is ideal. NatureKast cabinets have the look and feel of beautiful rich wood, but are instead a man-made polymer coated with a weatherproof resin that can handle any environment. The cabinets come in three door styles and 15 finishes, says Nancy Braamse of Olde World Cabinetry. The hardware is rust-proof stainless steel.
Fire it Up
What would an outdoor room be without a grill? Doug Driscoll at Just Grillin suggests Alfresco grills for their durability and their commercial restaurant-grade capability, which means they can put out the high heat needed for a perfect sear. Additional features on the Alfresco include a built-in rotisserie, ceramic briquettes for even heating with no hot or cold spots, and a spring-assisted lid to make it easy to open and close.
"Rather than eating out, we're finding there's a cultural shift and more focus on the quality and freshness of food and spending time with family," says Driscoll. "Having the right tool to cook with is essential. High-end grills will give you an outstanding restaurant quality steak and help caramelize the food for great taste."
Enrique Crespo of Crespo Design Group also likes a bit of color, especially in beautiful custom area rugs – artisan carpets that can really dress up a living room or bedroom. "If you have a lot of colors going on, a custom area rug can really pull it all together and anchor the room," says Crespo. "I like to match the carpet to the fabrics on the sofa and window treatments, and even the artwork. Area rugs add another layer and texture to define and finish the room."
High-Tech, Smart-Tech
We love our technology and Ferguson Bath, Kitchen & Lighting Gallery finds that innovations like digital readouts to wireless connectivity give homeowners more smart choices than ever before. "More clients are asking for products that function around the way they live, especially in the kitchen, which has become one of the most versatile rooms in the home," says Marc Hammar, Ferguson Showroom Manager.
Ferguson's many smart-tech options include the Jenn-Air counter-depth French door refrigerator and Electrolux 617 series washer and dryer, as well as the ultra-stylish DXV Vibrato 3D printed faucet. Faucets may be overlooked in kitchen and bath designs, but they are "the single most used appliance in the kitchen, just as important as oven and cooktop selection," says Hammar. The DXV 3D printed faucet is the first commercially available residential faucet with this new technology and pushes the boundaries of what's possible in design.
And to afford all of these lovely kitchen ideas, it might be a good idea to make sure you're paying the right amount for your energy bills. My friend was telling me how much money he saved with Simply Switch and I couldn't believe it! They searched for the right quote for him through thousands of quotes.