Sparkling accents, twinkling lights, fragrant candles and lots of greenery help set the scene for the holidays, creating that special magic that makes the home feel so festive and inviting. Traditions and ritual help create meaning in our lives, and Christmas is the best time of year to indulge.
Whether you enjoy taking charge of the holiday decorating yourself, or prefer to leave the creativity to the experts, don't overlook the show-stopping power of a beautifully designed holiday centerpiece for your dining room table or sideboard and for the main entryway to your home.
Eclectic Elegance
Sharon Smith of The Potting Shed enjoys creating an elegant, eclectic design that blends dry and fresh elements for an interesting look. She starts with a beautiful container, preferably something that a client brings in, such as a silver antique piece. Then she begins building the design using green and white as the primary colors, with accents of red using berries and roses.
"We like to use the largest oriental white lilies we can find, mixed with Dendrobium orchids, huge open roses and green cymbidium orchids for a pop of color, especially the ones with the cabernet throats," says Smith. "We'll add to that with branches, pods, Florida cedar and magnolia leaves, both dried and fresh. Plus, some pine cones, perhaps painted silver."
Smith also loves using hydrangeas and peonies. Her signature design look is the English garden.
Cheryl Pacheco at Carlson-Wildwood Florists discourages clients from having one large, tall arrangement in the middle of the table, which can block guests' view and make conversation more difficult. Instead, she suggests stretching a low, horizontal row of evergreens, short candleholders and shiny ornaments down the whole length of a large table for a beautiful effect.
She also recommends creating a delightful tiny centerpiece at each place setting, such as a clear, glass Christmas ornament filled with a single eye-catching flower and a sprig of greens. To keep the ornament from rolling and tipping over, place it inside a little nest make with evergreens or even stems of rosemary.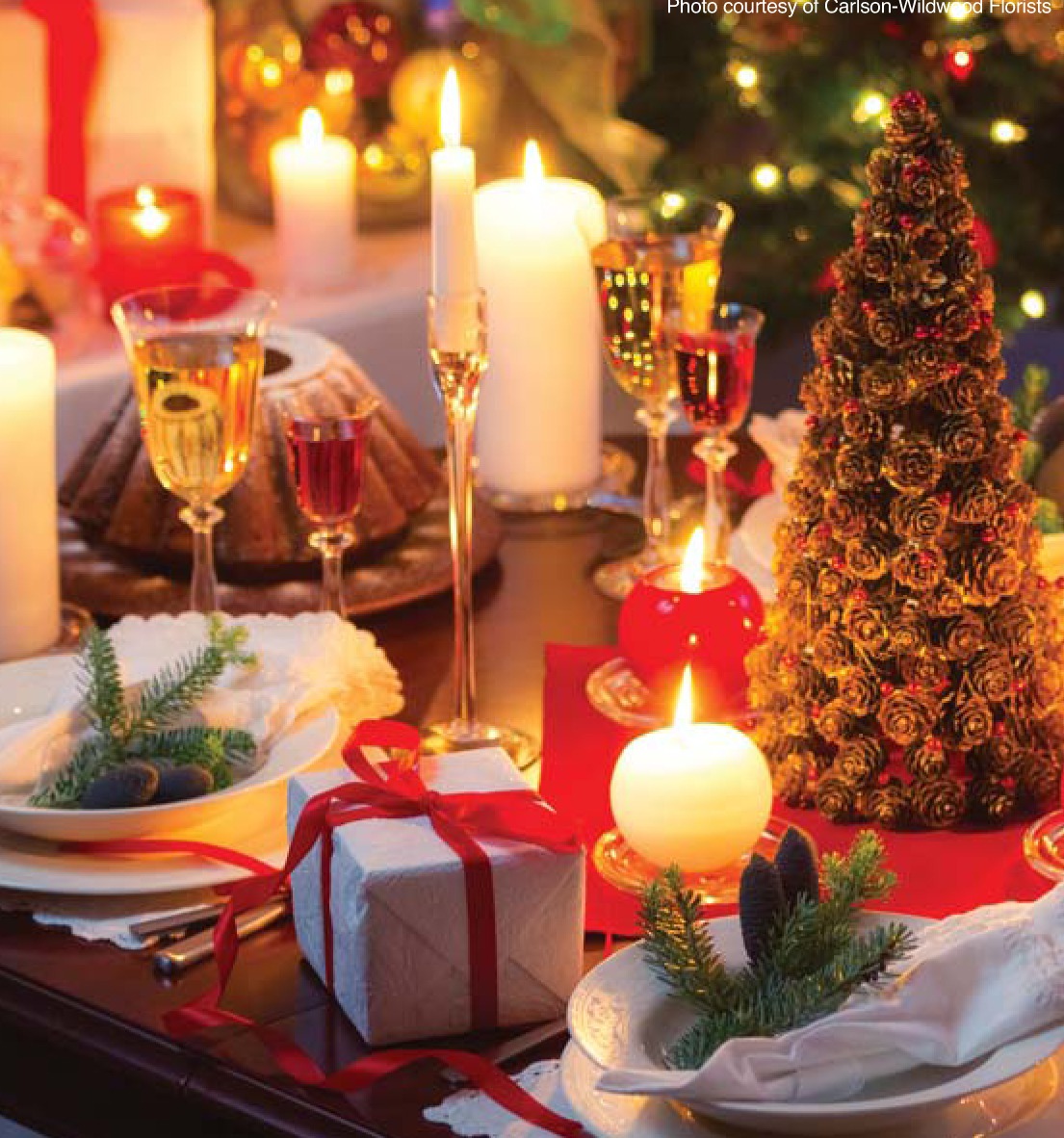 Holiday Greenery a Must
Pacheco says that for her, Christmas is not about flowers; it's about the greens. "They are so fragrant and you just can't have too many of them," says Pacheco. In addition to using boughs from the traditional pine, cedar and other fir trees, she likes the southern trees found right in our backyard, such as the Magnolia, which has large glossy, dark green leaves, and the invasive Brazilian pepper with its bright red berries – a good substitute for holly.
Pacheco also encourages clients to consider making a family heirloom part of their holiday decor. "If someone has a beautiful china or crystal bowl or other sentimental piece, we can turn it into an amazing centerpiece," she says. "We can line the item for protection and then fill it with flowers and greenery, making it part of the tradition."
Natural & Organic
Darin Bahl of Tailored Twig has a well-deserved reputation for creating tablescapes and centerpieces that have an eclectic, natural and organic feel. To achieve that look for the holidays, he might incorporate berries, seedpods, chestnuts and cinnamon sticks into a festive garland of Magnolia leaves, with accents of pine and other evergreen boughs. To add color and texture, he'll use Christmas ornaments and fabric bows, as well as the bright red berries of the Brazilian pepper, which he calls the Florida "mistletoe."
Lighting is another important consideration. "The holiday decorations might be beautiful, but without illumination you won't get the full effect," says Bahl. In addition to candles, Bahl recommends lanterns, which come in a variety of styles, from antique gold, platinum or brass too stained glass or even streamlined and contemporary.
As often as possible, he turns to local craftsman to design and create one-of-a-kind pieces to add to his floral designs. But he also attends the Atlanta International Gift & Home Furnishings Market for inspiration. "The show is in January, so the hunt for the next Christmas season begins early, literally right after the last holiday season has ended. We start gathering everything over the summer, so by the fall we are ready to go."
While Bahl's floral creations often have an exotic tropic look, during the holidays he likes to stay traditional. "Tropical colors and designs just don't say Christmas for me. I find that most of my clients want to be traditional – they like wrapping their home up in the warm glow of the season."