By: Sharon Fekete, Health and Wellness Editor
Stay Well New Standard in Wellness Hospitality
Traveling and wellness are not terms we associate when flying to the next business conference, tourist destination or family reunion. We cringe to think about the germs floating around the plane and the potential for uncomfortable accommodations in a noisy hotel. What if I told you there was a new standard in wellness hospitality right here in Tampa Bay?
Stay Well rooms are the first hint of the vision created by Jeff Vinik and his SPP team for the upcoming Tampa Bay wellness district. In April of 2016, the Tampa Marriott Waterside, dedicated the 15th floor to Stay Well rooms. These 34 guest rooms were designed to introduce a health-conscious-built environment along with a wellness-based component when you travel.
duPont REGISTRY sat down with Michele Palmer, Marketing Manager for Marriott International
Along with Jeff Vinik, SPP and Delos, we want to slowly integrate wellness options into the hotel itself, in our attempts to launch the upcoming wellness district. There are a lot of moving parts and the hotel is one tiny piece of the entire district. We partnered with Delos to provide an app for our guests to locate healthy restaurants, biking trails and running trails in the vicinity. Currently, we are working with Delos and our food and beverage team to put Stay Well icons on our menus to designate healthy options for guests that stay in our Stay Well rooms.
In an effort to expand social consciousness to healthy living, Tampa Marriottt Waterside, has also partnered with Urban Kai www.urbankai.com. Urban Kai focuses on fitness, well-being, yoga, AND stand-up paddle boarding! The collaborative plan is to do a clean up on a stand-up paddleboard in exchange for donations to Surf Rider www.surfrider.org.
Stay Well rooms offer the following features: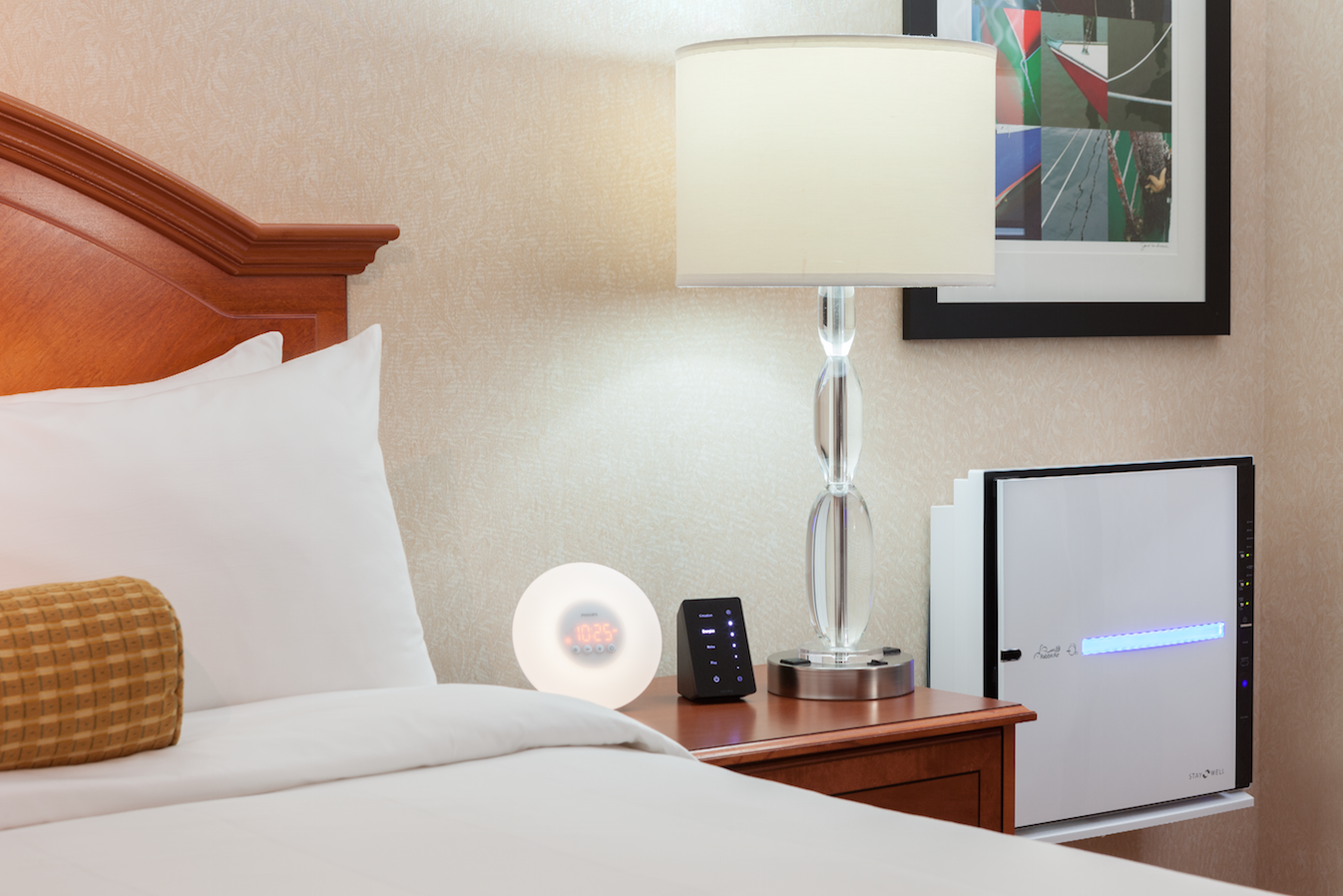 •State of the art air purification system that reduces allergens and toxins invisible to the human eye.
•Circadian mood lighting that is engineered to emulate the color of natural outdoor light to help enhance sleep quality, energy levels, and productivity.
•Long-wave night lighting to allow guests to safely navigate at night while minimizing sleep disruption.
•Stay Well mattresses, natural memory foam, which will support your back and provide optimal comfort.
•Dawn-simulator to wake guests gradually and gently with increasing levels of music or natural sound, coupled with gradually increasing light.
•Aromatherapy to improve the ambiance of the room.
•Stay Well Shower Infuser system that neutralizes the effect of chlorine, known to dry the skin and hair.
Stay Well rooms offer MORE than built-in features:
•Healthy menu selections
•Allergy-friendly cleaning processes
•Wellness programs & meditation options via a mobile app
•Complimentary access to Cleveland Clinic's wellness program for sleep, stress and nutrition management
If you are to understand Stay Well, we need to introduce you to Delos (www.delos.com). They are the pioneers of 'Wellness Real Estate, and have introduced preventative medical intentions within the built environment. Delos inspired Stay Well to set a new standard in wellness hospitality. Their hope for revolutionizing our hotel experience comes with reducing exposure to germs and allergens, minimizing stress and fatigue and introducing technological advances within their app to maximize your experience.
On a personal note, I experienced a Stay Well room last September prior to joining a panel discussion for the annual Working Women of Tampa Bay Conference. It was held at the Straz Center, just minutes away from the Tampa Waterside Marriottt. I was honestly looking for ANY excuse to experience this magical new standard in wellness hospitality since I am a HUGE advocate of anything surrounding our upcoming wellness district. When presented with the honor to speak in front of 300 female businesswomen, I NEEDED a good nights sleep so I booked myself into a Stay Well room! I woke up refreshed to circadian lighting, cleaned up with the vitamin-infused showerhead, and inhaled the pleasing scents of aromatherapy. My Christmas list now consists of products offered from the Stay Well Shop. I am the proud owner of a vitamin-infused showerhead, and the Stay Well app is on my phone. Not sure if my night in the room improved the panel discussion, but I DO know I walked on stage, stress-free and elated about my experience.
Stay Well is an exceptional option for travelers with a minimal increase in cost. The ability to inject a holistic approach to your hotel stay is exciting, to say the least! Knowing that each feature is based on medical research and technological advancements to help with mind, body and environment is revolutionary. This partnership with SPP, Delos Living, and the Tampa Waterside Marriottt, is a welcomed offering for this fan of preventative health. I am bursting with excitement about the upcoming wellness district in Tampa Bay, and highly recommend you experience this new standard in wellness hospitality.
Don't wait book your Stay Well room today!