I is for Interior Design: Sprucing up our shelters indoors and out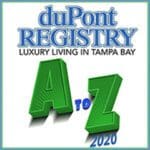 This year's A to Z Issue celebrates people and businesses who have been successfully riding the turbulent waves of change and offering service and hope to the community at large. The print edition will be out later this month, but we're teasing the content online, one letter at a time.
"A knack for bringing the indoors and outdoors into perfect, contrasting harmony"— that's how Kim Levell describes her design skills, and the combination would seem to be the perfect match for this moment. Her interiors are alive with the brilliant colors of Florida's landscape, while her welcoming exterior "rooms" blend natural settings with elegant furnishings so that you're at once inside and out — a tonic at a time when the world beyond our doors is so unsettling. Stephanie Smart of S.P.A.C.E. is another designer who's keenly aware of the new demands being placed on interiors now that we're spending so much time at home; her own designs, from the deluxe condos of ONE St. Petersburg to her own bespoke bungalow in Roser Park, marry comfort and Zoom-ready style. Ethan Allen's design teams are a reliable source of inspiration whether you're upgrading your home office, prettying up the patio or just generally sprucing up your shelter. And even though the future of going out to entertainment events is still hazy, it has been wonderful to see the transformation of Ruth Eckerd Hall, where thanks to the vision of Decker Ross Interiors and the generosity of donors Kate Tiedemann and Ellen Cotton, a portion of the newly expanded lobby has become a glamorous cabaret.