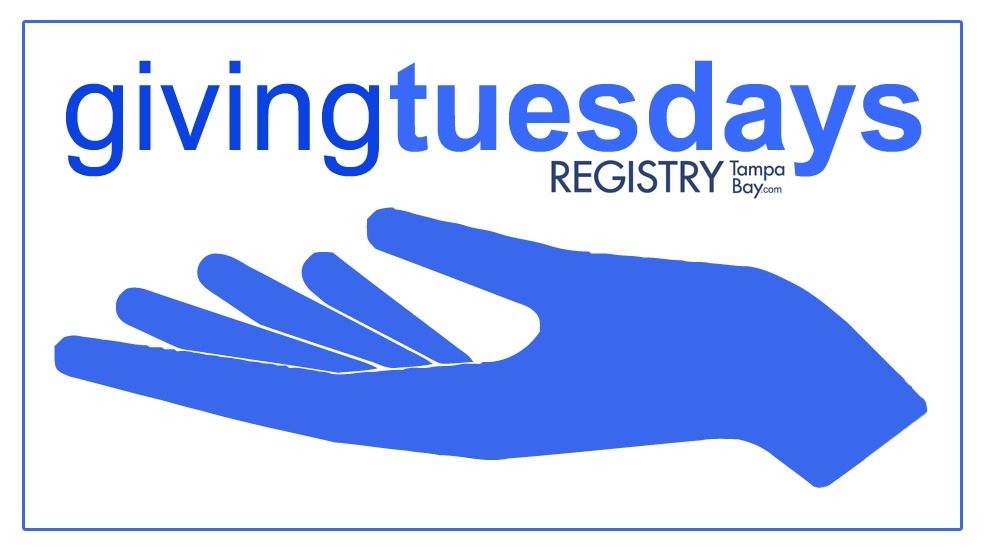 Looking back at a 2020 Registry story about Cornie and Dick Corbett, whose generosity is once again in the news.
Editor's Note: The recent news of Dick Corbett's landmark gift of $25 million toward the Tampa Museum of Art expansion — "the single largest private donation ever made to a public art museum and art education center in this state," according to TMA Executive Director Michael Tomor — reminded me of the profile I wrote two years ago of his partner in life and philanthropy, Cornelia "Cornie" Corbett. The story appeared in print in the Spring 2020 issue of duPont REGISTRY Tampa Bay, but never made it online. I thought this would be a good moment to rectify that — especially since our goal with "Giving Tuesdays" is not only to highlight opportunities for giving, but also to honor those who give.
From the Spring 2020 issue of duPont REGISTRY Tampa Bay:
If you look up the address of the Tampa Museum of Art, you'll notice that the iconic riverfront building in which it's located is called the Cornelia Corbett Center. That may not be how most people think of it, but you can bet the folks at the museum are fully aware of and immensely grateful for the woman whose name graces their walls — one, because the dedication represented a key $5 million gift made by developer Richard Corbett in his wife's name toward the construction of the museum's new home in 2010, and two, because without Cornelia "Cornie" Corbett, the Tampa Museum of Art might not even have that new home. 
The tortuous saga of the museum's quest for a bigger, better building in the first decade of the 2000s is a familiar one. But I didn't get to know the whole story until I was hired to edit the museum's history tome, 100 Years 100 Works: The Making of a Museum. As I read, I marveled at the extraordinary perseverance of Cornelia Corbett, who as board chair was on the front lines throughout this ordeal, during which mayoral priorities changed, a starchitect's design was rejected, and ground was finally broken on what would become her eponymous center. 
It made me wonder — hadn't she ever wanted to throw in the towel?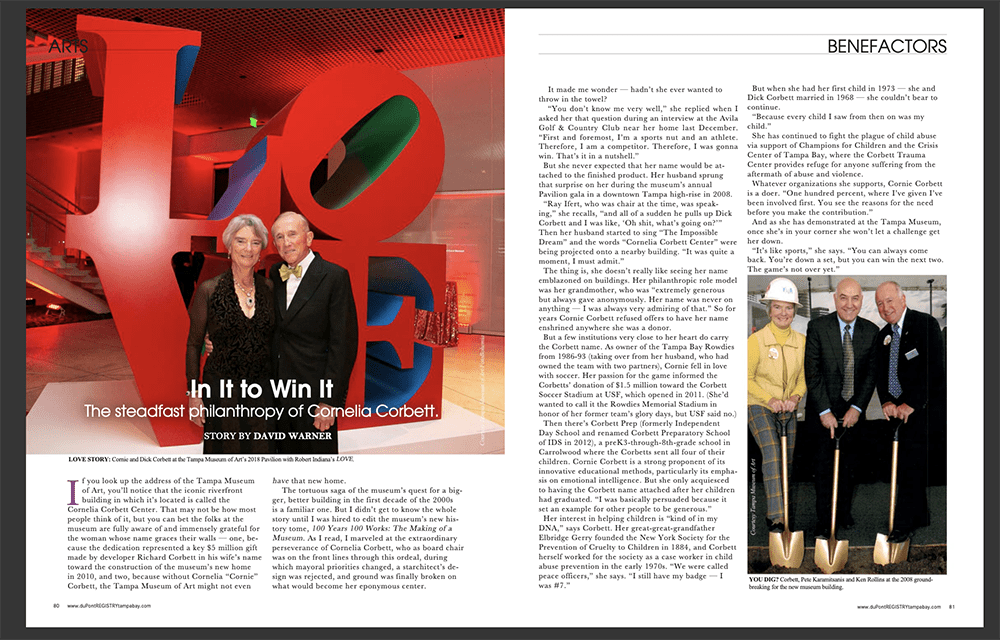 "You don't know me very well," she replied when I asked her that question during an interview at the Avila Golf & Country Club near her home in December 2019. "First and foremost, I'm a sports nut and an athlete. Therefore, I am a competitor. Therefore, I was gonna win. That's it in a nutshell."
But she never expected that her name would be attached to the finished product. Her husband sprang that surprise on her during the museum's annual Pavilion gala in a downtown Tampa high-rise in 2008.
"Ray Ifert, who was chair at the time, was speaking," she recalls, "and all of a sudden he pulls up Dick Corbett and I was like, 'Oh shit, what's going on?'" Then her husband started to sing "The Impossible Dream" and the words "Cornelia Corbett Center" were being projected onto a nearby building. "It was quite a moment, I must admit."
The thing is, she doesn't really like seeing her name emblazoned on buildings. Her philanthropic role model was her grandmother, who was "extremely generous but always gave anonymously. Her name was never on anything — I was always very admiring of that." So for years Cornie Corbett refused offers to have her name enshrined anywhere she was a donor. 
But a few institutions very close to her heart do carry the Corbett name. As owner of the Tampa Bay Rowdies from 1986-93 (taking over from her husband, who had owned the team with two partners), Cornie fell in love with soccer. Her passion for the game informed the Corbetts' donation of $1.5 million toward the Corbett Soccer Stadium at USF, which opened in 2011. (She'd wanted to call it the Rowdies Memorial Stadium in honor of her former team's glory days, but USF said no.)
Then there's Corbett Prep (formerly Independent Day School and renamed Corbett Preparatory School of IDS in 2012), a preK-through-8th-grade school in Carrolwood where the Corbetts sent all four of their children. Cornie Corbett is a strong proponent of its innovative educational methods, particularly its emphasis on emotional intelligence. But she only acquiesced to having the Corbett name attached after her children had graduated. "I was basically persuaded because it set an example for other people to be generous."
Her interest in helping children is "kind of in my DNA," says Corbett. Her great-great-grandfather Elbridge Gerry founded the New York Society for the Prevention of Cruelty to Children in 1884, and Corbett herself worked for the society as a case worker in child abuse prevention in the early 1970s. "We were called peace officers," she says. "I still have my badge — I was #7."
But when she had her first child in 1973 — she and Dick Corbett married in 1968 — she couldn't bear to continue working in the field.
"Because every child I saw from then on was my child."
She has continued to fight the plague of child abuse via support of Champions for Children and the Crisis Center of Tampa Bay, where the Corbett Trauma Center provides refuge for anyone suffering from the aftermath of abuse and violence. 
Whatever organizations she supports, Cornie Corbett is a doer. "One hundred percent, where I've given I've been involved first. You see the reasons for the need before you make the contribution."
And as she has demonstrated at the Tampa Museum, once she's in your corner she won't let a challenge get her down.
"It's like sports," she says. "You can always come back. You're down a set, but you can win the next two. The game's not over yet."