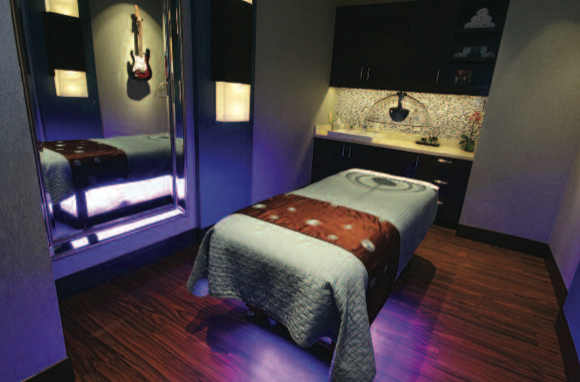 Spa Treatments: Minerals, Superfoods And More
Sometimes the skin we are in requires more than a routine cleaning regime to keep it soothed, smooth and looking
it's best.
Skin is susceptible to internal and external elements that can attack it and impact it in many ways. Eating a balanced diet, getting adequate sleep and staying hydrated are some of the more manageable ways to keep skin healthy. Other factors, like aging, stress, sun exposure, climate, pollution, genetics and hormones, are not so easily addressed.
What Can Spa Treatments Do For Your Skin?
Fortunately, new products and spa treatments featuring natural ingredients that fortify and nourish skin and provide relief from redness, roughness, dryness and damage are becoming increasingly available throughout the Tampa Bay area.
Last fall, the first Aesop signature store in Tampa opened at Oxford Exchange, joining Miami as Florida's sole retail locations for this luxury skin line launched in Melbourne, Australia in 1987. Aesop skin, body and hair products feature plant-based and laboratory-made ingredients to create anti-oxidant rich products that can repair and protect surface skin cells.
Leading spas throughout Tampa Bay are also taking a more nutrient-based spa treatments approach to their treatments to better meet the demands of discerning clients. Superfoods, organic and botanical ingredients and elements indigenous to the sea are among the healthier alternatives available for achieving results.
There are also a variety of different spas in Tampa which specialise in the "medical" aspect of the therapy. Always choose a medical spa in tampa which aim to bring the latest innovative treatment their client base for a variety of reasons such as youthful skin contouring and acupuncture.
Spa Treatments Around The Bay
Luxury Spa Treatments At Area Spas Pallavi, the Tampa Bay area's newest luxury spa spanning more than 5,000 square feet, opened in January at the Wyndham Grand Hotel on Clearwater Beach. The name means "new leaf" and Pallavi's treatments deliver on that promise with the help of its exclusive Elemis product line. Spa guests are good to "glow" following
Pallavi, the Tampa Bay area's newest luxury spa spanning more than 5,000 square feet, opened in January at the Wyndham Grand Hotel on Clearwater Beach. The name means "new leaf" and Pallavi's treatments deliver on that promise with the help of its exclusive Elemis product line. Spa guests are good to "glow" following spa treatments with Superfood Pro-Radiance skin care treatment that sloughs off dull cells using superfoods to energize and detoxify skin leaving it pumped up, plumped up and beaming. Acknowledging "what is good for the body is good for the skin," the line's highly concentrated Superfood Facial Oil features a blend of broccoli, flax seed, daikon radish and macadamia nut oils, to name a few of its nine key ingredients.
This integration of science and nature into its signature treatments and innovative techniques enables Pallavi's spa staff to improve the appearance, texture and elasticity of skin.
"It is no secret that spas are no longer only about only pampering. The global wellness trend is affecting spas by transitioning them away from the pampering concept," said Anaelys Napoles, Pallavi spa director. "Consumers more and more are looking for results and we really focused on delivering an experience that is complete, unique and, at the same time, transformational and meaningful.
"Beautiful skin is healthy skin. Using nutrient-rich products while following a nutrient-rich diet will improve skin function and create skin that is radiant, hydrated and lit up with good health," Napoles added.
The concept of fresh-is-best when it comes to spa treatments ingredient is fully embraced by Spa Evangeline at The Epicurean Hotel in South Tampa. Fresh cut herbs grown on the hotel's rooftop terrace are featured in the "Bask in the Garden Beauty" spa treatments that can be customized for a full body treatment with a concentration on hands and feet. This bliss for the body begins with a citrus grass sea salt scrub followed by a skin-enriching massage, courtesy of an agave nectar that infuses skin with anti-aging extracts, imparts silkiness and softness and restores helpful hydration.
"Everyone is more geared toward good health these days, and these ingredients are healthier for you. When you select a high-end spa, you base that selection on knowing they use high-end products that are beneficial for your skin," said Sheen Mahmud, director of Spa Evangeline. "Everything we introduce is food- or nutrient-related and features high-end ingredients, whether it is for facials, manicures, pedicures or massages."
A new spa treatments menu that debuted at St. Pete Beach's Spa Oceana at The Don CeSar last fall draws inspiration from iconic oceans and the healthy ingredients and healing powers they represent. From the mind-body connection embodied by the Indian Ocean to the tropical florals associated with the Pacific Ocean, treatments are designed to transport spa guests through the use of native flowers, grasses, fruits and massage techniques specific to various regions
Industry Moves Towards Renewed Spa Treatments
"The industry is going to a place where the main focus is nutrition internally and externally," said Rianon Cepriano, Spa Oceana director. Among the recent treatments, she developed with the spa staff, is a South Seas Pearl Radiance Facial that uses properties of bamboo, mango, guava, coconut oil and monoi, made from Tahitian gardenia petals, to fortify and firm the skin pre-massage. The final phase, and finishing touch is a facial mask made from crushed pearls. If you're after a spa which is based in the San Diego area then, look no-further checkout, http://waxingbyceleste.com/skincare-treatments-san-diego-ca/facials/.
"Your skin is your biggest organ. It is responsible for keeping harmful elements out as well as allowing what's beneficial to your skin in," Cepriano added. Oceana's signature spa treatments even combine cultural elements to enhance the effects and enable guests to fully relax and enjoy the experience.
"We have Tibetan singing bowls to help balance the body's energies before using a dry brush to exfoliate the skin. Then a product with olive, avocado and green tea oil is applied and the guest is wrapped to allow those oils to hydrate the skin. While cocooned in the wrap, we massage their scalp. It's a guided meditation using nutrient rich ingredients."
Safety Harbor Resort and Spa, known worldwide for the healing benefits of its natural mineral spring water, presents spa treatments using powerful plant and marine elements like caviar, lavender,blue-green algae and ginger, from its Kerstin Florian signature skin care line."We offer a number of services utilizing these organic ingredients, including our Lavender Dreams body treatment, Ginger Renewal body treatment, Chamomile scrub, Marine Therapy Detox and Signature Caviar facial," said Lisa Margarone, director of marketing. "The organic products, coupled with the water from Florida's only natural mineral springs, Espiritu Santo Springs, is what sets our spa treatments apart. Our spring water is at the heart of these beneficial treatments."
Rock Spa at the Seminole Hard Rock Hotel & Casino Tampa features oils sourced from exotic locations, like dilo and sikeci nuts, blended with honey and fresh citrus for a full body moisturizing application as well as products made with proven cosmeceutical and medical-grade ingredients, active botanicals and marine extracts.
"As an industry leader, we strive to follow all the latest breakthroughs and advancements in spa products and services. We currently have several high-end products that boast the latest in organic elements, like our newest skincare line, Collins, and their successful vitamin C-based products," said Angela Hayes, Rock Spa manager.
Boosting the nutritional profiles of spa services is simply a better way to help the body heal, making that approach a more appealing alternative to the less natural methods used in the past.
"For the health conscious guests, these spa treatments have been increasingly popular," Hayes added.